At Fleet Feet Bloomington, we hope to become more than just a store where you shop. We want to become a place you visit often because you feel comfortable. We want to be a resource for all your running, walking and general fitness needs. We want to be a place that inspires. And we want to be your friend. We are lucky to have a team that is diverse, motivated, and knowledgeable. Each employee brings a unique perspective and set of experiences to our store. Please see our photos and read our bios and get to know us a little better.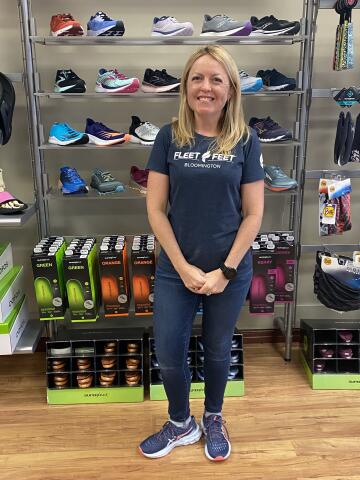 Julie Howell's Fleet Feet journey began in August 2012. While driving home from an out-of-state triathlon, she began to entertain the possibility of opening a retail store. Having been active in the local running and triathlon community and mentoring many new athletes over the years, it seemed like the perfect fit. She believed that her desire to provide the tools and education to help people begin running and her enjoyment in seeing them accomplish their goals closely resembled the vision of a Fleet Feet franchise.
A former high school Spanish teacher, Julie has been running and racing for over 25 years. She joined the cross country team in high school and when she started could barely run one mile. Through training and perseverance, she's grown into a regular at races of all distances, and has qualified for and completed the Boston Marathon twice. Her favorite race distance is the marathon: in June 2017 she completed her goal of running a marathon in all 50 states and completed her 100th marathon in October 2019. Her current goal is to run a marathon on every continent and this March she will complete the World Marathon Majors in Tokyo. She also competes in triathlons and has finished seven Ironman races. Julie enjoys educating new runners on every aspect of the sport and loves when they share their tales of accomplishment.
The initial thought back in August 2012 led to a whirlwind of activity. By the following November she was selected as a store owner. Multiple trips to the Fleet Feet, Inc. headquarters in Carrboro, NC to meet with corporate executives and complete store training followed. The store opened in May 2013. Julie is proud to have brought the first downstate Illinois Fleet Feet store to the Bloomington-Normal area and is excited to share her passion for an active lifestyle with the community.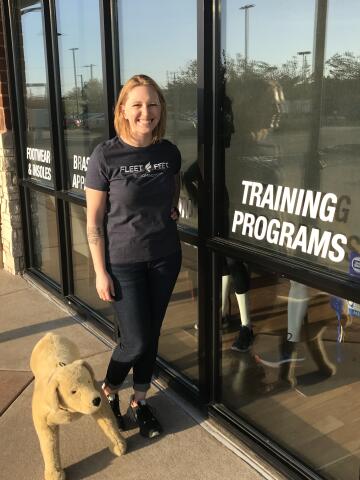 Julie Zei
Retail Experience Manager & Training Program Coordinator
Julie joined the Fleet Feet family as our Training Program Coordinator in the winter of 2019. She is an RRCA Level 1 Certified Run Coach. She first became part of Fleet Feet in 2015 starting out as a participant in the 10k program. She then continued her running journey in the Fall Fitnatics, Winter Warriors and the women's triathlon group as well as mentoring many programs since. Julie continues to push her running and tri goals, having completed her first Half Ironman distance race in 2019, and completing her full Ironman in Madison 2023.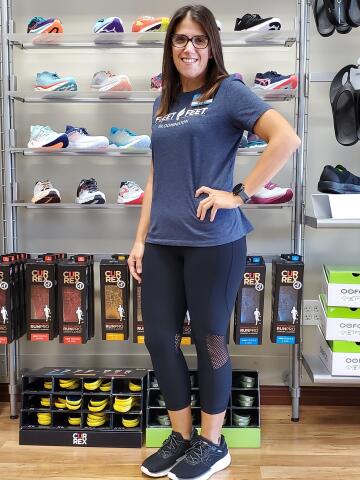 Emily Schirer
Apparel Buyer & Outfitter
Emily discovered a passion for running during the pandemic and spent so much time shopping at Fleet Feet it made sense to work there, too! Fleet Feet is Emily's side hustle-- she has a Master's Degree in Special Education and has been teaching for the past 13 years. Emily loves racing half marathons and has her sights set on her first full. She is also a triathlete and a 2nd degree Black Belt in Taekwondo. She has been playing piano for more than 30 years and accompanies her high school's choir, musical and madrigal. Emily and her husband also farm and have a 20 year old daughter and and 16 year old son.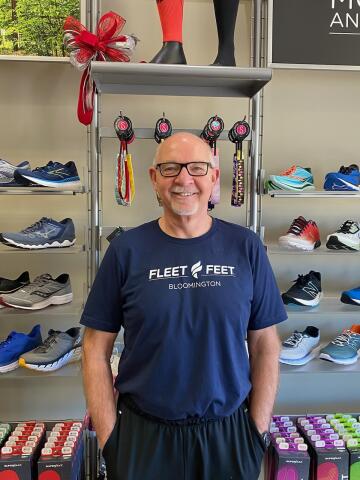 Tim Dever
Outfitter
Tim joined the Fleet Feet Team in July 2021 and has been a lifelong runner. He retired after 35 years of working in education as a teacher, coach and administrator. Tim is excited to join the Fleet Feet Team and is passionate about working with people of all ages and assisting them with their goals. He enjoys training alongside his wife for races from 5K to 1/2 marathons as well as biking and kayaking. Tim lives in Fairbury with his wife Jackie and has two grown children, Meghan and Matthew.
It is with profound sadness that we share the news that Tim passed away unexpectedly on November 4, 2022. Tim was a devoted husband, father and friend and we miss his smile and the wonderful energy he brought to our store. Please sit on the memorial bench outside of our store to enjoy sunshine and maybe even a scoop of ice cream. Click here to read more about Tim.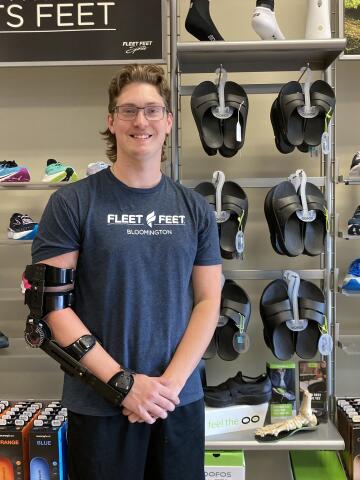 Alex Smith
Outfitter
Alex joined the Fleet Feet team in June 2022. Alex grew up in Normal, Illinois and attended Normal West High School, graduating in 2020. Currently, Alex attends Illinois Wesleyan University where he studies marketing and plays baseball. When not playing baseball or working at Fleet Feet Alex enjoys fishing, listening to music, and spending time with friends and family.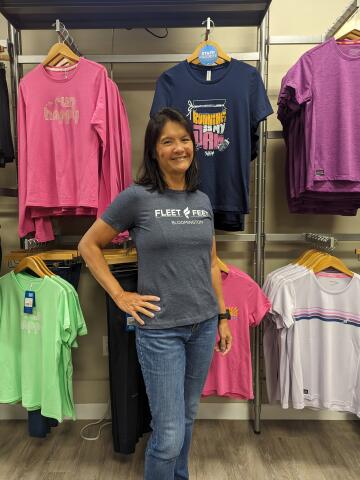 Gigi Gloria
Outfitter
Gigi is a long time runner with Fleet Feet completing all the programs we've offered including the women's triathlon group. An avid runner, kickboxer, and general fitness enthusiast, if Gigi isn't at work you can find her running around town. She joined the team in February 2023 and continues to bring joy & smiles to all she encounters both at the fit bench as well as out in the community.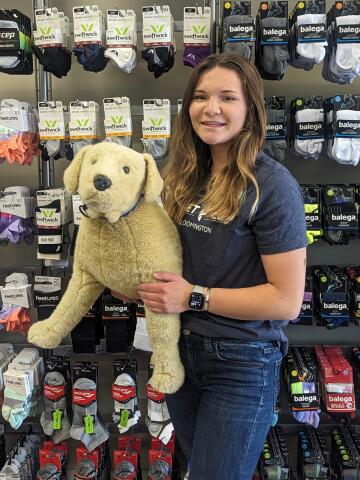 Hailey Stutz
Outfitter
Hailey is a current student at Illinois State University majoring in agriculture with a chemistry minor in hopes to be a livestock veterinarian. She started running when she was in fourth grade, and competed in track and cross country in high school. In her free time other than running, she enjoys being outdoors, crocheting, photography and spending time with her family.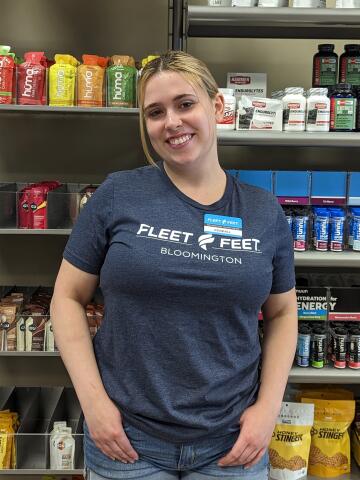 Kendall Klockenga
Outfitter
Kendall is a student at Heartland Community College majoring in business and pursuing a career in entrepreneurship. She joined the team in March 2023 and is enjoying getting customers in the right fit to meet their needs! She is new to the world of running and fitness and having fun figuring out where to start. In her spare time outside of work Kendall enjoys participating in community theater, creative writing and visiting with family in nearby Springfield.
Dan H.
Dan joined the Fleet Feet team in June of 2023, and quickly dove in to help customers find their perfect shoe to keep them comfortable and active! His experiences with long distance backpacking, recreational running, and working in a collegiate human performance lab, all combine to make him an amazing Outfitter. Outside of work, Dan enjoys woodworking, home renovation projects and spending time with family and friends.
Ernie Waterson
Photo coming soon!
Ernie
joined Team Fleet Feet in August 2023. He's an athlete on the Illinois Wesleyan Track and Cross Country Team excelling at the 800 and studying Economics. When not working, training, or attending class he enjoys mountain biking, spending time with family and friends, and trying new pizza restaurants anywhere he visits.
Ernie
brings a fresh set of eyes and enthusiasm for getting our community fit in the perfect shoe!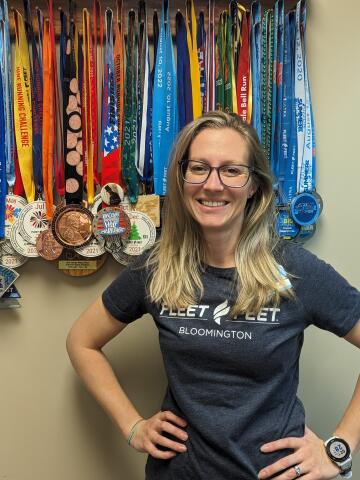 Callie Nitz
Accessory Buyer, Outfitter
Callie joined the Fleet Feet team in September 2023 and is a recent transplant from the West Coast. She got her start in running back in high school: she ran cross country and track as a way to make friends at a new school and fell in love with the community running builds. Callie has continued to seek and create those communities whoever she is. A former competitive equestrian turned marathoner and triathlete, she loves to talk running and sports. When not at work, she can be found running, walking her spoiled dog Tipper or watching a plethora of sports with her husband.