At Fleet Feet Bloomington, we hope to become more than just a store where you shop. We want to become a place you visit often because you feel comfortable. We want to be a resource for all your running, walking and general fitness needs. We want to be a place that inspires. And we want to be your friend. We are lucky to have a team that is diverse, motivated, and knowledgeable. Each employee brings a unique perspective and set of experiences to our store. Please see our photos and read our bios and get to know us a little better.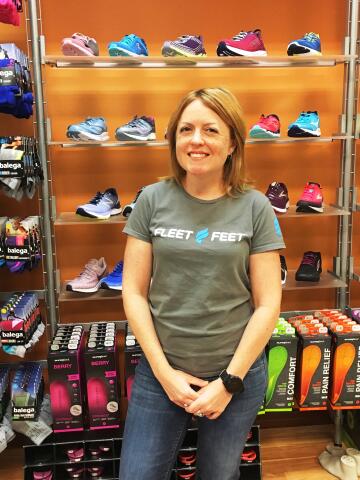 Julie Sibley's Fleet Feet journey began in August 2012.  While driving home from an out-of-state triathlon, she began to entertain the possibility of opening a retail store.  Having been active in the local running and triathlon community and mentoring many new athletes over the years, it seemed like the perfect fit. She believed that her desire to provide the tools and education to help people begin running and her enjoyment in seeing them accomplish their goals closely resembled the vision of a Fleet Feet franchise.
A former high school Spanish teacher, Julie has been running and racing for over 25 years. She joined the cross country team in high school and when she started could barely run one mile. Through training and perseverance, she's grown into a regular at races of all distances, and has qualified for and completed the Boston Marathon twice.  Her favorite race distance is the marathon: in June 2017 she completed her goal of running a marathon in all 50 states and completed her 100th marathon in October 2019.  She also competes in triathlons and has finished seven Ironman races. Julie enjoys educating new runners on every aspect of the sport and loves when they share their tales of accomplishment.
The initial thought back in August 2012 led to a whirlwind of activity.  By the following November she was selected as a store owner. Multiple trips to the Fleet Feet, Inc. headquarters in Carrboro, NC to meet with corporate executives and complete store training followed.  The store opened in May 2013.  Julie is proud to have brought the first downstate Illinois Fleet Feet store to the Bloomington-Normal area and is excited to share her passion for an active lifestyle with the community.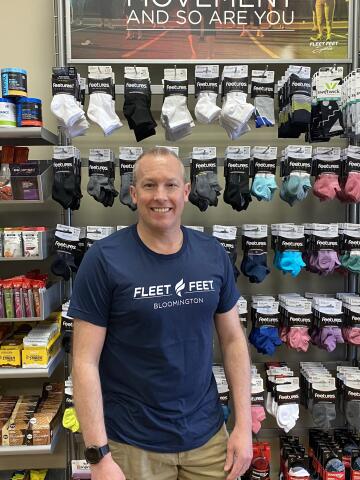 Kelly McBride
Store Operations Manager & Outfitter
Kelly has been with us since we opened in May of 2013. With more than 30 years of experience in retail and a passion for an active, healthy lifestyle he loves helping other meet their needs. Kelly is an ISSA Certified Fitness Trainer and enjoys working with and watching others transform their lives. Kelly believes that working at Fleet Feet allows him to share his passion for fitness with other people. He is an avid runner and has completed many races at distances from the 5K to the full marathon. Outside of running he enjoys biking and hiking. Kelly lives in Normal with his wife, Corinna, and their 3 children, Kelsie, Keegan and Kyleigh.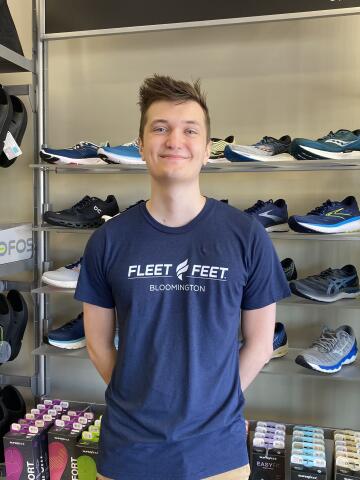 Kordell Cocco
Outfitter
Kordell has been part of the Fleet Feet Bloomington family for a while - first as a part of the training programs, as both a participant and a mentor - and now as a member of our staff. As a runner, he mainly focuses his training on 5K and 10K distances but has been known to run some half marathons too. When not assisting our customers or running himself, Kordell attends Illinois State University studying cybersecurity. Kordell loves learning more about living a healthy lifestyle and sharing that knowledge with others to help them maintain a healthy lifestyle.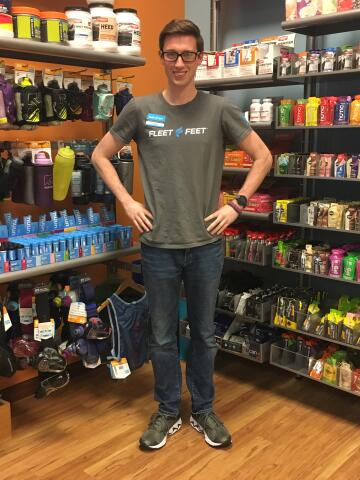 Quinn Killian
Outfitter
Quinn has been running for the last ten years ever since he started when he joined his school's junior high cross country team. Since then he has been enjoying going on runs around town at varying distances and participating in some 5ks here and there when he can. Quinn is currently working towards a Bachelor's degree at Illinois State University, where he transferred to from Illinois Valley Community College. In his free time Quinn likes to read, go to the movies and spend time with his friends, family and dogs. Quinn's favorite movies to see are typically science fiction or superhero films and his sport of choice to play is ultimate frisbee.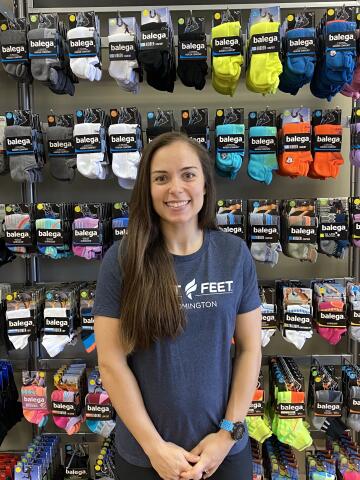 Alex Lugar
Outfitter
Alex has been with the Fleet Feet Bloomington team since November of 2018 and previously worked at the Fleet Feet West Lafayette store where she was heavily involved in the training programs as a mentor and then coach. Alex has a Bachelors of Science degree in Biology from Iowa State University and is an American College of Sports Medicine Certified Personal Trainer and currently trains clients at a local gym. As a lover of all things health and wellness, Alex's passion for running started early when she did her first 5k at the age of 8. Over many years, this has blossomed in to competing in many races (every distance from 5k to full marathons), leisurely participating in triathlons for a few years and developing a love for weight lifting. In her free time she enjoys spending time with her family (her husband Drew, daughter Elena, 2 dogs and a cat), working out, running and reading.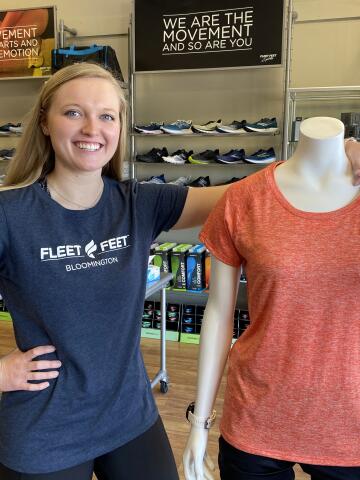 Savana Mattson
Outfitter
Savana is our softball star on the team: she spent 10 years playing competitively. Now she is enrolled at ISU pursuing interior design. When she's not in class or working at the store she loves spending time outside, off-road riding, doing arts and crafts, baking and listening to country music. We love that she shares her culinary creations with the staff on her weekend shifts. Besides her experience with customer service, her creativity is a true asset to the team. She brings a smile and positive attitude with her where ever she goes. Oh - and she can touch her tongue to her nose.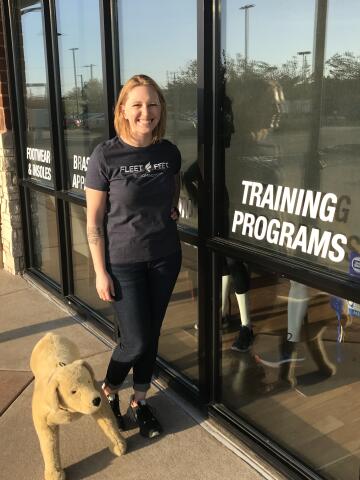 Julie Zei
Training Program Coordinator
Julie joined the Fleet Feet family as our Training Program Coordinator in the winter of 2019. She is an RRCA Level 1 Certified Run Coach. She first became part of Fleet Feet in 2015 starting out as a participant in the 10k program. She then continued her running journey in the Fall Fitnatics, Winter Warriors and the women's triathlon group as well as mentoring many programs since. Julie continues to push her running and tri goals, having completed her first Half Ironman distance race in 2019 with her eyes on completing a full Ironman in 2021.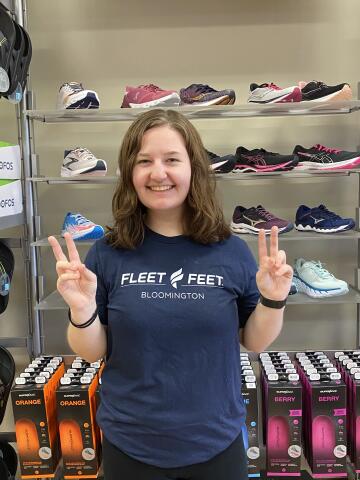 Bree Hughes
Outfitter
Bree has been working at Fleet Feet since September 2020 and has been in the shoe industry for over three years. Although she isn't a runner, she has a passion for helping customers find good shoes for their lifestyle. When Bree isn't working she is going to school at Heartland Community College and studying business. She is also passionate about music, animals, and hiking. Her favorite spot around Bloomington is Moraine State View. She has two pets, a cat and a hamster and loves them both very much.
Emily Schirer
Outfitter
Emily discovered a passion for running during the pandemic and spent so much time shopping at Fleet Feet it made sense to work there, too! Fleet Feet is Emily's side hustle-- she has a Master's Degree in Special Education and has been teaching for the past 13 years. Emily loves racing half marathons and has her sights set on her first full. She is also a triathlete and a 2nd degree Black Belt in Taekwondo. She has been playing piano for more than 30 years and accompanies her high school's choir, musical and madrigal. Emily and her husband also farm and have a 20 year old daughter and and 16 year old son.
Tyler Polak
Tyler has been running for 10 years after starting to run at his local middle school. He ran all four years in high school and is now continuing his running career at Illinois State University. He's in his third year at ISU and studying to become a technology and engineering teacher at the high school level. He competes in distances ranging from the mile all the way up to the 10k. In his free time he likes to go play golf at the local courses and watch movies with his teammates. Tyler has also done quite a bit of traveling as he has been to 46 of the 50 US states!
Tim Dever
Outfitter
Tim joined the Fleet Feet Team in July 2021 and has been a lifelong runner. He retired after 35 years of working in education as a teacher, coach and administrator. Tim is excited to join the Fleet Feet Team and is passionate about working with people of all ages and assisting them with their goals. He enjoys training alongside his wife for races from 5K to 1/2 marathons as well as biking and kayaking. Tim lives in Fairbury with his wife Jackie and has two grown children, Meghan and Matthew.