At Fleet Feet Sports Bloomington, we hope to become more than just a store where you shop. We want to become a place you visit often because you feel comfortable. We want to be a resource for all your running, walking and general fitness needs. We want to be a place that inspires. And we want to be your friend.  We are lucky to have a team that is diverse, motivated, and knowledgeable. Each employee brings a unique perspective and set of experiences to our store. Please see our photos and read our bios and get to know us a little better. 
Jill Eichholz  •  FIT Specialist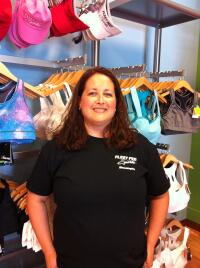 Jill is from Bloomington, graduated from ISU and is a full time employee for the local parks and recreation department.  She has been with Fleet Feet Bloomington since the store opened in May of 2013. Since the opening, she has made many pairs of feet happy in Bloomington/Normal. Jill has run several half marathons, 10Ks and 5Ks. She also enjoys biking and swimming and is always willing to help friends train for races and reach their goals. Jill really enjoys being part of the Fleet Feet team and helping others accomplish their goals as well.
Eric Fortune  •  FIT Specialist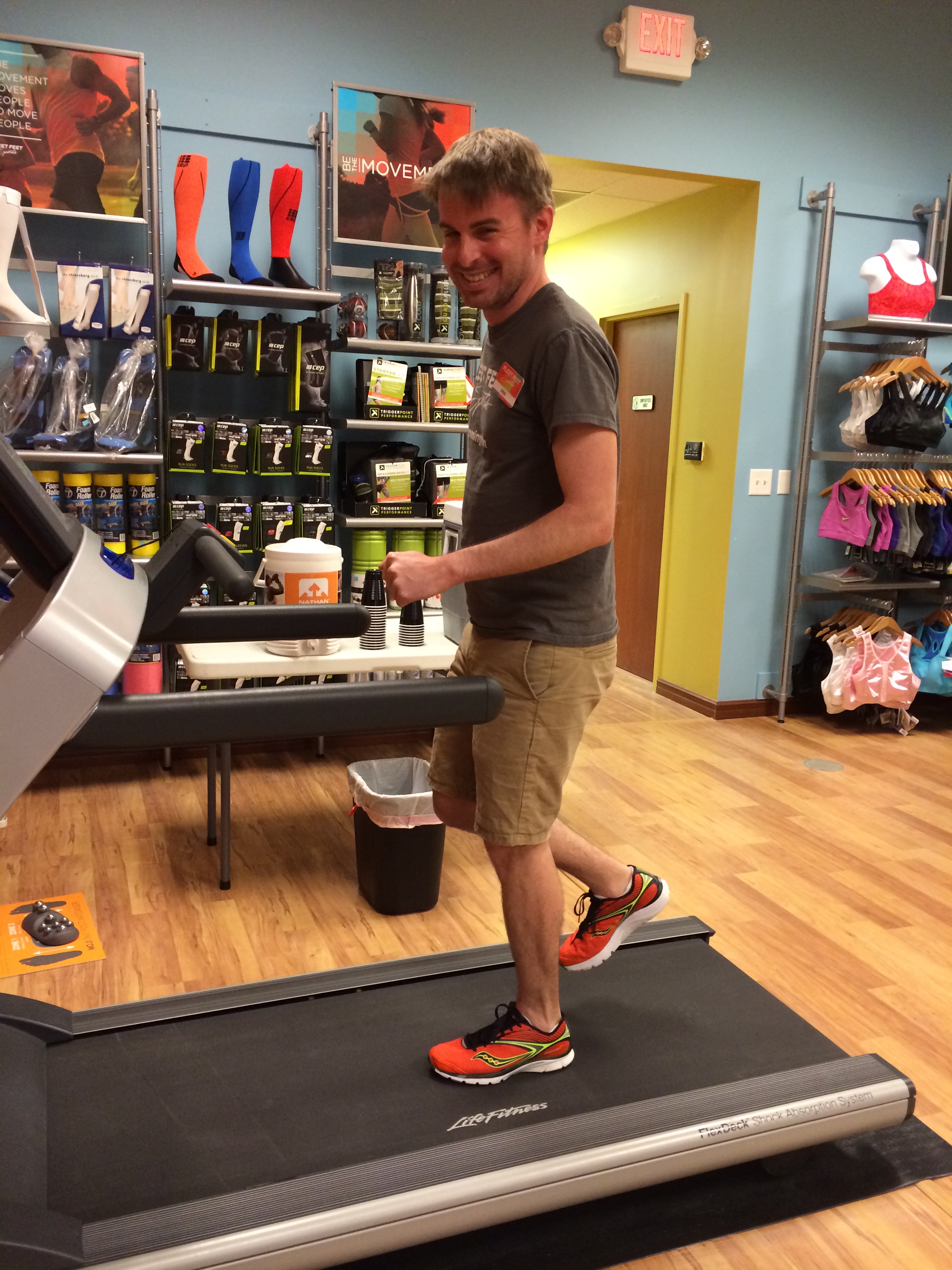 Eric is from Normal and graduated from SIUC in 2006. He is currently going back to school for a Special Education degree at ISU. He has run in every distance from full marathon on down. On top of running, he is a bicycle enthusiast and enjoys participating in duathlons. Eric enjoys living a healthy life style from cooking and eating nutritious food to commuting by bicycle whenever possible. He looks forward to sharing his knowledge and experiences of running with others!
Bisrat Kidane  •  FIT Specialist, H20 Pro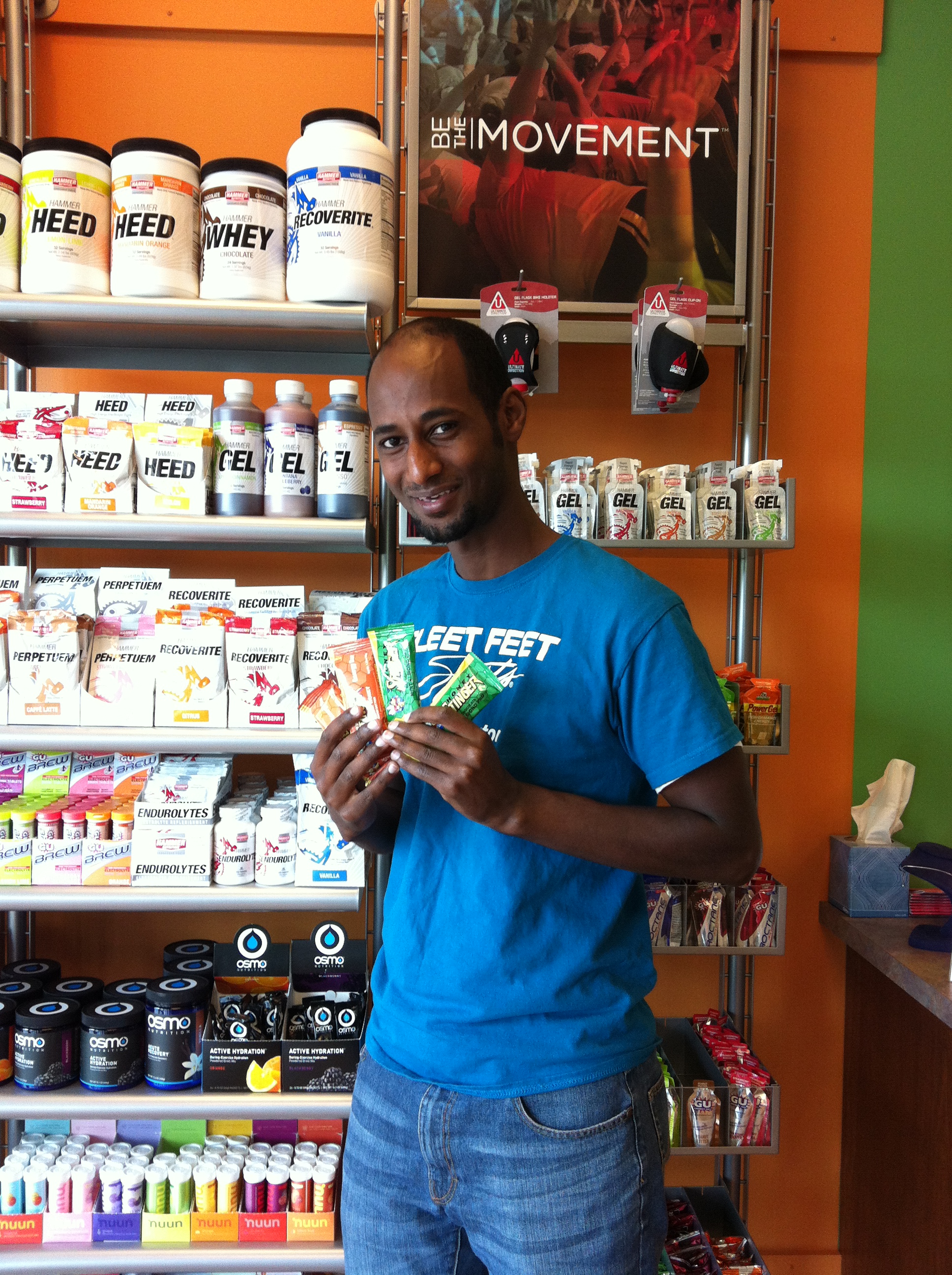 Bisrat is a college graduate from Judson University in Elgin, IL. He was a double major in marketing and management. He is currently pursuing his MBA at Olivet Nazarene University.  While he was at Judson he was a member of the track & field team, participating in the javelin,110-meter hurdles, 400-meter hurdles, pole vault, high jump, shot put, discus, long jump, and 100-meter dash.  Bisrat owned as many as five Judson records and left the program as the record-holder in the 55 meter hurdles and the decathlon. He is a native of Fishers, IN.
Bisrat is entering his second season as Eureka College Head Cross Country and Track Coach. He is passionate about running and strives to help people get better and understand the importance of what running can do for your lifestyle. Bisrat is also a member of US Track and Field Association as an athlete and coach. Bisrat is excited to be part of the Fleet Feet family and can't wait to help others.
Erin Link  •  Training Program Coordinator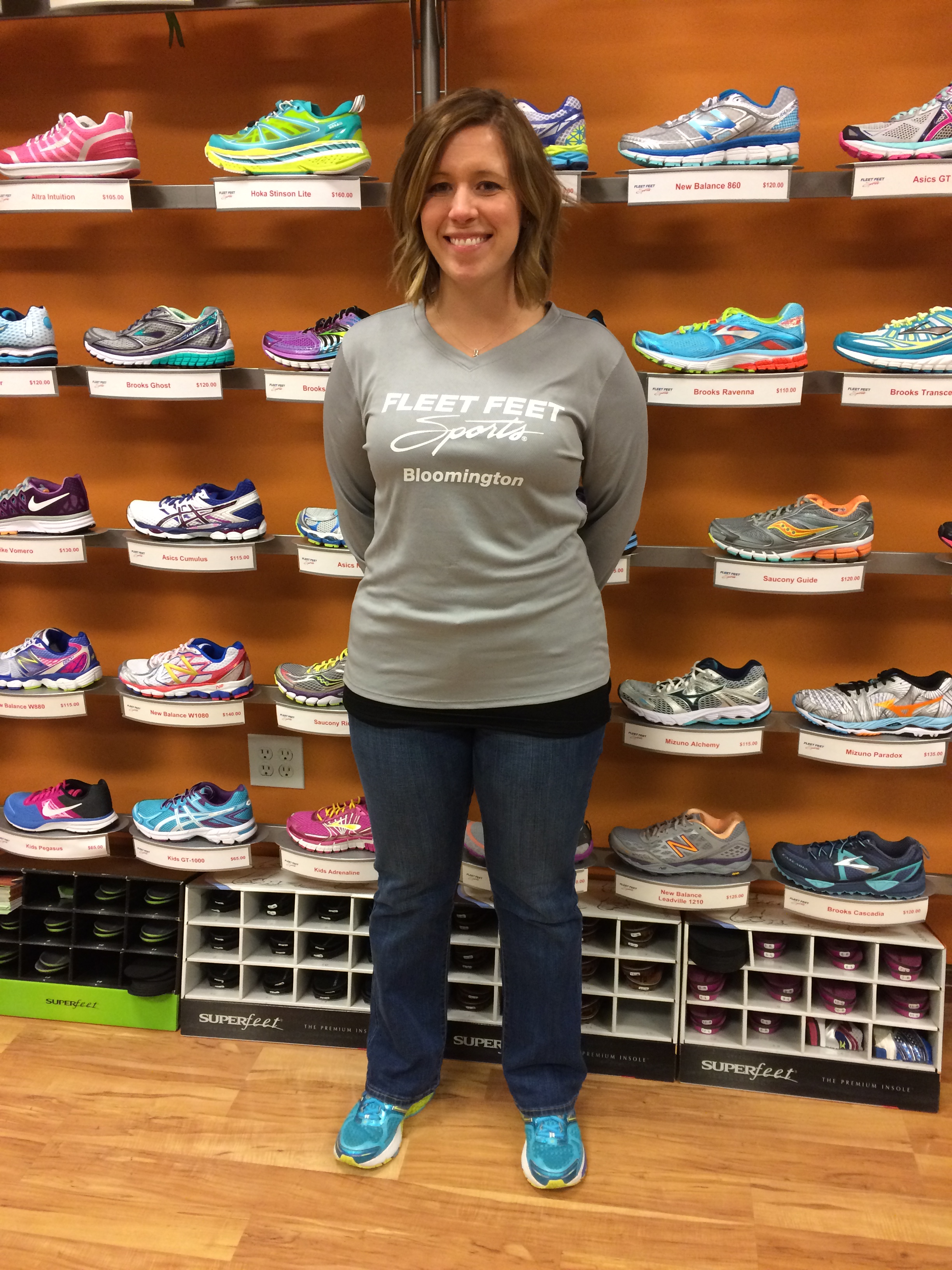 Erin started in December of 2014 as Training Program Coordinator. Erin has a degree in communication from Illinois State University and is slaving away (her words) on her master's degree. Erin also works fulltime in Illinois State University's Wellness office, where she spreads the good word of wellness to the campus community. Erin caught the running bug in 2008 when her sister tricked her into training for her race—a half marathon. Since then, she's completed one full marathon, 10+ half marathons, and a variety other races. In addition to running, some of Erin's favorite things are road trips, yoga, coffee, and spending time with her husband and dog, Huck. Erin loves helping runners meet their goals and tackle new challenges through Fleet Feet training programs.
Kenny MacDonough  •  FIT Specialist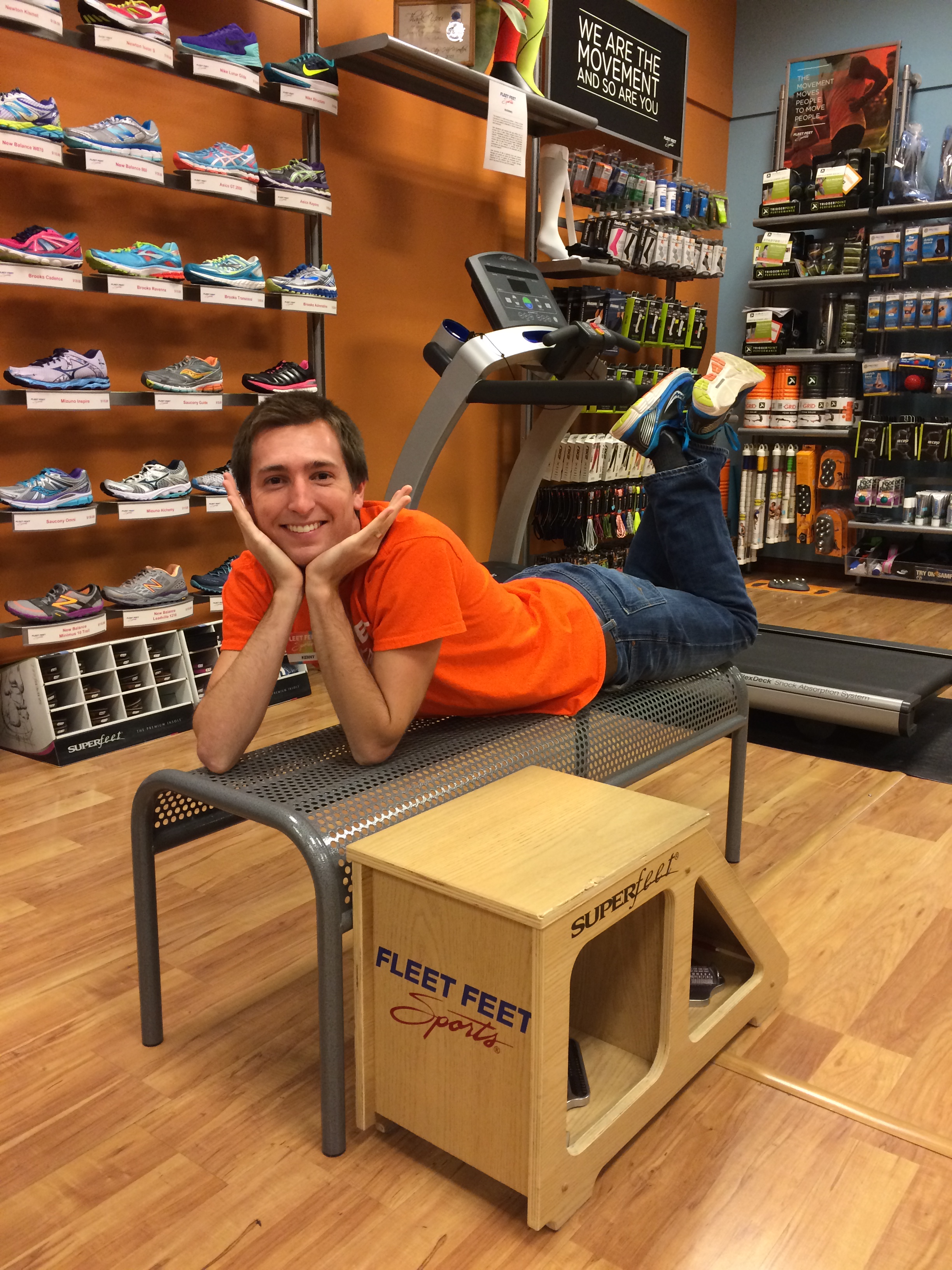 Kenny is from Detroit, Michigan where his love of running began in grade school. He graduated from Olivet Nazarene University in 2012 with a degree in Art Education, and was a member of the Cross Country and Track teams. Kenny and his wife moved to Bloomington in 2014. They continue to train for and race in distances ranging from the 5K to the Marathon. His favorite race distance is 10 miles. Kenny is excited to share the knowledge and experience he has gained through many years of running with the Bloomington-Normal community.
Kelly McBride  •  FIT Specialist, Accessory Buyer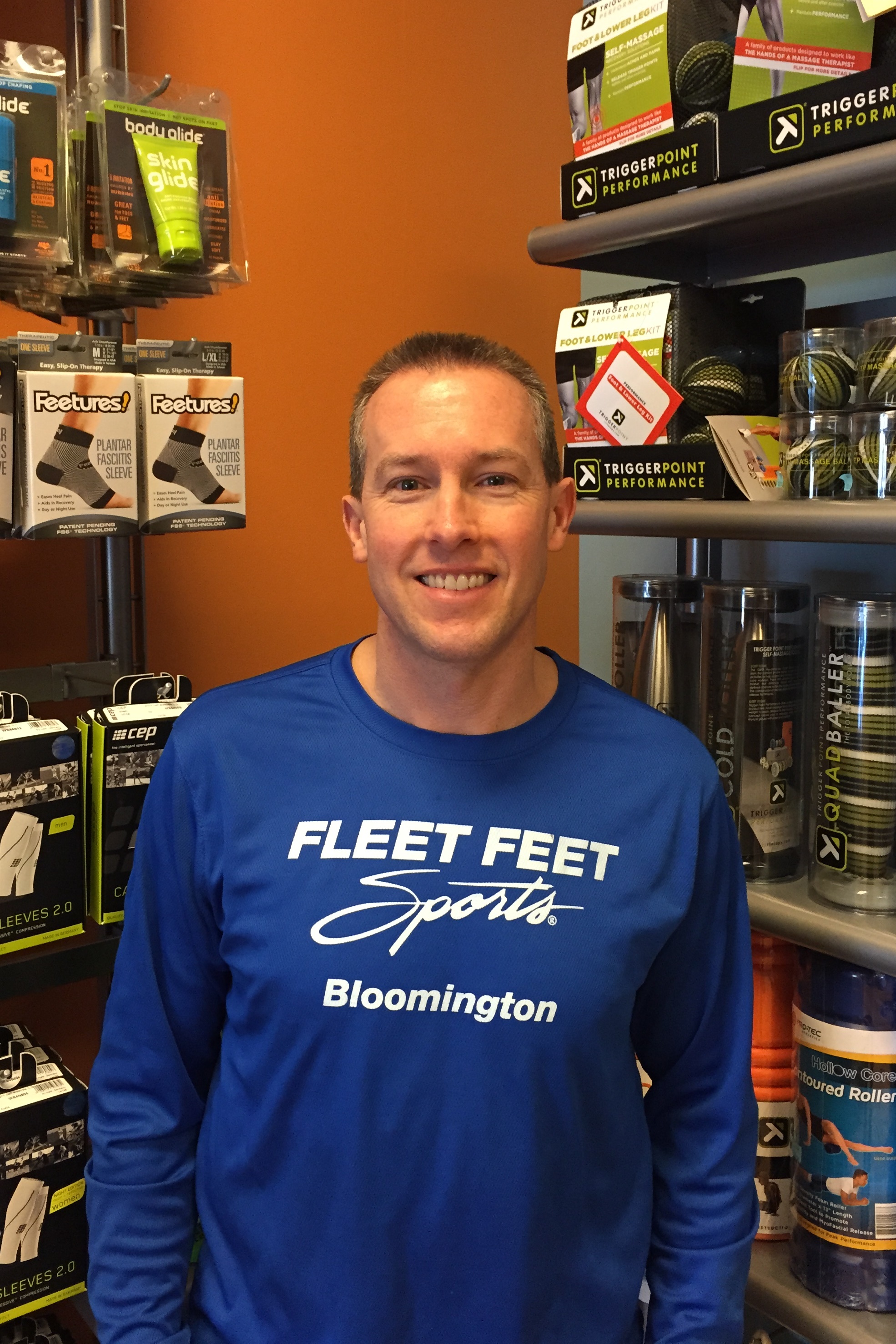 Kelly has been with us since we opened in May of 2013. With more than 30 years of experience in retail and a passion for an active, healthy lifestyle he loves helping other meet their needs. Kelly is an ISSA Certified Fitness Trainer and enjoys working with and watching others transform their lives. Kelly believes that working at Fleet Feet allows him to share his passion for fitness with other people. He is an avid runner and has completed many races at distances from the 5K to the half marathon. He is always setting new goals and hopes to soon complete his first marathon. Outside of running he enjoys biking and hiking. Kelly lives in Normal with his wife, Corinna, and their 3 children, Kelsie, Keegan and Kyleigh.
Jessica Miner  •  FIT Specialist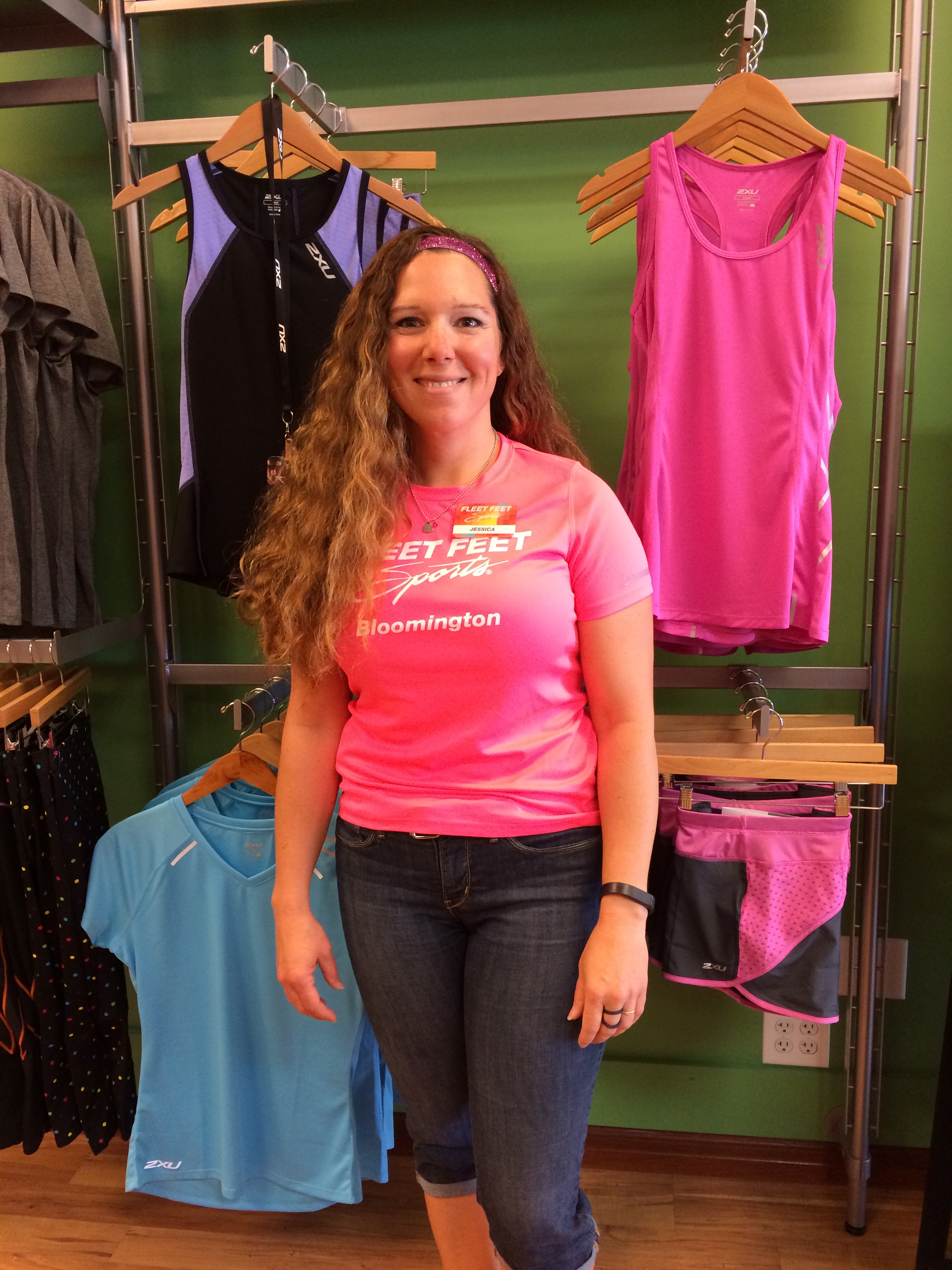 Jess spent plenty of time at Fleet Feet as a customer before joining the team. The mother of 3, she spends many of her days going from one activity to another. When not chasing her daughters around, she is an active triathlete and a member of the Grim Reapers. If she's not out running, you can likely find her on her bike. Her favorite local race is the Tri Shark triathlon and is a devotee of the Newton Kismet shoe. Jess lives with her husband Greg and daughters Hannah, Kiersten and Allison on their homestead in rural Heyworth. .
Raegan Rinchiuso  •  FIT Specialist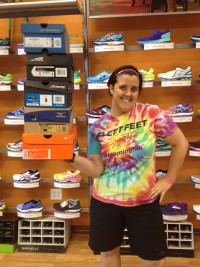 Raegan lives in Normal and works a day job as the marketing coordinator at Heartland Community College. She has lived in the community since 2004 and had her first experience with Fleet Feet as a customer when she lived in Chicago. The daughter of a cross country and track coach, Raegan has been running since she was a kid, winning her first race when she was 4 years old. After years of competitive running, she now describes herself as a "completer" instead of a "competer," having completed 2 marathons, 10+ half-marathons and almost 20 triathlons. A self-proclaimed advertising geek, Raegan has a degree in journalism with an emphasis in advertising from the University of Missouri and an MBA from Illinois State University. Some of her favorite things are sunny days, cheese, Mickey Mouse, time with friends, the ocean and riding in her car with the top down. She feeds her love of an active lifestyle by running, cycling, swimming and snowshoeing and loves helping others discover their "inner athlete."
Karin Watts  •  FIT Specialist, Apparel Buyer
Karin joined the team in July of 2013. She was first introduced to Fleet Feet in Bloomington when she volunteered to be a mentor for their No Boundaries program. Since she loves to run, help others and talk to people, this was a perfect fit for her. Through No Boundaries, Karin met some of the staff and loved being in the store. She is very excited to be a part of the team!
Karin lives in Bloomington with her husband and 3 sons. Fitness has always been a part of her life. She has done 6 half marathons, 2 triathlons and 5 marathons. Although not planning on running a marathon in every state, she does keep adding races to her bucket list.  In addition to running, Karin enjoys camping, cooking and spending time with her family and friends.
Kristen White  •  FIT Specialist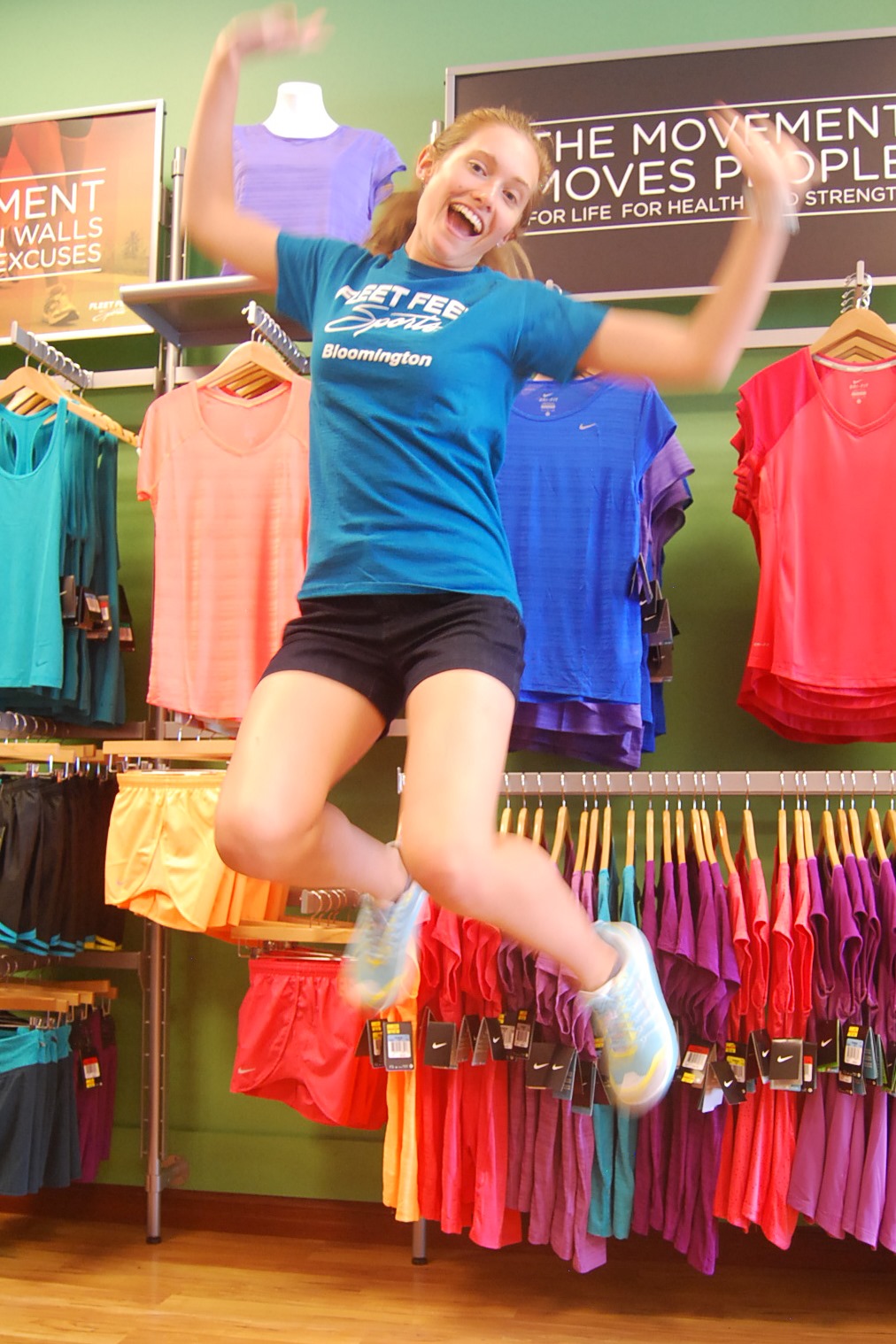 Kristen graduated from the U of I in 2013 with a degree in biology and is also an alumni of Bloomington High School. She has been active all her life, playing soccer and softball for 14 years. However, she did not realize the joy in running until college. Running was a great stress reliever for her in college and still is today. After volunteering at 5k events and the Christie Clinic Illinois Marathon she decided to become one of those participating in the races.
In April she completed her first marathon and is excited to keep racing! She keeps up her casual training for a half marathon in the fall when she is not working at the hospital or at Fleet Feet. Next year she is hoping to attend grad school for physician assistant studies. Until then, she is happy to help others realize their fitness and health goals!.
Aubri Wolfe  •  FIT Specialist