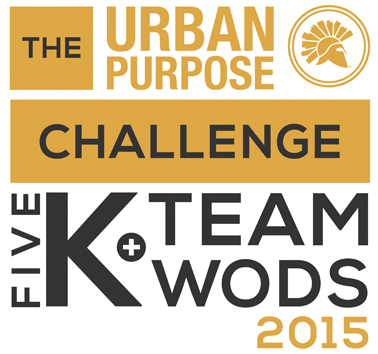 Get ready for an awesome day at the Urban Purpose Challenge. Participants of all fitness levels and ages will be able to tak
e part in 1 or more exciting events during the day! On Saturday, August 29th we will have:

1. Traditional 5k - This year's 5k will feature a brand new route that will be much easier than the route we ran the last two years. The cost to run the 5k is $35. Start running now and be ready to dominate the new course! 

2. Team WODs - This will be a team event that will feature 8 challenging and exciting stations. Each 4 person team will do 5 minutes of work at each station with a two minute transition time between stations. We will crown an all male, all female, and co-ed team winner. The cost is $200 per team. WODs will be released later this month. Start getting your team together and get ready to throw down!

3. Kid's Mess Fest - The Kid's Mess Fest is a fun event for kids to participate in while parents run the 5k or take part in the Team WODs. The Mess Fest will include water games, inflatables, and other exciting kid games. It will be staffed by the SMBC Kids Kamp Staff. The cost is $10 per child.

If you're up for the challenge of becoming a Warrior, you can run the 5k and then join your team for the Team WODs competition! Once registration opens, register with your team and then email rachel@urbanpurpose.org for information about how to get a discounted rate on the 5k.