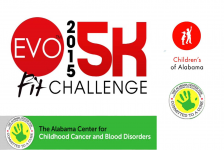 What makes this 5K different? 
Unlike previous 5K's held in Birmingham, The EVO 5K Fit Challenge event includes race waves with exercise challenges throughout its course. Exercise stations (such as jump ropes, tire runs, walking lunges, etc.) represent the fitness challenges. The event will consist of a standard 5K run that begins at 8:00 a.m. followed by 6 waves that will include Fit Challenges throughout the course.
The first wave starts at 9am with a wave starting every 30 minutes. The Kid's Fun Zone will be located in Linn Park where there will be a fitness obstacle course and games for the kids . We are excited to announce that Fox 6 Sports Anchor and Reporter, Jeh Jeh Pruitt, will be the MC for the event.
This event is Saturday, August 22nd.