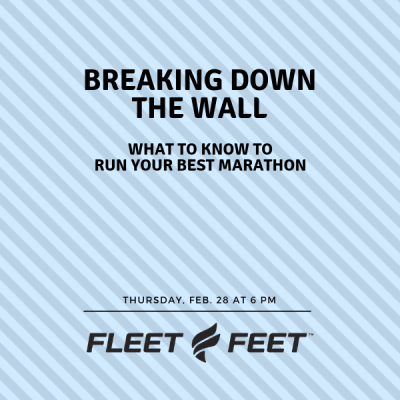 While training at the marathon distance, running miles is only part of the equation in having a successful race. In fact, to run your best marathon, many other factors add up to be as important if not more important than the actual running you are doing.
So what are those things that can help ensure you have your best race come race day? 

That's what we'll be covering at our "Breaking Down The Wall" clinic on Feb. 28th. This interactive clinic will cover every angle you need to consider from your actual training to your nutrition to the stretches and strength training you are doing.
Due to space and the interactive nature of this clinic, WE ARE CAPPING REGISTRATION AT 15 people. Be sure to sign up below to make sure you aren't left out of this awesome clinic.
BREAKING DOWN THE WALL CLINIC
1. Learn training plan best practices related to your running. We'll help you 1-on-1 fine tuning your plan and answering questions
2. Sample different nutrition and hydration options to get to know what you like and what you don't
3. We'll cover some great dynamic and static stretches to make sure your warmed up and cooled down from your run
4. We'll talk plenty on injury prevention and prehab to help get you to the start line healthy
5. Q&A
6. Raffles for some awesome Fleet Feet swag
7. Earn Fleet Feet Miles 
Register below to be one of the 15 to reserve a seat!