Austin Marathon Race Week
Join us as we celebrate the 2023 Austin Marathon
---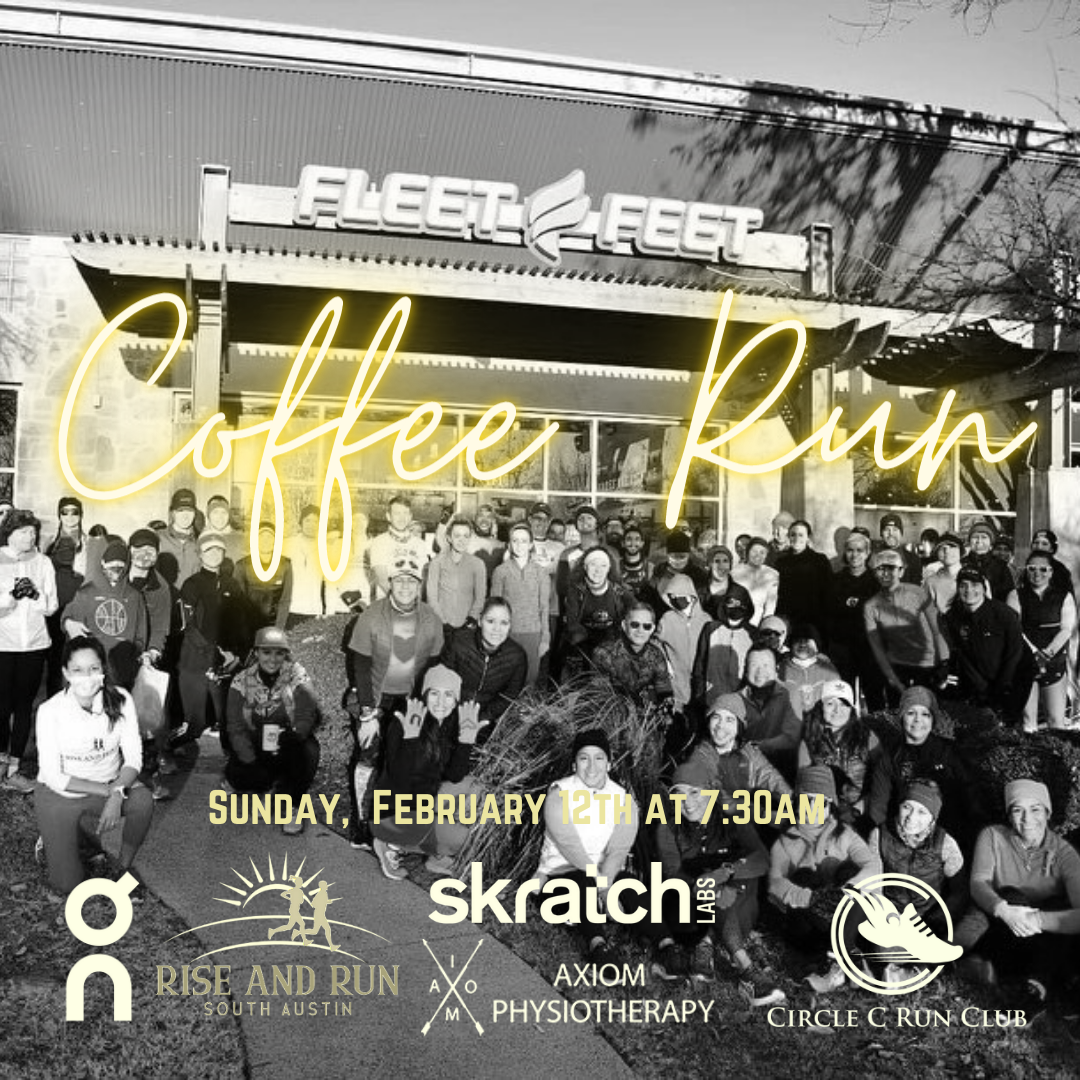 Rise & Run South Austin x Circle C Run Club x On x Skratch Labs x Axiom Physiotherapy x Fleet Feet Circle C
Sunday, February 12th at 7:30am at Fleet Feet Circle C
We're kicking off Austin Marathon week with a Sunday morning party and you should make plans to join the fun. Rise & Run South Austin and the Circle C Run Club will welcome On and Dr. Ben Shook of Axiom Physiotherapy as we hit the roads for three and five mile routes. We encourage you to arrive early, in order to wear-test On's lineup and sign up for a complementary movement assessment by Dr. Ben Shook. As you finish the run, trust that Heather B. from Skratch Labs will make sure you're rehydrated for the big week. We'll have a few surprises up our sleeves for those in attendance—all in celebration of our favorite race of the year.
---

The Morning Jo's x ASICS x Mizuno x Gu Energy Labs x AOK Physical Therapy x Fleet Feet Austin
Tuesday, February 14th at 6:00am at Jo's Coffee (South Congress)
We're getting the band back together and heading to our favorite Tuesday morning run group—the beloved Morning Jo's. ASICS and Mizuno will be on site highlighting their Spring '23 lineup with a wear-test, Gu Energy Labs will be taking care of your nutrition needs and Dr. Alyssa O'Krent of AOK Physical Therapy will make her Jo's debut, offering complementary movement assessments. We strongly encourage you to arrive early for the fun. All Faces, All Paces.
---

5Run2 x Karhu x Skratch Labs x Fleet Feet Austin
Wednesday, February 15th at 6:30am at El Chilito (Manchaca)
PJ and Jamie are excited for the big week and we're bringing Karhu and Skratch Labs along for the fun. Join us at their favorite taco spot, El Chilito on Manchaca, as we roll through a few easy miles together. Our friends at Karhu will be on-site offering a wear-test, so arrive early to obtain your size and our friends at Skratch Labs will keep us well-hydrated. All paces are welcome.
---
The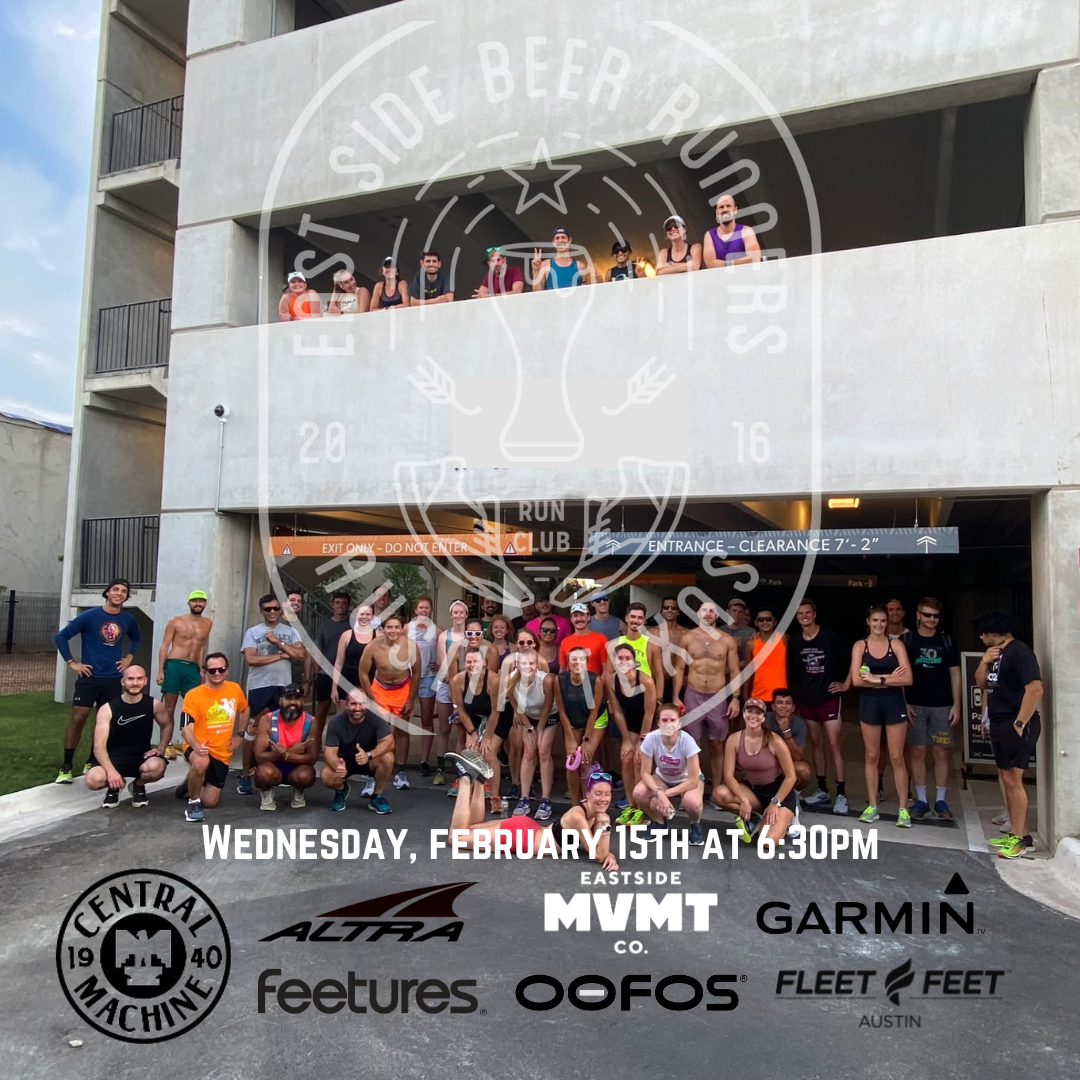 Eastside Beer Runners x Altra x Garmin x Oofos x Feetures x Eastside Movement Company x East Austin Run Club x Fleet Feet Austin
Wednesday, February 15th at 6:30pm at Central Machine Works
We're bringing the noise to the Eastside and we did our best to make sure you had no excuse but to join us. Altra and Garmin will be offering a wear-test of their Spring lineup, an opportunity we encourage you to take advantage of before sizes and styles run out—so arrive early! Feetures and Oofos will also be on site, highlighting their industry-leading socks and recovery sandals, something you won't want to miss. Speaking of things you won't want to miss—Dr. Anthony and Dr. Amy of Eastside Movement Company will be offering free movement assessments for those in attendance, making sure you're set for race weekend. Finally, our favorite hype man Jesse Ruiz will have the East Austin Run Club in tow for the party, so keep an eye out.
---

Fleet Feet Gateway's Community Run with Brooks, Restore Hyper Wellness
Wednesday, February 15th at 6:30pm at Fleet Feet Gateway
We're gearing up for some fun at Gateway's weekly community run and inviting Brooks, Skratch Labs and Restore Cryotherapy along for the fun. Join us for three to five miles and arrive early to test out Brooks' Spring '23 lineup of footwear, as they'll be on-site offering a wear-test of their Ghost 15, Glycerin 20 and the brand new Hyperion Max. Our neighbors at Restore Hyper Wellness will be highlighting their recovery services, offering localized cryo on site, and Skratch Labs will be on top to make sure you're kept hydrated. Arrive early and stay late for the fun.
---

Kayleigh Williamson's "Letters From Heaven" Book Signing with Austin Runners Club
Thursday, February 16th at 7:30pm at Fleet Feet Austin (Seaholm) 
We're humbled to once again host Kayleigh Williamson, this time highlighting her latest book, "Letters from Heaven: Kayleigh Williamson's Story." We'll celebrate Kayleigh's hard work with a Q&A session and book signing as she and her mother, Sandy, head into the Austin Marathon.
The Austin Marathon acts as the bookend to the Austin Runners Club's Distance Challenge, something both Sandy and Kayleigh have participated in the last few years. Their journey at the Austin Marathon is only part of their 2023 race calendar and we'll highlight their plans for the 127th edition of the Boston Marathon, in addition to plenty more.
Copies of "Letters from Heaven" will be available for purchase and complimentary drinks will be supplied by Liquid Death and Michelob Ultra.
Sandy and Kayleigh Williamson would like to offer a special thanks to the following: The Down Syndrome Association of Central Texas, Daymark Living, The Kyle Pease Foundation, Civin Media Relations and The Down Home Ranch.
---

Austin Marathon Official Shakeout Run
Under Armour x Austin Marathon x RAW Running x BPN Athletic Club x Garmin x Gu Nutrition Labs x Nuun x SHOKZ x Feetures x Eight Beer x Super Coffee x All Day Running Club
Friday, February 17th at 7:00am at Fleet Feet Austin (Seaholm) 
Make plans to join the biggest and possibly most exciting Friday morning run of the entire year. Our friends at The Austin Marathon will be on-site highlighting all the fun the weekend is sure to bring.
We strongly encourage you to arrive early for the run start, as we'll have a packed house.
Our friends at RAW Running and BPN Athletic Club are set to lead the run—with All Day Running Club also joining the fun. Arrive early to earn giveaways from our friends at Under Armour and make sure you connect with Garmin (pun) to wear-test their lineup of watches. We'll have Nuun and Gu on deck to get you ready for the big race and if that's not enough, our friends at SHOKZ and Feetures will also be on site. Finally, we'll enjoy some Super Coffee, tacos and Eight Beer post-run, something that's sure to keep you around.
As always, we'll hit Town Lake for a few miles and all pace and distances are welcome.
RSVP to the run here---it's a huge help.
---
The 2023 Ascenion Seton Austin Marathon Health & Fitness Expo
Location: Palmer Events Center - 900 Barton Springs Rd, Austin TX 78704
Friday and Saturday, February 17th and 18th at the Palmer Events Center
We're once again orchestrating the expo of the year and we're thrilled to showcase our curated lineup of Austin Marathon Official Merchandise. As the Official Running Store of the race, we'll have all of your race needs covered alongside several chosen vendors. While the expo fun is sure to meet your needs, we'll also have a Start/Finish line booth to satisfy your Austin Marathon needs, including a heat press to customize your chosen apparel items.
Expo and Packet Pickup hours:
Friday, February 17th: 1pm - 7pm
Saturday, February 18th: 10am-5pm