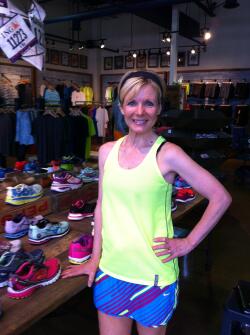 ---
Week 17 (Nov. 24)

"The week before your marathon you are in self preservation mode." Dawn Dais
Hello Fleet Feet Family!
Although I'm not at the seven day countdown point I am definitely close enough to race day that my runner's paranoia is starting to kick in. Given that I'm also a nurse AND a mom this is something that I truly excel at, with my obsession over the recent mysterious toe pain in my right foot a perfect example.....
I was 4 miles into my initial training run for the week on the 'mill trying to loose myself in Kurt Cobain's angst (to save me from my own...it's a treadmill run, right?) when I noticed a peculiar sensation starting under the toes on my right foot. It was as if my sock was starting to bunch under my toes, but I know it wasn't given the compression socks I was wearing with my trusty new Brooks Ravenna. I mention the fact they were new in that I had done something out of my norm for that particular purchase and the more I thought about it the more alarmed I began to feel. 
Since battling a pretty bad foot injury a few years back I have been faithful to purchase all running shoes from our local experts, such as our friends at Fleet Feet. I can tell you from first hand experience they give unparalleled service and are dedicated to making sure every runner is placed with the correct shoes for their needs, and educating as to WHY.  Will all due respect to "big box" retailers, their mission isn't the same and never will be. Breaking my own rule, I gave in to a fashion whim: when I needed to replace one of my two current pairs of shoes I had ordered a new pair from a "big box" online, after failing to find the color I wanted from a local store. Strange thing was, I had not even been able to find it on the manufacturers website. The shoes arrived and being in a hurry to leave for work I had thrown them in my gym bag and not thought to much else about it, until the pain hit.
It increase to the point where it was pretty uncomfortable and I was more than a little glad when the run finished. Walking to cool down things rapidly improved and my mind flew through the possibilities as to what the culprit might have been. There was no visual injury upon later inspection and in the interest of fairness I gave them a follow up try later in the week, with similarly painful results. Truly alarmed at that point I emailed my coach who asked a few questions and counseled me to take them in to our local experts for a proper inspection. They graciously assisted and could find nothing obviously wrong. At that point I had a decision to make and in my mind it wasn't a hard one. "I'll take those in a 7.5 B please." It was too close to D Day to take even a remote chance! I hope "Big Box" will work with me in returning or even perhaps a store credit but if not, all good. I'm not risking all these months of hard work for one online purchase gone wrong! Although they were a lovely color..... ; )
Week 16 (Nov. 17)

"DO NOT despair when thinking about how much farther you have to go. 
Instead, console yourself by inventing bizarre ways of measuring distances."
-Matthew Inman, aka The Oatmeal

In his uber popular web based comic, The Oatmeal, Matthew Inman regularly serves up delicious doses of satire and stories, many that are centered around his passion for running. His recently released book, "The Terrible and Wonderful Reasons Why I Love Running" contains a chapter that I immediately decided needed to become a public service announcement, reviewing the "dos" and "do nots" of running your first marathon, including the sage advice listed above. He generously expands on possible "bizarre ways of measurement" which I'll not list here (no spoilers!) but the point is driven home nicely: Running is a MENTAL sport.
 
While sports in general definitely have a mental side (some call it the "Winning Edge") it's my belief that some require a higher level of this quality, running included. Anyone watching the amazing Meb Keflezighi as he cruised the last half mile of his record breaking 2014 Boston Marathon saw this in action. He KNEW he had it and was completely in the zone, from his confident stride to his fist pump to the crowd. (LOVED!) He was there with one purpose: To WIN! I later read an interview where he described his thought process behind his training. After the horrible bombing incident, he purposed in his mind to come back the following year and win the race for our country, but especially for the victims. He was so  focused on this task he even wrote the names of several of the victims on his race bib. After reading this I was deeply touched and impressed with this talented, inspiring athlete but I also realized what made his race special is something we all can do. Focus and self confidence can be developed and trained just like our hearts and our legs....and takes just as much discipline.
As corny as it might sound, early in this training season I started envisioning the finish line when I was coming to the end of each run. I pictured it in front of me, the time left on the clock to reach my goal, and how I would be feeling. I would acknowledge my fatigue but tell myself I could still press on, power through and reach my goal, believing I could do it. After last year's encounter with Mother Nature's unfortunate mid race heat I am fully aware of the many things I cannot control and believe reality is a good place to live. However, I also strongly believe in a mind body connection. At the inevitable points in the race when fatigue and doubt  want to creep in that's when that mental muscle can come to the rescue and give the needed kick...and better than a gel, can be used with or without water! ; )
 
With the last few precious weeks of training before me, my goal is to make my mental edge just as strong as my physical body.  While I may not cross the finish line with Meb, I will remember a favorite quote from him, "...I also realize that winning doesn't always mean getting first place; it means getting the best out of yourself." 
Week 15 (Nov. 10)
"Have I not commanded you? Be strong and courageous...." Joshua 1:9
In this sixth book of the Old Testament we find Joshua, who was chosen to lead the Israelite tribes in the conquest of Canaan, being charged by God to stay strong during what was sure to be a challenging time in the history of his people. Following God's instructions he led the people with strength and wisdom and was rewarded with great success. 

It occurred to me during the final miles of our 20 miler this weekend that Joshua was a GREAT role model for a marathoner, especially during the last weeks of training.  As we are all painfully aware this week we were cast into the sad state that is nighttime running. Knowing what was to come, I made every attempt to prepare myself but was nonetheless grieved again to walk outside after work and find myself in moonlight and car headlights. I honestly wanted to drive straight home and curl up with a book in front of the fireplace but after SEVERAL minutes of dawdling I finally drove my car in the direction of LA Fitness. Yup, I dawdled for several more minutes in their parking lot but finally dragged myself inside and dutifully rocked out my recommended 6 miles on the 'mill. It was painful, but I got it done!  Warrior points....
The rest off the week followed suite until time for our weekend long run. I don't need to tell you the prospect of being outside made me positively giddy!  Jacket, hats and gloves kept us happy and warm until the morning sun worked it's magic and we were rolling along comfortable in our short sleeves and Garmons. It didn't take long as the miles clicked by before we found ourselves reviewing our training schedules for the next few weeks as per our usual, when we realized after our "fall back" run 
next Saturday
 we only have one more long run (22 miles) before taper town....Holy reality check Batman! It was at this point that my thoughts drifted to our friend Joshua and his admonition from the Lord to channel his "inner OT warrier".....a good thing to do when your hammies are reminding you you missed yoga last week!

With Huntsville in sight I'm feeling a little more anxious but happy and excited too! As I told my awesome training partner...."We've got this!!" : ) 
Week 14 (Nov. 4)

"I'm a search light soul they say, but I can't see it in the night".... Chris Cornell 

Hello Fleet Feet Family!

Truth be told, I really do have a love-hate relationship with this time of year.  On a positive, who can deny the fabulous autumn weather? It's the season that all runners live for with crisp, cool mornings that are tailor made for exhilarating training runs and record shattering PRs. After the heat and humidity that is summer in the ATL, fall running  is God's way of saying,"Well done my good and faithful runners, welcome to running paradise!" Adding in the glory that is the autumn foliage, what's not to love in all this awesomeness?

During the summer, even though on any given day you are running in what can only be described as sauna like conditions, the lovely sun generously lights our summer sky well into the evening. It's such a beautiful thing! Then, sometime in late August our precious daylight starts to leave us, a little at the time until finally, in early November the ultimate insult occurs with the mandate to turn our clocks back, thus eliminating any last vestige of afternoon light. At that point, a decision must be made. Take refuge in the gym (hello Dreadmill!) or head to the nearest Fleet Feet, as I did last year and essentially turn one's self in to a running Christmas tree.

Thankfully, the options for "decorating" are pretty endless. My most recent edition to my safety gear is a pretty cool hat that has built in blinking lights on the front and back. Unfortunately I still haven't figured out how to wash it without fear of electrocuting myself. (I'll keep y'all posted!)
Adding to this glory: neon yellow jacket, vest, compression socks and a blinking belt light.

It may somewhat excessive but trust me, all it takes is one close call and the value becomes all too real. A close encounter with a distracted driver "drove" that lesson home for me two years ago, so let's be safe out there peeps!

The bottom line is, nighttime running is here. With a month to go to "taper town" I have several more weeks of training and I'm determined to not let a lack of daylight cause me to lose focus. Maybe channeling my inner Christmas tree won't be so bad after all. Eggnog anyone? : )
Week 13 (Oct. 27)

Hey Fleet Feet Family!
Life is truly the ultimate classroom, serving up lesson large and small, twenty-four hours at the time. Some of them, if we are honest with ourselves we can see coming. Others not so much, but are no less impacting. I had the pleasure of sitting in the Classroom of Life this past weekend with the end result being the reason there was no training blog entitled "Week Twelve."
Our church has many wonderful ministries one of which is our Healthcare Team. As a nurse I try to volunteer as much as I can and when I received a message advising there would be a blood drive I was happy to sign up for a shift, but not before giving a head's up to my wonderful training buddy, asking if we'd be ok switching to early 
Sunday
 morning for our long run. As always, he graciously agreed so by early afternoon my youngest daughter and I were seated in front of the Red Cross Mobile Unit ready to greet donors and give general assistance. What would possibly go wrong? As it turned out, a lot, as in the next four training runs were getting ready to be thrown under the bus....or in this case, a Red Cross Mobile Unit!

During a lull in the  activity one of the workers stuck his head out the door and, thinking me one of the nice folks there to donate, waved me over. I should point out now I've never had the pleasure of saving a life in this manner due to my past battles with anemia. I'm also pretty close to the minimum weight required for a donor. Despite these significant truths, plus the fact I'm TRAINING FOR A MARATHON I got up from my seat and walked into the intake area. As you've probably guessed, yes, there was a voice in the back of my mind saying, "Uh, Are we sure this is a good plan???" Before I could give this excellent question further review one of the workers commented on how they had not reached their goal for the day and that, plus knowing I'm O negative (the universal donor!) sealed the deal. One pint of life giving blood later I was driving home, feeling light headed and praying I had not just done something foolish, albeit with wonderful intentions.

The next several days were filled with horrible fatigue, crazy shortness of breath and general frustration. I was torn between knowing that while I had possibly saved up to three lives with that one donation I still had the responsibility to make good decisions where my health is concerned not only for myself but also my family. I also had a commitment to my awesome training partner and our upcoming race! I finally confessed all to our Coach knowing what was done was done, but maybe hoping for some words of wisdom. His reply was both profound and succinct: "Kim, You are indeed an awesome person for donating blood during your marathon training and I admire such a selfless act! As your coach however, I cannot recommend it as it makes it impossible to train...." That folks, is a GREAT Coach! : )
Week 11 (Oct. 13)

"Do delude yourself into thinking there is anything enjoyable about eating energy gels."
 -Matthew Inman aka The Oatmeal

Several years ago when I was a "baby" runner I made a huge mistake. I didn't forget my running shoes, get lost on the course or not pin on my bib. I did something so obviously foolish I'm really embarrassed to admit it....I skipped breakfast! (hangs head in shame) Looking back on that day, all I can think is, "Really?!!!" As a nurse I KNOW the critical importance of nutrition and when I started running I read everything I could get my hands on regarding nutrition for runners and thought I pretty much had it figured out. Obviously not so much!

As you can guess, the race didn't exactly go as planned but I did learn an importance lesson about running and nutrition: It DOES matter! Whether before, during or after the importance of nutrition in the life of a runner cannot be overemphasized . Going back to the 13.1 last Saturday, this is why I did slightly panic when I realized I had left my gel, remembering there was no plan to pass any out during the race. Studies have shown that on the average,  humans are good for about an hour and a half of constant cardio before needing to refuel. Given that I'm not quite up there with the Kenyans yet, that puts me in the "bring a little somethin-somethin" crowd for a half marathon. Usually my go to fuel is the Accel or the lovely Huma chia seed gels that truly taste delightful but on this day I was grateful for every drop of Powerade provided by the race.

As previously touched on, I was very nervous about deviating from the "Thy shalt not take in or use anything not previously tried on race day" rule, which is there for GOOD reason, but desperate times desperate measures, right? You never know how your body is going to react to any given thing...trust me when I say this is true...which is why any seasoned runner becomes almost obsessive about race day routine. The most miserable I have ever been during a race was last February when I decided on a whim to ordered the char grilled chicken at a restaurant, something I'd never previously ordered before, for dinner the night before. My stomach took revenge for this gastric foolishness the first five of the nine mile course. Lesson learned the hard way!

At the end of the day, the good news is it really isn't as hard as what the media...and other runners...can make it out to be. Just find what works for YOU and stick with it! There are some basics you can start with, like low fiber is your friend on race day (think about it), and don't be afraid of carbs, despite what you hear these days...would you ask your car to run on empty? The options are endless so all good, just make sure you remember to throw them in your bag prior to leaving your house! ; )
Week 10 (Oct. 6)
"Michelob Ultra 13.1 Marathon 2014"

Hello Fleet Feet Family!

The last time I ran the 13.1 Marathon series was in 2012 when the course was still at Oglethorpe University. I came home with a PR...and a busted knee from a close encounter with the pavement while negotiating the last turn coming in to the homestretch. It did make for some pretty interesting race pictures but I decided to skip the following year figuring I have a better safety record at my beloved Greenway, plus I got to save on the race fee so what's not to love?
When I saw they had changed the course location for 2014 that did get my attention so I moved it from the "not so much" list to "maybe". I finally decided to jump in when I acknowledged the benefit at this point in my training to get a benchmark run in under race conditions. The new course location was the Forsyth Conference Center and the morning start temp forcast was in the low 50's so with the anticipation of a new area to discover and pristine conditions in which to make it all happen I lined up under the Michelob banner at 
7AM
 ready to rock! As a side note, I had a small advantage when it came time to press start on my Nike Sport watch. To the person that decided the runners would appreciate parking in a field of grass grown taller than a small tree, "Thanks!"

My fear of snakes fueled a fabulous warm up sprint! 

The course description of "experiencing countryside" turned out to be pretty spot on; the course was a lovely run through the outskirts of Forsyth with a few detours through charming neighborhoods. However, as most runners will tell you "rolling hills" can have many definitions and in this case we can safely go with "Hills? You bet!" There was one in particular that I lovingly christened "stairway to heaven." I silently thanked my coach on more than one occasion for all the weekly hill sprints we have been enjoying! I also blessed him for his admonition to "stay out of your head, mid race" because it helped me not to panic when I realized I had left my gel in the trunk of my car! Given that they were not passing out any at any point I realized my choices were "Powerade" or "Powerade", so at mile nine I made my way to a lovely volunteer and accepted a cup of lemon lime, praying it would not start an argument  with my stomach.

Happily, my digestive system gave it a fist bump and I quickly felt the benefit of the fluids and the glucose. (How DID the old school marathoners run on no fluids?)  Four miles later I had FINALLY conquered the last hill and passed the finish line, proud and grateful for having not only had the discipline to have come this far in my training plan (under the guidance of my awesome coach!) but also to have a healthy body to do it with, something runners quickly learn never to take for granted! I left that morning with a shiny new medal, several new products to try from the awesome post race party, and a time I was truly proud of, 1:55:22! Looking forward with happy anticipation for the coming training weeks!
Week 9 (Sept. 29)
"I'm treading water, I need to sleep awhile....." Maynard James Keenan
Hey Fleet Feet Family!
This past week has been wide open, pedal to the metal from the minute my feet hit the floor bright and early 
Monday
 morning. I never cease to be amazed at how forgiving and resilient our bodies can be, even under the most trying of circumstances. We know in the back of our minds rest is important, especially when we are asking so much from ourselves, but wind up pacifying our guilt feelings with a well intentioned, "I'll catch up
tomorrow
..." Not!!
With Mother Nature showing some love to the ATL this week my 
Monday
 night training run was nothing but a pleasure, pushing the pace and finishing with a smile! Only complaint was the sun setting at 
7:30
, but that's for another blog entry. Home to a good meal, then bed and the week would've been off to a great start, but grown up responsibilities sometimes get in the way of our best laid plans, don't they? Sadly that pattern continued through the rest of the week and by 
Friday
 I was definitely feeling it, seriously pondering whether Starbucks would consider sponsoring my marathon training....you never know until you ask, right?
Anyway, somehow I still managed to steer my car in the direction of the Greenway and by 
7:30
 or so Bharat and I were winging our way over the bridge. All I can say is, what should have been an awesome 14 miles ended up just being "ok" due to the gas tank being almost on "E" at that point....the low fuel light had been on a few too many days. Once again, my awesome training partner was the best wing man ever and we rocked it out nonetheless, but I couldn't help but chide myself knowing how much better I should've felt on that beautiful morning.
I'm hoping this week is going to be better and I'm planning on making it so, starting with a date  with the Sandman. I don't know who said it first but the truth is sleep is every bit as important as any training run in the life of a runner as that is our time to repair muscle,  prevent illness/injury and feel strong. What better gift to give yourself? Here's to a good eight hours!
Week 8 (Sept. 22)

"Get a Walkman or an iPod, or simply be left with your own thoughts during your runs.Take my word for it, you really don't have nearly as many thoughts as you think you have." Dawn Dais

Hello Fleet Feet Family!

Although I had been a runner for several years by the time I decided to train for my first marathon, the title of the book written by the author of this awesome quote peaked my interest, "The Non Runner's Marathon Guide For Women." It's literally what it sounds like, the story of how a completely sedentary woman goes from couch potato to successful marathon runner. Ms Dais is, of course, inspiring but the best part of the book is her complete and hysterically funny candor! 

I can testify to the truth of her quote and couldn't agree more! As previously shared, I am blessed with the best training partner ever and now that we have weathered two marathon seasons together can pretty much tell you what he had for dinner last night, lol! However, even the hardiest training buddy gets sick or has family commitments which warrant a solo flight and thus, busting out the iPod. This routine has worked for us until this season when three words brought it to a screeching halt: Rocket City Marathon.

After the death march that was the 2nd half of the Savannah Marathon I was determined to find a marathon without even the most remote chance of a heat wave. (Mid December, check!) It's reputed to be very well organized and focused on giving the marathoner the best experience possible, even holding the line on adding a 13.1 distance so that the field stays smaller. It's also in Huntsville, an easy day's drive, so what's not to love? Some crazy person declared headphones to be contraband! What's a runner to do? I've been training  sans iPod ( for the most part) and have been doing ok but am honestly still majorly bummed about it. 

I'm not ashamed to say I've been trying to find a work around, like the speaker vest. Once you run that distance you know what works best for you as an individual. Music is such a big part of my life I genuinely enjoy combining my two loves! I guess at the end of the day I'll put on my "big girl" running shoes but am def open for any ideas..... You listening Rocket City organizers? : )
Week 7 (Sept. 15)
"I got robbed on vacation. My girlfriend was upset that they took the first necklace I gave her, but all I could think about was that my Nike watch got stolen and I hasn't uploaded my miles yet."  Theo Rossi

Hello Fleet Feet Family!
My favorite column in Runner's World magazine comes at the very end of the magazine, literally. In every edition there is an interview with someone well known who happens to be a runner. "I'm a Runner" features random quotes from the individual giving you insight as to why they are passionate about running and what it means to them. It is not unheard of to get a laugh-out- loud comment such as the one above that left me hysterical, because it is so TRUE!

Anyone who is honest with him/herself will have to confess the running community is nothing if not more than a little OCD. We stop our GPS watches at intersections and compare pace times with each other to make sure our prognosticators for goal achievement are favorable and on target. If, God forbid, our mechanical coaches go down for whatever reason there is panic on the Greenway and an immediate call to technical support. Been there, made that call.

I'm happy to report our friends at Nike were genuinely concerned that their product was not performing up to snuff. After three years of faithful service it had stopped uploading runs, as in it was not recognized at all by my PC. After trying everything from their bag of tricks ("Have you tried rebooting your computer?") my watch was determined to be terminal and after a quick call to Niketown I was told that I could head over and pick up my new watch at my convenience. Now THAT'S what I call standing behind your product! 

Being practical people, we all know nothing is quite that easy, right? A few miles into my first run with my new watch I noticed my new buddy wasn't exactly keeping a steady pace, as in it was swinging wildly and randomly from what was actually happening to bizarrely slow....then back again...then slow again....Not a good thing during marathon training! Cue the next panicked call to Nike support, (Yes, I rebooted my computer!) leaving me a frustrated mess with rising thoughts of abandoning ship and going over to the competition, something I genuinely didn't want to do. I decided to do a little research first to see if the situation could be salvaged when I discovered that who knew, my watch had come with a magical thing called a shoe pod!
I am now capable of telling you all about why, although running on a Greenway is fabulous for runners it creates havoc for a GPS signal in that it is temporarily blocked...bummer! That where our little button of magic comes in! When tied to our shoelace the shoe pod fills in when the satellite is blocked, keeping your pace and mileage consistent and accurate! HOW GREAT IS THAT?! Once again Nike is 1# in my heart (at least when it comes to clothing and watches) and I recently discovered they are one of the major sponsors for my upcoming marathon.....that has to be some kind of major positive sign, right?! ; )
Week 6 (Sept. 7)

"Mother Nature's a Funny Lady"

Hey Fleet Feet Family!
While making our usual 
Sunday
 after church Kroger run my youngest daughter remarked, after spotting all the lovely mums gracing the front of the store, "I'm just not ready for cold...it seems like we just got rid of it!" As a native born Floridian I readily nodded my head in agreement while the runner voice inside my head said, "Who are you kidding?"

Mother Nature's trusty hand has truly played havoc with my training runs this week, as she delights to do it seems. All of my mid week runs ended up on the treadmill due to our recent monsoon conditions. Don't get my wrong, I love my gym, I really do! But let's be honest, there's a reason it earned the name "dreadmill". (Can I get an amen?) I've been making an effort to leave my IPod at home since I learned the directors of the Rocket City Marathon made all earphones contraband, and surviving fairly well until about mile two on 'mill run #1. I had already mentally planned my Christmas shopping list and reorganized my closet when I realized I had a decision to make: Die from boredom in the middle of LA Fitness or turn on Pandora! Music for the win! : )
When the weather forecast for 
Saturday's
 long run bode sunny conditions I rejoiced all the way to the greenway. Running with nature! Life is good again! Bharat and I faithfully foam rolled and lunge matrixed, then happily took off for our prescribed thirteen miler.  That joy was short lived when I realized there was obviously more shown on the weather app than "sunny" after Bharat looked at me and said "Wow, look at all that steam!" I tried to tell myself there really is a bright side to 250% humidity.....it's great for the pores, right? The reality was, however, it was a run that was accomplished through stubborn determination and buddy support. Mile thirteen never looked so good!

The Rocket City Marathon is in December and that is not by accident. As any experienced runner will tell you, any run is always better in cooler temps. Uber running coach Jeff Galloway actually uses a cut off of 50 degrees to determine any heat effects on a given run. After last year's experience at the Savannah Marathon when the heat index shot up halfway through the race I was determined to not make that mistake again. Hopefully, Mother Nature will be in a benevolent mood!
Week 5 (Sept. 1) - 

Training Week Five:
" Two are better than one, because they can help each other succeed."
Ecclesiastes 4:9 NLT
My alarm went off promptly at 
5:30 Saturday
 morning. Silencing it as quickly as I could so not to disturb my sleeping husband, I slipped out of bed and crept down the stairs, drawn by the smell of brewing coffee and the  motivation it promised. An hour later I was dressed and out the door, awake and in my right mind as I drove toward the Suwanee Greenway where my training partner would be waiting for me for our scheduled 13 mile long run.

Bharat and I have been training together and with our primary group from USA Fit for three marathon seasons now. I can think of no other more valuable training resource to have. On the mornings when my pillow is calling a little too loudly knowing I have someone waiting helps to put my feet on the floor. He is also a fantastic pace partner and I have no doubt he will be running Boston in 2015! It also helps that he is a chatty person like I am so between the two of us we can make the miles on a long run fly by!
Our thirteen miles did not disappoint and we both finished strong and on pace. Our coach has us running three weekday runs in addition to our 
Saturday
 long run. This allows time for our cross training (yoga!) plus an all important rest day, the importance of which cannot be overstated. New for both of us is the addition of a pre run "prep" that our coach has stressed is NON negotiable: foam rolling and a lunge matrix. The foam rolling helps to warm up the muscles gently and prevent injury while the lunge matrix serves as both  warm up and strengthening tool.  (You can see the demonstration video on YouTube, "lunge matrix")
I have to confess, I was a little skeptical at first with my concerns seeming to be validated when my legs protested strongly early after starting the new routine. But the payoff was very evident when the "favorite" workout of all runners, hill sprints, (can I get an "Amen?") was actually pretty amazing! Call me sold!  And so, the saga continues.....
Week 4 (Aug. 25) -
Flexible:"Susceptible of modification or adaptation; adaptable: "a flexible schedule."
From the day I made the decision to become a professional nurse I have known and appreciated the value of flexibility. Knowing that my patients and their needs come first requires me to embrace this trait, whether it be a simple need for more explanation of an upcoming procedure or as unexpected as an end of the day emergency. 
As will happen on occasion, this training week compelled me to channel this important nursing survival skill into my running routine, almost quite literally. After enjoying a great previous week of running and meeting goals, 
Monday
 left me feeling inexplicably fatigued. I decided given that it was early in the week to listen to my body (always a good thing!) and take a rest day. 
Tuesday
 was a scheduled yoga day so that seemed to be a wise plan that would allow for staying on target while pressing the internal reset button, so to speak.
However, even the best laid plans are not always full proof, and 
Wednesday
 rolled in finding me not feeling any better. Indeed I was honestly dragging and after managing to make it through the work day I knew the only place I'd be running would be to my bedroom for my pajamas! I collapsed into my favorite comfy chair while mentally calculating how many extra miles I'd have to add on over the next few days to make my mileage goal for the week. I knew it wouldn't be easy given that I would have only three days to work with, but unless I was hospitalized I was determined to keep my commitment....and "isn't that what goal setting is all about?" I told myself.
Thankfully I woke up feeling MUCH better and with solid determination headed straight to Tribble Mill Park after work 
on Thursday
. The weather cooperated beautifully (no late afternoon rain!) and I rocked out my nine miles....catch up day #1 done!
Friday
 followed in similar fashion, but I decided given my mission a change of venue wouldn't be a bad thing, so I headed to my second home, the Suwanee Greenway. 
The true day of reckoning came of course 
on Saturday
 during the long run. As we all know, flexibility does not always come without a price!  The first eight miles of my scheduled twelve were uneventful enough and then the sun made it's glorious appearance....not good....since the legs also decided to mention they had been required to run seventeen miles in the last 48 hours and that was BEFORE the morning had started! The "complaining" was pretty relentless, but I reminded myself about the whole goal setting thing and pressed on. Finally I reached the bridge leading back to the Town Center and it occurred to me I couldn't remember a time I'd been so thrilled to have completed a run! I was also pretty proud! See you in December Rocket City!
 
Week 3 -
Hello Fleet Feet Family!
For some time I have kept a training log. It keeps me on track, accountable, and is an invaluable tool when setting goals. While all these are important, for me the larger benefit has always been the ability to go back and see what works, what didn't, and WHY!

For example, if you were to flip through the pages of my journal you would see that in addition to my running workouts I am a faithful student of the amazingly gifted yoga instructor, Megan Kearney. In truth, gifted is so much the understatement... She will change your life so much for the better, as I can testify from my experience in what wasn't working.....
I had started training for my first Marathon (Atlanta) and was happily moving forward under the watchful eyes of the coaches from the Atlanta Track Club marathon training group.  Each 
Saturday
 (bright and early!) we wove our way through the surrounding neighborhoods of the Emory Campus, adding to our mileage slowly but surely, and after several weeks we had built up to 14 miles. Up until this point other than needing a stop at Starbucks and a bowl of oatmeal, I had felt fine. Everything was progressing beautifully and I was eagerly anticipating my first 26.2....and then, the wheels came off.

I first noticed it when I was halfway home. I was at a red light when I noticed I was having to shift every few minutes to get comfortable, unsuccessfully. Finally reaching my neighborhood I pulled in my driveway, parking my car in the garage as I had thousands of times but when I opened the door to get out, the entire lower half of my body began to protest...LOUDLY! It took me several minutes to even stand up and by the time I reached the door I was almost in tears, fully convinced I had developed full body arthritis! 

After finding a frozen pizza to sit on (I wish I was kidding!) and carefully placing bags of frozen peas on each knee I called my sister, who thankfully is not only a runner but a wonderful primary care physician. She patiently listened to my tale of pain and woe then calmly asked the million dollar question, "How often are you stretching?" "Ummmm.....not too much..." I sheepishly replied while reaching for the Advil.....

The good news is, as painful as this lesson was it has led to a whole new way of looking at fitness! The strength, both mentally and physically that I have gained from yoga has been more than I could have ever dreamed, and I am also quick to give it full credit for keeping me running injury free! If you'd like to try this amazing class for yourself you only need to drive to Fleet Feet in Johns Creek. Megan teaches there as well as her new studio in Loganville. She is a very joyful, high energy instructor that will work you hard then cool you down, leaving you completely refreshed and feeling fabulous! Namaste! 
Week 2 -
"The will to win is not nearly as important as the will to prepare."  Jumna Ikangaa

Hello Fleet Feet family!

While logging my workout at the beginning of the week this inspirational quote at the bottom of the page spoke to me in a BIG way! I had to smile as my memory drifted back to my third Peachtree Road Race.....

Having successfully completed the iconic Atlanta July 4th race two consecutive times I was feeling pretty confident going in to the training season. Our typical Atlanta heat was out in full force and one day on a whim I decided to take advantage of the air conditioning at my gym and complete my training run inside. Six miles later I emerged hot and sweaty, but smiling....mentally giving a fist bump to Georgia Power for making that run in relative comfort possible!

The success of that decision led to another treadmill workout and that pattern continued throughout the month of June. Noticing my new routine, one evening my wise husband casually mentioned that I might want to change my venue for at least a couple of my next few runs...."It's just been SO hot!" I protested, defending my new found comfort. 

After reminding me that that was exactly his point, my husband said nothing more, until the morning of the Peachtree when halfway through the 6.2 mile trek up Peachtree Road, I found myself having to push myself mentally in a way I never had before....because I was HOT and MISERABLE! I crossed the finish line feeling completely exhausted and dehydrated, vowing to never make that mistake again! My husband knew how upset I was, and graciously handed me his bottle of water.....with no I-told-you-so's.....

This important lesson has stayed with me and going in to this first week of marathon training I have reminded myself that preparation is many things, including training in the appropriate climate....It is consistency, staying focused, positive mental attitude and trusting that at the end of your journey your hard work will pay of!

The best is yet to come!
Week 1 -
Hi Fleet Feet Family! I'm Kim, and it's a pleasure to be sharing this marathon journey with you!
To tell you a bit about myself, I have been running since 2004. While growing up I dabbled in tennis but never considered myself an athlete, which was tough as my siblings are both talented in just about any sport that includes a ball! This led to a quiet insecurity that I carried but never talked about, and certainly never had any reason to feel it would or could ever change....

Moving forward to 2003, as a divorced mom of three I was working full time as a registered nurse with little outside recreation to speak of. I pretty much stayed chronically exhausted, as I'm sure other moms both single or not can relate.

That Spring, I had the great blessing of meeting the man who would become my husband! David is a gifted runner who was training for the Peachtree Road Race when we first met and started dating. The more he talked about the race the more intrigued I became and by the time the next year rolled around I was running regularly,  sending in my application for the entrance drawing as the opportunity presented itself....It turned out to be an AMAZING experience and I haven't missed a Peachtree since!

After getting several 10-k's under my belt it seemed time for a new challenge. I discovered while reading Wingfoot magazine (the official publication for the Atlanta Track Club) that the running club of Augusta was starting a new half marathon. The timing and location were perfect as my wonderful sister and brother in law live there, and they are also avid runners! My husband and brother in law enthusiastically agreed to join me in my new quest, and the training began. Before I knew it, I found myself standing at the start line with a pounding heart, knowing I had worked hard but feeling anxious too....what exactly had I gotten myself in to?

The course itself turned out to be QUITE a challenge and with it being an inaugural event there were a few "bumps" in the road, but I completed my goal and when I crossed the finished line and heard my name called it was such a rush of happiness and pride....I couldn't stop smiling! Better than the medal that they hung around my neck was the look of pride from my sister and her heart felt "Great job!!"

I went on to run the Atlanta Half Marathon with my wonderful husband's encouragement, improving my time and confidence....I knew I had become a runner!
After becoming comfortable with that distance I knew in my heart it was time for the full distance and in 2011 I signed up for the Atlanta Marathon. To say it was an amazing experience is such the understatement....it was a feeling of empowerment that was life changing!

I am now proudly able to say I am a three time marathoner who has joined the quest to earn my place at the starting line for the "final exam" for runners....the Boston Marathon! Thank you for sharing this journey with me.....let's do this!!