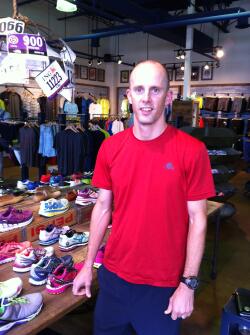 ---
Week 19 (Dec. 1)
After five weeks of not quite being able to push beyond +70 total miles I am happy to say I have finally broken thru.  This week I was able to hit 89 miles with not 2, but 3 high-quality runs!  If you're curious about exactly how I spread the mileage across the week I've included the below summary.
Hitting 89 miles this week represents a 15% increase in mileage from last week, so I'm pretty tired and sore.  But I think most of my tiredness comes from yesterday's high-quality run that included 16 miles at marathon race pace.  Running 90 minutes or longer at marathon-pace is by far the best way to prepare you for race-day.  Not only does it allow for huge gains in confidence, but it actually teaches your body to conserve carbohydrates to allow you to ultimately run faster for longer.  But be careful because while these runs are the backbone of any marathon training program, they are extremely hard on your body, require a lot of recovery, and increase the risk of injury.  This is exactly why I usually book end these runs with a couple days of running at an easy pace.  Doing this allows me to go into these runs fresh enough to sustain race-pace for well over 90 minutes as well as provide the right amount of recovery after the run so I'm fully ready for the next high-quality workout.  To maximize the recovery before and after I even try to break the runs into doubles, keep the pace slow, and the terrain flat.
But now that I've broken thru and have matched my training intensity from 15 weeks ago, it's all about maintaining this going forward.  This will be tough considering Thanksgiving is next week and I am heading to the frozen tundra that is Michigan for the holiday weekend.  Not to mention today is supposed to be pretty stormy.  But I can't let these little excuses deter me from my training, so I'm heading out for a slow soggy run.  Which doesn't sound like much fun, but these are the days that turn chumps into champs…or at least that's what I keep telling myself.
Happy running!
Week 18 (Nov. 24)

Going into this week, I only had one thing on my mind.  Turkey.  Lots and lots of turkey.  In addition to the food coma I was expecting to be in, I also thought about how well I would do in keeping on course with my training plan.  After all, maintaining training intensity over holiday breaks is already hard enough without adding a trip up to Northern Michigan.  Unfortunately, all my concerns over "will I or won't I" were put to rest when I came down with the flu on Tuesday morning.  Four days off right in the middle of the week make it pretty difficult to run 70-80 miles.  Doctor's orders even forced us to cancel our trip all together and stay in bed.  Sadly, I was only able to get in 32 miles, but that was honestly the best I could do without risking pneumonia.
The good news is my legs are fresh and well recovered.  The bad news is I still have a mild cough and there are only 2 training weeks before the race.  So, where does my training go from here?  According to my week 3 post, I should be in full taper mode and should be following the below training plan.  But I'm thinking I need to make some adjustments considering how off my last week was and how I'm still a bit under the weather.  I'm convinced that a successful training plan isn't in the plan itself, but rather in how I'm able to flex it around life's challenges.
Taper Plan Adapted from Daniels Running Formula by Jack Daniels, PhD:
Three weeks to race day

Mileage will total 80% of my max weekly mileage goal with two high-quality runs.

12 mile run that includes 4 x 2 mile at a pace 15 sec/mile faster than my marathon race pace w/ 2 minutes rest
18 mile run that includes 12 miles at marathon race pace
Other days are recovery runs at an easy pace

Two weeks to race day

Mileage will total 60% of my max weekly mileage goal with two high-quality runs.

16 mile run that includes 3 x 2 mile at a pace 15 sec/mile faster than my marathon race pace w/ 2 minutes rest
12 mile run that includes 6 miles at marathon race pace
Other days are recovery runs at an easy pace

Week prior to race day

Mileage will total 40% of my max weekly mileage goal.
All runs are at a pace where I feel refreshed at the end.
5 days prior to race run will include 8 miles that includes 3 x 1 mile at a pace 15 sec/mile faster than my marathon race pace
My first priority will be getting back to being healthy.  To that end, I'll be drinking lots of water, getting the right amount of sleep, and eating well.  Going into race day with respiratory issues would be a huge mistake, so my health has to be prioritized ahead of everything.  Second to that, I'll be running as much as I can without putting myself at risk.  If you're wondering what exactly that means …. well, so am I!  I'm expecting anywhere between 50-70 miles with a lot of indoor treadmill runs to keep me out of the weather.  In terms of high-quality runs, I'll let my body tell me if that's possible or not.  The important thing here is getting back to 100%!
Happy healthy running my friends! On a side note, get your flu shot, wash your hands frequently, and don't hang out with sick people.
Week 17 (Nov. 17)

First of all, I am happy to report another solid week of training.  There's not much more to be said on running +70 total miles with 2 high-quality runs.  The only thing new this week was the cold weather, which had no major impact other than forcing me indoors for a long 14 mile run on a treadmill.  In my experience, treadmill runs are great for short recovery runs because they guarantee no hills and they control your speed ensuring you feel refreshed after those 4-8 mile runs.  I usually avoid them though when doing longer runs for no other reason than complete boredom.  Unfortunately, I didn't pack the right clothes when the temperature dropped on Friday so my only alternative was to muscle up for a 1:45min indoor run.  The good news is I survived the monotony and kept my streak of running +70 miles alive!
On a side note, I recently made a personal discovery over the past month regarding workout nutrition.  Up until about a month ago, I relied upon the commonly used combo of energy gels and water every 45 minutes to maintain energy levels during my long runs.  While this provided a good pick-me-up for a few miles, it seemed to work against me in the late stages of my runs because my stomach would stop digesting the energy gel and my energy level and running pace would drop significantly.  I think it has something to do with the high-sugar content.  To avoid this late inning 'bonk', in place of the gel, I've started taking a few bites from a cliff bar along with water every 45 minutes and it has worked wonders.  So far, I've been able to finish my 20 mile training runs at a much faster pace feeling much stronger.  My point is, color outside the lines and *experiment with a variety of gels, beans, bloks, bananas, and energy bars to find what works best for you individually.  If you find yourself cramping up and bonking during the late stages of your runs, you should be taking a close look at what you're eating and drinking.  Making better nutritional choices during your workouts have a significant impact on your performance over those late inning miles!
*Disclaimer:  I would not advise experimenting with running pick me up's on race days.  For a look into a debacle that could be, refer to my week 6 post. 
Happy running!
Week 16 (Nov. 10)

Just call me Bill Murray because it's Groundhogs Day in November.  My running log for the week looks a lot like last week…and the week before that …and the week before that.  But consistency isn't necessarily a bad thing, and certainly better than the alternative.  I'll continue to work to improve upon the +70 miles and 2 high-quality runs that I'm putting in now.  With 5 more training weeks until the Kiawah Island marathon I'm in good enough shape to perform well and then begin ramping up for Boston after that.  Not a bad plan just as long as I keep at it week in and week out.
Since consistency seems to be the theme, let's talk a little about breathing consistency while running.  Earlier this week I was talking to some friends about the right breathing rhythm to use while running, and both indicated that they typically breathe in for four steps and then out for four steps, a 4-4 rhythm. (Oh, the excitement in being one of my friends, right?).  They were shocked when I told them I use a 2-2 rhythm regardless of pace as recommended by Jack Daniels in his book Daniels' Running Formula.  In fact, of all the elite runners he tested, about 86% of them automatically chose a 2-2 rhythm until working at maximum, at which point they go to a 2-1 or 1-2 rhythm.  Daniels says that by doing this you maximize the amount of air breathed in, which I'd say is pretty important in our sport.
I challenge you this week to find your breathing rhythm and test out a 2-2 cadence if you're currently not using one.  The 2-2 cadence essentially has you alternating between breathing in and out every time your left foot strikes.  Simply run a mile using the 2-2 cadence vs your normal breathing pattern and see if it's any easier.  For me personally, I've found the 2-2 rhythm the most comfortable way to breath while running and I use it during all my runs, both easy and hard paces.
Good luck and keep breathing!  
Week 15 (Nov. 4)

The story of this week can be summed up with the simple expression 'curiosity killed the cat'.  I know it sounds ominous but I have to say it's a fitting end to Halloween.  Tuesday's run was supposed to be the first of three hard workouts planned for this week.  I was going for a 15 mile workout with 12 miles at marathon race pace.  The great news is I ran it a blazing 30 seconds per mile faster than my targeted race pace…so, yay me, right!?!   City-wide celebrations should be in full effect with me running 12 miles at 6 min/mile vs a goal of 6:30 min/mile.  Well, not really.  This curiosity around how fast I could run 12 miles forced me into having to take an easy day on Wednesday and an off day on Thursday for recovery.  In effect, this one great workout cost me my training goal of increasing my weekly mileage and having 3 high-quality hard workouts.
To put it bluntly, there is no room for this kind of curiosity when mixing high-quality runs in with high-mileage (this is me reprimanding myselfJ).  Each run should be at a specific pace and distance to strategically balance running intensity with the need for recovery.
So, now that I've got that out of the way, let's move on to something more positive.  For the week I ran 72 total miles with two high quality runs.  Outside of the 15 mile MRP run I was also able to get in a long very cold 17 mile run on Saturday.  Not too bad for a week's worth of work, but just a hair shy of what was planned.
As for what my plans are for this coming week, I still have my sights set on delivering 80 total miles with 3 high-quality runs.
There's only one way to get there, folks…so, let's get out there and run!
Week 14 (Oct. 27)

Another great training week in the books!  I say this only because it's all about making small improvements from the previous week in terms of running intensity.  For me, these improvements included the following:
Increasing the total number of runs to 7, up from 6 last week.
Increasing my total mileage to 80 miles, up from 70 miles last week.
For the first time in almost 8 weeks I also mixed in the below two high-quality runs:
Marathon Pace Run – 2 miles easy pace + 12 miles MRP + 2 miles easy pace
Long Distance Run – 16 miles easy pace + 2 miles MRP + 2 miles easy pace
Take note of how many total miles were ran at a high intensity.  Only 14 of the total 80 miles (17%) were ran at a fast pace.  This is by design and exactly what the pro's recommend.   I've always found this interesting, but it's critical to maintain a low % of high-stress miles if you're looking to avoid injuries.
You may also be wondering why I mixed in the 2 MRP miles at the tail end of the 20 mile long distance run.  Well, this is a bit of an experiment, but I'm tired of how slow I am during the last few miles of a marathon race.  By ending these long distance runs at or near MRP, I'm attempting to train my body into finishing stronger…to step up and perform when it counts most.   More to come on how well this works, but I've read about the pro's doing this, so I'm giving it a try.
How my training is going to improve next week is the real question at hand.   I'm looking for a slight increase in total mileage with the addition of a 3rd high-quality run.  It is a big deal for me in accomplishing this because that will finally get my training back to where it was a couple months ago.  
Here we go!
Week 13 (Oct. 20)
What do you get when you run 6 times in 7 days and tally 70 total miles with two of the runs exceeding 15 miles?  Well, to be honest, not much outside of just being sore, but it actually feels good to follow-thru on my training goals and get my mileage close to where it was 8 weeks ago.  So, yay me!
While it's good to celebrate the small successes I also have to recognize the risks that normally come with increasing your mileage too quickly.  I can provide several examples of me having to take several days off due to an injury directly caused by increasing my mileage by more than the recommended 10 percent.  So, why was this past week different? Why was I able to increase my mileage by a whopping 49% and not get hurt?  I think it's mostly because only 8 short weeks ago I was consistently running 80-90 miles per week, so running 70 miles really wasn't a complete shock.  But there are risks regardless so I took precautions that I think are important enough to highlight. Recovery is the name of the game when increasing your running intensity so here are a few things I've learned from the experts:
Run two shorter distance runs instead of one long run
Run on soft surfaces (trails, grass, track)
Avoid hills during recovery runs
Pace recovery runs so you feel refreshed at the end (1-1:30min/mi off your MRP)
Refuel with lots of water and high-carb foods 30 minutes after runs AND throughout day
Ice baths (brutal, but worth it)
Most of your weekly mileage should be recovery runs with only 2-3 hard runs / week
Run happy my friends and do as much of the above as possible.  As for me, I'm off into next week fully committed to my training plan.  Now that my mileage is back up to where it should be my focus will be on adding at least one hard run where I maintain marathon race pace for 8-10 miles. Good luck!
Week 12 (Oct. 13)

Lesson of the week … don't let setbacks set you back! If you have an injury, get sick, or have simply over trained…take the necessary rest, stay positive, and then get back at it.  I can't come down hard on myself because I came down with a cold this week and wasn't able to run the mileage I wanted. Taking a couple days off because of knee pain shouldn't cause me to shake my head in defeat because I couldn't hit my training goals.
On the bright side, despite being sick and having that nagging knee pain, I was still able to get in 6 strong runs AND increase my mileage by 20%. It's not so bad when I look at it like that versus simply acknowledging I missed my goal on the +15 mile run and delivering the 70-80 miles. Looking at it the wrong way can sometimes compound a setback, first initially caused by the injury itself but then extended by a negative psyche.
Maintaining a positive mindset is so important to putting those injures or colds behind you and quickly getting back to running. When you're forced to take an unplanned break from running, try cross training with bike and core workouts and always include stretching. It helps maintain the mental sharpness and steadfast motivation required for competitive marathon training. It also has the added benefit of helping to strengthen those core muscles that are so important to avoiding future injuries.
Fortunately, I believe I'm on the other side of my cold and ran today with no knee pain so my goals for the week are to do at least one +15 mile run and hitting 70-80 total miles. Sound a bit familiar? Yep, but I can't proceed beyond that mileage until I can blog about actually having done it. Here's to no more setbacks!
Week 11 (Oct. 6)

Six runs in this week? Check!  Now that I've checked the box on my running frequency, I can set my sights on increasing my training distance and speed. Not any of the runs were particularly fast or long - but that really wasn't the intent. The purpose was to just get back into the swing of running more frequently and from that perspective I was successful. With that behind me, it's time to ramp up my training distance!
Typically, the rule of thumb is to not increase weekly mileage by more than 10%, but as usual I'm choosing to not focus so much on the percentages, but rather do as much as my body will allow. Maintaining 6-8 runs will now be a mainstay in my weekly training routine, but this week's training will also include a distance goal of at least one +15 mile run and hitting 70-80 total miles.
But ramping up this quickly puts a lot a pressure on being able to recover as quickly as possible between runs.  In order to do this, I will need to really focus on drinking enough water. Sounds strange that I would call out drinking enough water as an important success factor, but it's super important for recovery and harder than you think to drink the recommended amount.
Pete Pfitzinger in his book Advanced Marathoning says you should drink at least 2 liters of water each day plus about one and a half times the amount of weight you lose during training. After some training runs, I've lost as much as 3 pounds, which translates into another 2 liters of water to fully rehydrate myself. Drinking 4 liters (~128 oz) of water in a day is not easy and I don't often succeed without thinking about it thru out the entire day. Keeping a full water bottle handy at all times is really the only way I've been able to stay hydrated with any degree of success.
So, put on your running shoes and fill up your water bottle, because this week, my friends, we run!
Week 10 (Sept. 29)
Can we agree to not talk about last week? All I'll say is that the family vacation won out, so let's not dwell on that. Instead, let's look forward and figure out how James gets his groove back!
Before Tupelo my training had frequency, distance, AND speed…three of the most important ingredients that make up the very satisfying and allusive PR! Three weeks into my training for the Kiawah Island Marathon and my training has lower frequency, much lower distance AND zero speed workouts. Since I'm pretty sure just about everybody experiences this at some point in time, let's talk about what to do about it.
I think the biggest mistake runners make after a break of any length is doing too much too early. If I were to immediately jump back into running the same frequency, distance, and speed from 2 months ago I would most certainly injure myself. The approach I use after a break from running of any length is to first focus on improving only running frequency without worrying at all about speed or distance.  After I give my body time to adjust to this running frequency, I'll then mix in the longer distance runs that increase my weekly mileage. Finally, after my body adjusts to that, I'll add in the weekly threshold and marathon-pace runs to get the speed workouts in. I can't really put a time table on how quickly to phase-in the distance and speed components because it's all about how your body reacts to the training. You just have to minimize the ego and use your best judgment.
So … without further ado… hear ye, hear ye! I am making a commitment to run 6-8 times this week. Each run may be short and slow, but I'm not worried about that. I'm just looking to improve running frequency.  I find that it's so much easier mentally to ease back into training when focusing just on running a certain number of times per week and not concerning yourself with distance or speed.
If you're like me and also trying to ramp back into a training routine, what's your commitment? Who cares about running slower or not near as far as you used to…just commit to getting back out there a certain number of times this week! That is what is most important…just get out there, you'll feel so much better after you do it - I promise!
Week 9 (Sept. 22) -

How many people do you know come back from Vegas saying, "Wow! What a great place to run!"  Well, I certainly don't know any and, despite my best intentions, you won't be hearing that from me.  My wife and I spent hours pulling together the itinerary for our Vegas-San Fran trip and even though our plans didn't include any training time I was still secretly planning to run each day and stuffed half my suite case full of running gear. I was sure my motivation to stick to my training plan was stronger than what even the best Vegas trip could offer. I also naively thought I'd win big at the tables, but Lady Luck had different plans for me on both fronts. To play off the often used quote "What happens in Vegas…usually doesn't involve running!"
Sadly, this is a common theme for me anytime I travel. Whether it's for business or pleasure I just can't seem to consistently stick to my training plans when I'm on the road. The set routine I have at home just doesn't seem to translate well when I have to dig my running cloths out of a suite case.  The few times that I've had success has been because I forced myself to not skip the first day.  I know, it's trivial, but it just seems to set the tone for the entire trip and when you miss the first day, at least for me, it opens up the flood gates and usually has the Soup Guy saying "No runs for you!" every day until I return.
On the bright side, prior to leaving home I was able to get in six runs in four days totaling 55 miles. To avoid injury during this ramp-up period I'm including more double runs as well as keeping an easy pace.  Which is exactly what you're supposed to do…with the exception of the 3 day Vegas vacation break.
Now, as I begin the second leg of my trip to San Fran, I can let this go one of two ways. Either this turns into a 7 day running hiatus or I can pull up my boot straps and force myself out for a run in the City by the Bay.  I know, the choice seems so obvious to me as well as I sit here typing, but I have a feeling it's going to be just as tough as Vegas…and I've already skipped the first day. Oops! 
Week 8 (Sept. 15) - 

Positive news to report…I'm back! After spreading seven runs across 5 days I am feeling strong enough to officially begin ramping into my next training cycle. I was even able to include a long 18 mile run today as a final explanation point onto my readiness. All is right in the world!
Now, with 13 weeks and counting before my next race it's time to spell out the dos and don'ts of my training plan. My first commitment will be to basically continue with the training plan that I've been doing over the last 4 months. I may not have a PR, but I'm blaming that on just having a bad race. I know I'm faster and I believe I can get even faster by sticking to the plan.
I know that seems boring so to add in a little pizazz, I'm going to make a few minor tweaks. In additional to continuing forward with running 85-95 miles per week with 2-3 high-intensity runs, I'm going to add in the below: 
Supplement running with 4 core and weight training workouts per week
Improve food choices to speed up recovery and possibly further improve racing weight
Try increasing mileage by 10-20%
I'm already one week in with doing the core/weight training as well as maintaining a balanced nutrition. I feel good about my chances on these two, but I'm the most nervous about increasing my mileage.  Obviously, I can't really act on this goal until I get back up to running 85-95 miles per week, which means I have another 2-3 weeks to strategize my plan. One thing I know for sure is that to avoid injury my approach will have to be very cautious and that I may have to temporarily stop the high-intensity runs, break-up my runs into doubles to help with recovery, and be ready to focus even more on hydration, nutrition, and icing. I'm up for the challenge and we'll see how it goes! 
Week 7 (Sept. 7) - 
So …… I'm struggling over how to turn a recovery week into a sexy blog topic. I've tried to dress it up several different ways, but there just isn't much action to highlight the week after a marathon race. In guy movie language, my training this week would be more like watching The Notebook vs The Terminator. I know, this doesn't bode well for this week's blog, but recovery is the name of the game right now no matter what Schwarzenegger says.
Since running the marathon on Sunday I was able to get in 4 other runs of around 6 miles each. All of the runs were at an easy pace (+1-2min off my MRP) to avoid any injuries that always seem to occur when running too fast or too far after a race. In addition to this I was able to mix in a few core workouts along with a lot of stretching and icing and with all that behind me, I feel pretty strong.  And by strong I am not talking about coming back from the future to save lives kind of strong, but more like I could definitely row a boat through a lake full of swans kind of strong.
Most of what I've read indicates I should only be doing recovery runs for two to three weeks after a marathon race.  I'm thinking (hoping) my body will allow me to ramp up more quickly since the marathon wasn't so much of a race as it was a long crampy painful training run. My plan is to test my body every couple days by increasing the intensity of my runs to see how I feel.  The first test will be tomorrow with the good news being that I'll know then if I will have an extended recovery period or if I can get back at my training plan. The bad news is I won't be able to tell you about it until next week. 
Either way it goes, one thing is for certain …. sooner or later, "I'll be back" (come on, you had to of seen that one coming). J
Week 6 (Sept. 2) - 

What's the difference between a first place sub-2:50 and a 3:22 marathon finishing time?  For me it was the consumption of Powerade before the race.  Yep - Powerade.  How in the world could such a small thing derail me in the worst possible way?  I had done everything right to get ready for this race – I trained right, I ate right, I slept great the night before.  I did everything right until I didn't.  I broke the most basic rule of race day preparation. 
Up until Sunday my pre-run morning routine consisted of a small glass of orange juice, 16oz of water, a banana, and a cliff bar. With the hot and humid temperatures of Tupelo, I was worried about staying hydrated during the race so I went off my pre-race routine script and added equal parts Powerade to my water intake.  Shouldn't be a big deal, right?  Tell that to my stomach.  By mile 5 it had painfully locked up and any of the fluids I attempted to drink held a sit down protest in my gut.  The cramps continued thru the entire race and the digesting issues kept my muscles from getting any of the nutrients that are so critical to long-distance running.  Surprisingly, I made it thru the first half in 1:30, even with losing my breakfast at mile 9.  But the back-half proved to be one of the toughest of all.  It took me almost 2 hours to get thru the final 13 miles. To make matters worse the winning time was around 3:04 - well within range of my expected pace.  Much like everything else during this marathon - my results are really hard for me to digest but I will put it behind me and turn my attention to the next training cycle.  In 15 weeks I will try to redeem myself at the Kiawah Island Marathon on December 13th.  Until then though, I need to get the taste of this recent race out of my mouth so I will be searching for a local half-marathon race that I can mix in as one of my training runs. 
The obvious moral to this story:  Under no circumstances should you change your pre-run routine on race day.  By all means, experiment and find the right types of foods and drinks that allow your body deliver max effort. But only proven nutrition choices should be used on race-day, otherwise you run the risk of….well, having what happened to me yesterday happen to you.  One thing I know for sure - I may have lost the race, but I won't lose the lesson! 
Week 5 (Aug. 25) -
How much faster could you run if you were 25 pounds lighter?  Or to think about it in another way, how much slower would your marathon time be carrying a 25 pound bag?  These are the questions I considered after running the Boston Marathon and seeing how different my body composition was from the elite runners that have recorded sub-2:10 marathon races.  For example, according to their bios, Haile Gebrselassie is 5'5" and weighed in at 117 pounds at the height of his career.  Meb Keflezighi, winner of the 2014 Boston Marathon, is 5'5" and 126 pounds.  Ryan Hall, apparently the fatty of the group, is 5'10" and weighs in at 130 pounds.  So - what does this make me at 5'11" and 155 pounds?  Compared to these elite runners …. certainly not skinny, which happens to be exactly how I've been described my entire life.  I was equally surprised by the claim that every pound of body weight adds 2-3 seconds per MILE to your race pace.  Now … not to go all "Good Will Hunting" on you but carrying 25 extra pounds over a 26 mile distance explains more than half of the time differential between me and these sub-human elite runners.  Matt Fitzgerald further emphasized the importance of nutrition in his book, Racing Weight, where he writes that "weight and body-fat percentage are more strongly correlated with finish time than are training variables".
To be completely honest -  I read all about this concept with the book in one hand and an ice cream sandwich in the other.  I didn't truly understand, or really want to understand, the impact my food choices had on running performance and recovery.  I was skinny and I ran a lot so I naively thought I could eat anything and just burn off the calories.  Who knew that fruit snacks, pizza, fast food, and ice cream do little in providing your body the fuel it needs for endurance running?!  Certainly not me!  Okay, maybe I did know that but come on … ignorance is bliss and pizza is much tastier (and easier) than serving up a high-carb diet inclusive of lean meats and fish, nuts and seeds, whole grains, fruits and veggies.  Maintaining a high-quality diet is easier said than done though when work place cafeterias, happy hours with co-workers, all restaurants ever invented and even Sunday dinners at Mom's house are always on the ready to provide a biggie size portion of mac and cheese accompanied by a side of cold beer.
I began prioritizing my diet earlier this year and while my food choices are not always "by-the-book" I have been able to drop about 10 pounds over the last 4 months.  It is also important to note that my racing times have also improved.  After all, at the end of the day, it is all about racing performance and weighing 145 pounds is only better than weighing 155 pounds if I perform better at the lighter weight.
In preparing my training plan for the Kiawah Island Marathon on December 13th, nutrition will be a major component for the first time ever.  My pursuit will not be focused simply on weight loss, but more on eliminating empty-calories and giving my body the proper nutrients required for training and recovery.  If I lose weight in the process it's icing on the cake balsamic vinaigrette on the salmon salad!! 
Week 4-
Go ahead and call me Christopher Columbus because this week I made a couple of big discoveries in my running world.  Both were the result of decisions I made to go with something different  – one ended up being a great decision and the other was not so great.  The first finding …. shoes matter. A lot.  I typically go through a pair of running shoes a month so when my go-to shoes were suddenly sold-out, I chose to switch to another brand.  My rational being that running in new shoes, even if they happen to be from a different manufacture, is better than me continuing to run in the old worn out shoes I currently have. It turns out my rational was kind of irrational.  With only 2 weeks before a big race, deviating from the shoes that have fit my form and stride for the last 2 years was not one of my better decisions.  Either ….. A) my feet have suddenly turned into divas, B) my head is completely messing with me, C) shoes REALLY do matter or D) all of the above.  Regardless, I've decided that the importance of shoes is not to be discounted so from now on, my go-to shoe will remain my sole provider (pun intended).
The other important self-discovery I made this week is related to tune-up races, or what I like to call, "Get ya mind right" races.  Remember way back last week when I wrote about how tapering was the easiest part of my training plan physically and the hardest mentally?  This week proved to be the hardest by far.  Decreasing my mileage and maintaining intensity on just two hard running days should be easy enough given the previous high mileage runs throughout the last 15 weeks. I say should because I had worked myself into a mental running rut where an 8 mile jog quickly felt like a 16 mile race.  To provide a much needed psychological pick-me-up, I decided to divert from my tapering plan and enter into a 5k/10k challenge race.  Some marathon training plans incorporate 5k/10k races every 4-6 weeks as well have having a final tune-up race 2-3 weeks prior to your race. Originally, I had decided not to incorporate these races into my training plan because I wanted to stay true to the particular training plan I was using.  I knew I needed a break from the monotony of training, but running a 5k/10k challenge race was a high risk high reward decision.  If I did well, it could be just the confidence booster needed leading up to the Tupelo Marathon. If I didn't do well, it could seriously throw me off my game and have disastrous consequences.   So how did it work out for me?  I am happy to report that not only did I post a personal best 5k race time of 16:28 and a 10k at 37:04, I also finished first place overall in both.   BOOM!  Needless to say, this was exactly the validation I needed that my training is working and I am now more motivated than ever to compete in the Tupelo Marathon in two weeks.
The lesson learned here is that there is real value in building these shorter 5k/10k races into your training plan. The only key in occasionally doing these races is not planning in any advanced tapering that may disrupt your overall training cycle. It can offer huge rewards in terms of building confidence while also providing a good measure on how you're progressing in your training.
Week 3 - 

It's official. The tapering has begun.  It may seem strange that only three weeks into Fleet Feet's Training Experience blog I would talk about tapering, but with only a few weeks until the race in Tupelo, it is important for me to begin transitioning away from max effort training runs to ensure I'm completely recovered and ready come race day. Physically, this is the easier part of the training plan for me.  Mentally, it's the most difficult part. Though I try not to dwell on the "shoulda, coulda, woulda's", I'd be lying if I said I didn't find myself asking a lot of tough, albeit rhetorical, questions about my training over the last 15 weeks.  I wonder if I did enough or should have done anything differently.   I question the 3 days I took off when things got busy at work or the other 3 days I took off to nurse a twisted ankle. Regardless of any retrospective answers I come up with, at this point in my training, the most important thing I can do to ensure peak performance on race day is to focus on talking myself up, staying hydrated, eating well and getting lots of rest.
Before walking thru the specific approach I'm going to use I think it is important to point out that training plans are not a one size fits all approach and should be personalized to the runner.  What works really well for me may not work well for others and vice versa.  To find your own personalized plan, experiment with different training strategies to discover what works best to keep you injury-free and improve your race times. If I had learned this valuable lesson earlier in my running career I would not have blindly followed the team approach to cross country training prescribed by my coaches where the slowest runners on the team trained the same as the fastest runners. Instead, I would have asked the coach to help me develop a more strategic training plan focused on my individual running strengths and abilities.
In the spirit of the aforementioned "do you" message, I have to admit I haven't yet settled on the best way for me to go about tapering. In my prior marathon training plans my taper included almost 2 full weeks where I would only run 4-5 times with multiple breaks of 2-3 days of no running. While I have felt strong on race day using this method, I am choosing to experiment a bit with a technique that seems to be more widely accepted by the marathon community.
That being said, the plan below details out my tapering approach leading up to the Tupelo Marathon on Aug 31. 
Three weeks to race day

Mileage will total 80% of my max weekly mileage goal with two high-quality runs.

12 mile run that includes 4 x 2 mile at a pace 15 sec/mile faster than my marathon race pace w/ 2 minutes rest
18 mile run that includes 12 miles at marathon race pace
Other days are recovery runs at an easy pace

Two weeks to race day

Mileage will total 60% of my max weekly mileage goal with two high-quality runs.

16 mile run that includes 3 x 2 mile at a pace 15 sec/mile faster than my marathon race pace w/ 2 minutes rest
12 mile run that includes 6 miles at marathon race pace
Other days are recovery runs at an easy pace

Week prior to race day

Mileage will total 40% of my max weekly mileage goal.
All runs are at a pace where I feel refreshed at the end.
5 days prior to race run will include 8 miles that includes 3 x 1 mile at a pace 15 sec/mile faster than my marathon race pace
Adapted from Daniels Running Formula by Jack Daniels, PhD
My race day results will determine if I stick with this tapering plan or change it up before my next race in December.   This, of course, is in addition to staying hydrated, eating well, getting lots of rest and talking me up, Stuart Smalley style.  I'm good enough, I'm fast enough and doggone it – running likes me!
Week 2 –
Here's a seemingly insane idea …. in order to race faster you should train slower.  Sounds a bit counter intuitive doesn't it?  It is exactly this surprising notion that is the premise of a couple of books I've been studying on marathon training that are specifically directed to runners whose approach to every training run is to run it as hard and as fast as possible. In both books it is suggested to include 4-5 slower paced runs and just 2-3 faster paced runs in your weekly training plan. To do this means that I would run only 20% of my weekly mileage at or above my desired marathon race pace.  This just didn't sound right to me.  In my head, I should train faster to race faster.  I should pound the pavement as hard and as fast for as long as I could, right?  Since my approach wasn't yielding the results I wanted, having only improved my marathon race times by 5 minutes over the last 2 years, I decided it was time to get out of my own head and give this unorthodox approach a try.
Both authors contend that to find success in running you have to run consistently, but in order to do so you need to give your body the necessary amount of recovery time between hard runs. The thinking is that if you run too fast on a recovery day your body won't be able to deliver the max effort required on the hard days. Their training plans are structured around getting results by not only running consistently, but also making sure the runs vary greatly in speed and distance.
I'm currently nearing the end of an 18 week training cycle with only 4 weeks to go before the Tupelo Marathon in Mississippi. My typical training week includes 3 high-quality hard runs:
12 mile run at my goal marathon race pace
12 miles of interval/tempo training running 30 seconds per mile faster than my goal marathon race pace
18-22 mile run a full minute per mile slower than my goal marathon race pace
Recovery runs are added in on the other days for me to hit my targeted weekly mileage total and during these runs I need to constantly remind myself to keep the pace slow enough so that I feel refreshed at the end.  This usually means I'm running a full minute to a minute and a half slower than my goal marathon race pace.
I'm not sure why it took me 2 years to finally come to the conclusion that the best marathon coaches in the world might actually know what they're talking about.  Turns out, they may be on to something.  In four short weeks I'll know exactly what that something is and how it translates into a marathon race time.
If interested, the books I am referring to are:
Daniels' Running Formula by Jack Daniels, PhD
Advanced Marathoning by Pete Pfitzinger & Scott Douglas
Week 1 -
The great Steve Prefontaine once told me, "To give anything less than your best, is to sacrifice the gift." Okay, so maybe he didn't say that directly to me, but it is one of the reasons I continue to run today. A much younger version of me had some success running in high school and college, but looking back I realized I never really gave it my best effort. I never laid it all on the line and fully focused or applied myself as a runner.  So now, at 37 years old, I approach my training to re-define what my "best" is as a runner.
How many miles can I run in a week?
How many high quality training runs should I do in a week?
How much recovery do I need? 
What should I eat and drink to help with recovery?
How fast can I run a mile? 
How fast can I run 20 miles?
How long can I sustain a threshold pace run?
What should I do to taper for an upcoming race? 
While my answers to these questions change almost daily with the ups and downs of training, I will know in short order the answer to the ultimate question in long distance running. It's not how fast I can run a marathon … it's how fast I can race it?  Over the next 8 months I will test my body, my motivation and my training plan as I gear up to run the Tupelo Marathon over Labor Day Weekend, the Kiawah Island Marathon on December 13th, and ultimately the Boston Marathon on April 20th, 2015.   That race will be the culmination of all my efforts and determination to not just beat my marathon PR of 2:59:29, but blow it out of the Boston Harbor water.
Whether you are training for a marathon or 5k, the question you need to ask yourself is, are you giving anything less than your best?  I invite you to continue to check out Fleet Feet's Training Blog where I will be sharing my challenges and triumphs as I chase down the runner I know I can be.