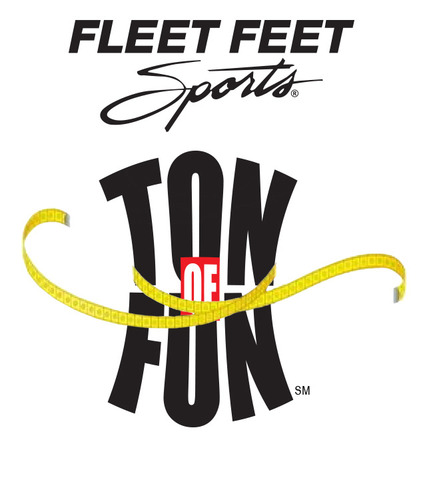 WHAT IS IT:
12-week wellness program to introduce the idea of creating a life-style change.

WHEN IS IT? 
January 5 - March 29

WHO IS IT FOR? 
Anyone who wants to take a step toward a healthier lifestyle

WHY SHOULD I DO IT? 

During the 12-week challenge, we will provide you with some of the best resources available to make change happen. You'll have access to a personal training session, continued access to a physical therapist, dietitian and a chance to learn about healthy food choices and menu planning. You'll receive a weekly newsletter with tips and info to keep you on track and motivated. You'll have access to a private facebook group to receive encouragement from others in the group and encourage others. You are responsible for a private weigh in each week at Fleet Feet Sports and we will reward you for weight loss milestones along the way!

HOW DOES IT WORK? 
Once you REGISTER, you'll get instructions on how to plug into the Ton Of Fun Wellness Program facebook group and will have access to all resources of the program. After initially completing a goal sheet at the first weigh in, you'll come in once a week for a private weigh in. Our coach will compile the information and track your progress each week. 
While you will be responsible for your own progress, we'll give you every resource we can including events through the course of the program to help. We'll start with a kickoff event on January 5 and host weekly events for the group. These will include a walk/run meetup, information sessions with our medical and gym partners and an event at our grocery partners to go over menu planning and healthy food choices!
Not only will we give you the resources, we'll reward you for your progress. Not only can you win prizes for weight-loss milestones, we'll give you a chance to earn back your registration fee in Fleet Feet giftcards!


WHAT IS THE COST?
$50 (can be earned back with prizes listed below!)
PRIZES:
Receive a $25 gift certificate to Fleet Feet Sports once you complete 8 weekly weigh-ins AND lose 2% of your body weight.
Receive a second $25 gift certificate if you lose 5% of your body weight after your 12th-weigh in.
PLUS
Receive prizes when you reach our "race clubs"
5K Club (3.1 lbs lost)
10K Club (6.2 lbs lost)
Half Marathon Club (13.1 lbs lost)
Marathon Club (26.2 lbs lost)
Ultra Marathon Club (30 or more lbs lost)