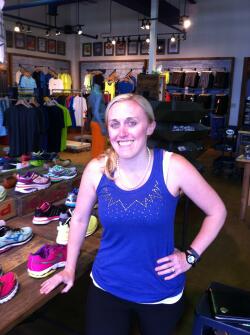 ---
Week 11 (Oct. 6)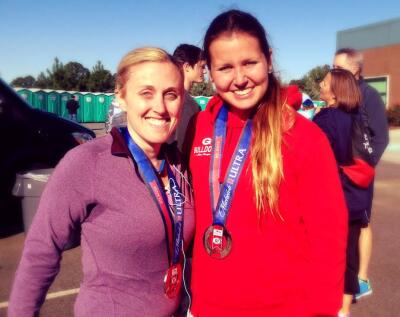 Well I finished another half marathon! It wasn't the time I had hoped for, but I still finished and had fun with it (if "rolling" hills count as fun).

My pace was actually decent for the first 8 miles ranging between my initial goal pace of 9:30 and my "reality set in that I didn't train" pace of 10:30. After mile 8 my energy was shot so I debated between continuing to push it and possibly have my stomach and husband regret it later, or slow down and enjoy the race without the hopes of my PR. My brain and legs luckily chose the latter and I slowed down to my snail pace for the rest of the race. While I didn't get to reach my PR as originally hoped I was able to help another young runner finish his first half marathon.

So what did I learn from this? Well I'll admit it, as I get older I may actually have to train for races. I may also have to include some hill workouts too after this weekend!

As far as what's next, I'm debating keeping up with the long runs to give the Silver Comet Half Marathon a try in a few weeks. At least I know that race is a flat course, so maybe I can get closer to a PR! I may also try to derail my carb eating to shed the few pounds I gained while training. I will have to work on a diet that includes frozen yogurt though! 
Week 10 (Sept. 29)
I was a little better at actually doing some training runs this week. I did a few mid week runs, one attempt at a speed workout and my last long run this weekend (10 miles) . For some reason when I did my speed workout this week I forgot how terrible my dog was at running with me. But he looked so cute and that he could be a good running partner.  It just wasn't this week, again! I guess his attempt to chase squirrels could be a good agility workout for me.  And I was impressed that he was the one getting tired mid run for us, so maybe I'm getting in better shape? 
While on my long run I was thinking about what to write about in my blog this week and came up with "things I have learned/accomplished during this training" 
1. My dog is still not a good running partner (though I likely will keep trying)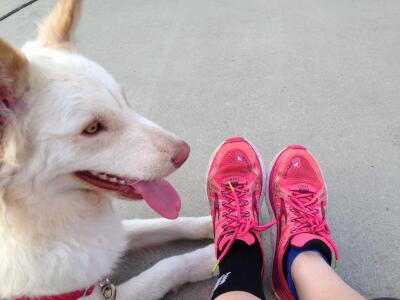 2. I've successfully gained 5 lbs (I was actually trying to do the opposite and for some reason distance running makes me gain weight!)
3. I love the brooks transcend shoes. Definitely getting another pair!
4. My heel pain (plantar fasciitis/achilles tendonitis) is pretty manageable at this point. I got lucky on that one since I maybe foam roll once a week and only had to get it treated a few times.  I also just knocked on wood since stating that will probably cause it to increase this week. 
5. I've beaten my husband in steps for the past month thanks to my long runs. I don't like losing to him in a fitbit step challenge. 
6. I've considered keeping up the training to do the ING/publix marathon in the Spring with a friend. I've done that half many times and enjoy the race but the weather can be hit or miss in March. My once-floridian blood has forgotten how to adapt to heat these days, so I need a cold weather marathon. 
Well, I hopefully will have successful news to report next week on the mich ultra half. If anything the mich ultra at the end of the race will make me think I got a faster time, right? 
Week 9 (Sept. 22)

So I'll admit it again- I was not good at sticking to my training plan this week. I don't even have kids yet, so I don't know how people who work and have kids can stick to a training plan. Maybe there is a secret society that teaches you these things that I don't know about yet.
While I don't have "good training stories" to tell you, I do have 2 good attempts that may be of amusement.
First story involves my speed workout this past week. I had an hour left before the sun went down to get a walk in for my dog and get my run in. So what did I do? I combined them. Seemed good in theory, but my dog is actually terrible on the leash walking and even worse running. I thought for some reason since we hadn't tried running with him in a while that he would magically have changed in the past 2 months and turn into the husky "working dog" he's supposed to be.  Our 9x400 run turned into 16x200s with intermittent quick stops to smell grass, poles, and swerve across the sidewalk. So basically it turned into an obstacle run. It wouldn't have been so bad if my dog Fozzie didn't have the runner "GI issues" in the middle of the run which I had to pick up. So the last half turned into walking back since I didn't want to have his nice little bag go everywhere on a sprint.
My other fail at a training run this week (don't worry I'm doing runs other days, these are just my speed or long runs) was my long run. I already knew 11 miles wasn't going to happen at the beach, so I set it up to run 6 and be content with it. Little did I know that Myrtle Beach was going to be rainy/windy 
on Saturday
. So I did 5 on the beach with all kinds of wind. It actually was a pretty run seeing the waves crash along the beach. I was also able to run with one of my college roommates- together in college we ran 3-4 halfs or 20ks without training. Oh, how I miss my twenties!
I have 2 weeks left before my race now. Maybe the weather will be perfect that first week in October and my legs will remember half the training I did and pretend I did the full training?
Week 8 (Sept. 15)

After talking about "first world" problems for runners last week I jinxed myself on my long run today. I had everything ready including my new headphones (since when are they so expensive?), and my waters/ electrolyte mix. Then I get out of my car at the greenway and realize I don't have a belt to hold those waters. How did people do it before running belts? So I did what any normal person would do- I drove home and went back to bed. I'm just kidding. I did a ten mile run without my super cool running belt and had to *gasp* hold a water in my hand. It wasn't as bad as expected- I mean some people can even do a ten miler without a belt. But since I was trying to have a successful run and stay hydrated I knew I had to bring something. The only dicey part was when I picked up an extra bottle after 1 loop and was trying to drink from it to save my electrolyte bottle until later in my run I decided putting the bottle in my pants was a brilliant idea.  It only made it part way down my pants until I decided stopping, drinking, and putting the bottle on the side to pick up later was a more realistic idea.

In addition to my unfashionable 10 miler, I was successful at completing most of my other training runs this week. I did have an epiphany during my speed workout this week. Its simply that I don't like tempo runs. I think I'd rather do stadiums, track workouts or hill workouts then tempo runs. But apparently tempo runs are really good for your race pace and getting those PRs.  Can't I just get a PR without doing those?
My PR for a half marathon currently is 
2:14
 (about 2 years ago). My ultimate goal is to break 2 hours, but I think that will still take quite some time and some more legitimate training. On my long run today while I was slowing down towards the end miles I started calculating what my goal pace will be for my upcoming race in 3 weeks. I'm going to aim for a 
10:30
 pace this race to try to get a 
2:17
 or so, and then have a second race planned for later this fall to try to get it down more for an actual PR. While I know 
2:17
 is not a PR for me right now its more my "realistic" goal for the race. I can still go surprise myself on race day too. Maybe my "20 something legs" will make a reappearance for my race and reward myself for not fully training.

Next week we will see if I even get a long run in- I'm headed to Myrtle Beach with some colleges friends. Maybe I will just work on the "post race" training since my race is sponsored by Mich Ultra?
Week 7 (Sept. 7)
So my calendar app must have worked.  Or maybe it was going out two evenings in a row and carb loading with some fall beers.  Or maybe, just maybe, following that training schedule this week paid off for my long run. For the first time since starting this blog and training program I can say I felt good through my long run (9 miles).

During my long run this weekend I was ranting to myself on how I needed new headphones and how my fitbit wasn't charging right. Then I thought how I didn't have these problems 10 years ago when I was running.  Oh my goodness, I've become a runner with "first world" problems.

1. "I can't get my pandora/itunes station to work"
Even though I'm thirty, I still remember 10 years ago when MP3 players were just coming out to use while working out. I think I still brought the portable CD player to the gym in college. And I'm sure more of you can remember the walkman players. So at some point we used to be able to run without music. Now when I forget my headphones or something to let me run with music I try to embrace it and remember how we used to run (after cursing first about what I forgot and debating whether I can go home and get it)

2. "I forgot to charge my Garmin watch"
I love having a watch that tells me my pace and how far I've run. I also have a fitbit that tracks my steps and keeps me and my husband competing each week. Remember when we used to measure how far we ran with the car? I don't even know what people did before that- use actual paper maps?

3. "My swiftwick socks didn't make it in the wash"
We all have our running garments that we love, but before designers started making a market for runners we used to run in cotton socks, shirts, etc. Now I have to have my under armour shirt and shorts washed before my long run. My new love is the swiftwick socks. I was a balega fan for a while, but for some reason this summer I'm loving the swiftwicks. I keep trying to get my husband to Fleet Feet to get shoes so I have an excuse to get more swiftwick socks.

As I keep to my training plan for a possible 2nd week in a row I will try to see how many other "first world" problems I can find with runners now. Maybe I'll even purposely leave my headphones at home for a run. But let's be honest, I have a backup pair in my car just for that instance that I do forget them. 
Week 6 (Sept. 2)
I'll admit it I was actually bad at sticking to my training plan this week. Like really bad.  Really bad means that it would include not even having looked at what I was supposed to run this week until the week was over. Oops! But again this is how I "train" for races normally, by not really following a plan. In the past this gets me to finish the distance of the race but not always get the time I want. So this week was a flop for me.

I still did run a few days this week but my speed workout was 2 400s short to what the plan said, and since I'm out of town now I haven't gotten a long run in. I thought about it when I packed for Florida but then fate had intervened when I forgot my good sports bra. I did get to "run" with my 3.5 year old niece on a walk this weekend though. Then because she was so excited about running with Aunt Katie I took her to get her first pair of real running shoes. I made sure they didn't have princesses on them and of course had to show her how to test running shoes in the store. She loved looking for shoes- or perhaps it was the sprinting down the aisles part of testing she liked.

After flopping on the training this week I decided downloading a new calendar app would help. I made sure I plugged all the important runs left in my training plan in so that way I can actually try to do them over the next 4 weeks. Because putting things in our calendars actually means they will get done right? Maybe I can hope my race allows dogs and I can have my golden husky pull me along 13.1 miles.

Maybe next week I can share success about getting all my training runs in... Or I will have found a good running leash for my husky! 
Week 5 (Aug. 25)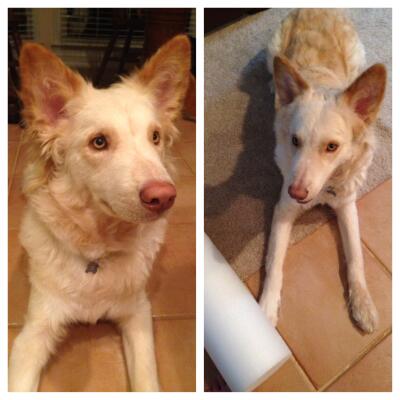 It was definitely a hot weekend for a long run. When I got back to my car after my run at about
9:30
this morning I still saw people just starting their runs. My stomach hurt just thinking about how much worse it would be when they were out there. The funny part is I grew up in south Florida and trained for cross country seasons in August at
2:30pm
when we got out of class. I don't know how I did that and didn't even come out with one story of getting sick from the heat. But for my heat intolerance now I'm going to blame it on getting older and that my body has adjusted to seeing more seasons in Georgia. 
On my long run this morning I definitely had to listen to my body on how far to go. I'll use the heat as my scapegoat and not that I didn't do well at sticking to a training plan this week. I love running but my work can be exhausting, so when I'm tired after work I don't always want to run. But this morning with the heat (yes husband I did have my hydration belt!) I started getting chills after 6 miles. I wanted to do close to 8 but when I started not feeling good I had to start trying to compromise with my mind. Yes it was a battle between pride and my dehydrated self.  My prideful side kept saying "suck it up, you only have 2 miles left." Then my dehydrated side would say "Do you remember those races or runs where the stomach cramps that you almost were running in the fetal position?
So I compromised on 7 miles since its what I did last week. And then I didn't stop running until 7.25 so I could say I did more than 7. The mind won an extra .25 over the body in the end but we will see if the body comes back for retaliation.
My hydration status also made me think of the OCD things I do before a long run to prevent such fetal position running. Over the past 5 years I had GI issues with long runs that resulted in me getting a colonoscopy in my 20's, having a MD tell me "don't worry rectal bleeding happens in about 5-10% of ultra-marathoners", and having a discussion with my former boss (she's a nutritionist/PT) about my diarrhea. So after many fun stories of races/training runs I have now developed my OCD for what I eat/drink before and after a race or long run.
Evening before dinner: anything but subway or Italian with a lot of cheese. (Does have to include frozen yogurt though)

Morning: Clif bar/protein bar or banana with peanut butter (and let the dog lick the spoon with peanut butter)
Hydrate: Cytomax electrolyte drink
Post Run: pickle and more cytomax

If I start to cramp badly I also take a Magnesium supplement, or if it gets worse I go straight for chicken broth. I haven't strayed too far from this for any of my long runs. Occasionally I'll try a different electrolyte drink but I still like cytomax the most. I learned that I lose more salt/electrolytes than normal during my runs so I over supplement with them. Ever since I've started my salt/electrolyte OCD diet for runs I haven't had ANY stomach problems.
So lesson learned here is eat pickles after a run, and possibly consider your shorts color selection if you have any GI problems with running.
Week 4- LET'S TALK ABOUT HEEL PAIN
As promised from last week's entry, here is my "go-to" for treating heel pain (mainly for plantar fasciitis- but achilles tendonitis can still benefit in most cases)

1. Stretching
Stretch both your gastroc and soleus muscle groups (the two big muscles in your calf). This can be a "runner's stretch" against the wall, or a step stretch. Keeping the knee straight gets the gastrocnemius, bending the knee gets the soleus. Hold stretches for at least 30 seconds and perform about 3 repetitions. If you've had heel pain for longer than 6 months a night splint can also be helpful- but if you've had it this long you should also go seek medical expertise on it. 

2. Foam roll
As I mentioned last week, I am a big believer in foam rolling. For heel pain foam rolling the gastroc/soleus for a few minutes a day can make a big difference. There's growing evidence out there now that foam rolling can increase muscle strength prior to a workout. 

3. Get proper footwear/inserts
If you've had your shoes for a while and you start getting foot pain, get new shoes! Sometimes running in shoes with the midsole worn out can can increased pressure in different areas of your foot, leading those muscles to get irritated, or at worse getting a stress fracture. Likewise, sometimes if the problem comes after getting a new pair of shoes have someone check your new shoes to make sure they properly fit. Sometimes we need more stability in our shoes and sometimes we don't. I tend to supinate when I walk and then pronate when I run. So make sure who's fitting you in shoes watches you run in them! 

4. Seek medical treatment if the problem lasts > 2 weeks
The sooner you get treatment on an injury, the quicker you recover. I'm going to be biased from the physical therapy side, but I see a range of patients with foot pain who either come in immediately or who try and wait it out. You have a better prognosis if you come in early. Physical therapists can do a lot of manual treatment on you ranging from trigger point release, ASTYM or manual tools, cupping, or my favorite Dry Needling. 

Dry needling uses acupuncture needles but does not base its healing mechanisms off of acupuncture. It bases it off the response of the muscle, tendon, ligament, etc, where as acupuncture traditionally is based of chi and meridians of your body. With dry needling a needle ranging from 15mm to 75mm can be placed in a trigger point in a muscle and elicit a twitch response from the muscle. This causes the muscle to "cramp", but then fatigue and release the trigger point. I also do needling a lot by the origin of the plantar fascia on the foot which gives patients  a lot of relief for the "first step" pain in the AM. 

Okay, I'll get off my soap box now on treating foot pain :)

I was still successful in keeping up with an actual training plan this week. I know, even after my soapbox about treating injuries, I'm still guilty of not stretching, foam rolling, etc. My weekly goal for my training plan is at least 1 long run (with mileage building up), 1 or 2 speed workouts, and 1 medium run mid week. If I'm really tired from work then I may cross train or just do weights at the gym. This week I felt so good after my 7 mile run that I even helped my husband with some yardwork. How much yardwork and the quality of my work is another topic for discussion though... 

If you have questions about foot pain let me know! 
Week 3-
"Foam Rolling with a Puppy"

I was successful at actually sticking to a training plan this week including a 6 mile long run and a speed work out. I also included 2 weight days at the gym. I'm a firm believer in resistance training with running. I've done crossfit before and loved it, and I could notice a difference with my running.

Now onto foam rolling with a puppy. As I mentioned in my first entry, I am coming off a heel injury. And by that I mean I've had chronic plantar fasciitis for about 3 years. Yes, ironic given that I'm a physical therapist who treats this diagnosis daily. But remember I'm classified as a "runner" and let's be honest most runners don't like to do any treatment that involves stopping running.

With my increase in running preparing for a half I am trying to be more diligent about stretching and treating my foot. Another thing I am a big advocate of is foam rolling. While my goal is to do this daily on my calves and legs, right now its more like before and after a longer run.  It helps loosen up the fascia layers around muscles and can help with trigger points in muscles. The nice knot in my medial gastrocnemius head (calf muscle) is a trigger point, and when I roll on it even for a few minutes the pain on the bottom of my foot gets better. I've even taught my husband how to do a trigger point release on my calf muscle. While I grimace in pain, he secretly enjoys it and reminds me that this is what I do to patients daily. Now where does the puppy come into foam rolling? Well see I have a 1 year old golden retriever husky puppy. Anytime I'm on the floor he loves it. So foam rolling is a favorite of his as he thinks its more for wrestling. He even tried to provide a tennis ball for me today to roll on my trigger point. Though he seemed confused when I tried to roll on it and started wrestling me for it.

For this week I'll try to keep foam rolling with my puppy and then get some more treatment advice on plantar fasciitis ready for you! 
Week 2-
"The week with the bad run"
This week I did do my homework and decided on the Mich Ultra 13.1 that is October 4 weekend in Cumming. This gives me exactly 8 weeks to train. Not the best timeline for training but at least it does give me some time to build up my mileage and do some speed work. I am also going to try to do another one in October/November but this one I can at least commit my schedule to right now.

I am going to base my training schedule between Hal Hidgon's half marathon guides and some others I've researched. Normally I just use the guides for the long runs, but this time since I want to improve my time I may actually pay attention to the tempo and speed workouts.

This week I was on vacation for part of the week so my normal workout routine was a little off. I had brought my shoes just in case I could get a run in, but it turns out my running shoes took the week off too. When we got back I tried two runs outside since the weather was supposed to be a bit cooler. Both runs ended up being horrible. Saturday's run was slow and I only could muster 3 miles out in the nice 70s weather. I listened to my body and only did 3 instead of the planned 4. Then Sunday I made sure I ate a little more and went to a shadier area. Nope, that did not work either. I underestimated the weather and did not hydrate enough or even bring a belt with water. My husband luckily waited a few hours after the run before reminding me that he did tell me to bring water. The planned 4-5 miles ended up being a slow 4 miles with multiple breaks, and a loving husband giving me his water towards the end.

I've learned from running over the years that you are going to have bad runs. Maybe two in a row, maybe an entire week of them. It happens to everyone whether they will admit it or not. So I'm going to dust myself off after these 2 runs, blame it on that my body was still in vacation mode, and try again tomorrow. And maybe I'll even listen to my husband and bring my belt... 
Week 1- 
One of my favorite running quotes is by Amby Burfoot.
"I have learned that there is no failure in running, or in life, as long as you keep moving. It's not about speed and gold medals. It's about refusing to be stopped. You might find that one particular direction proves difficult, but there are many directions on a compass. Infinite, in fact. As long as you keep searching, you'll find your winning way."
I remember reading this quote when I was in college and it has stuck with me ever since. It has gotten me through marathons, 20k's, exams and boyfriends.
Now nearly a decade after college I found myself to be a doctor of physical therapy, married and still a runner. Running to me isn't about winning a race, its about time on the road, the smell of grass in the morning, and realizing you just daydreamed for about 6 miles. Some mornings it's also about the post run bagels at a nearby bagel shop.  Since my high school running days I have done over a dozen half marathons, 2 marathons and 3 grueling 20ks up a mountain outside Furman University. Every year now I try to do at least 1 long race to keep me training and always having a finish line to cross once in a while. This year I turned 30 and I decided I wanted to run 1 or more half marathons during the fall season and even try to get my best time.

Deciding on a race can be as simple as me and my college roommate Amber deciding at the last minute to do a 20k outside Furman, without even reading the first half is uphill. Now as I am a little older and less naive I try to pick ones based on time of year, scenery, and possibility of a cool running shirt. This fall I am debating the silver comet half marathon October 25, the mich ultra half marathon October 4, and the Thanksgiving day half marathon in Atlanta.

Right now I am up to about 5 miles for my distance run so I need to pick one soon in order to try to stick to a training plan.  Ironically even being  physical therapist and telling patients the importance of building strength and endurance over a progression, I have been known to hop into a race without doing proper training. Right now I am trying to come back from achilles tendonitis/plantar fasciitis so I figured I should practice what I preach and actually pick a training plan. This week's homework will be picking a race and then setting a training plan with my remaining weeks.

I look forward to sharing my running adventure with readers as I am sure many of you can relate!