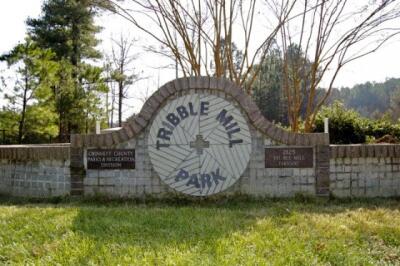 LOCATION:
2125 Tribble Mill Parkway
Lawrenceville, GA 30045 
 
PARK HOURS: 
Sunrise to sunset (unless posted otherwise)
TRAILS HOTLINE:
770-978-5270 
WEB SITE: 
gwinnettcounty.com > Departments > Community Service > Parks and Recreation > Explore Your Parks (trail maps are available)
DESCRIPTION:
This 700 acre passive park contains about ten (10) miles of trails consisting of a 3 mi. asphalt paved multi-purpose trail around Ozora Lake, a 1.8 mi. narrow soft surface trail around Chandler Lake as well as 5+ miles of soft surface trails between the two lakes
DIFFICULTY: 
Multi-purpose trail is gently rolling & rated 1, soft surface Chandler Lake trail is flat , very narrow in spots & rated 2 while the 5miles between the two lakes is hilly, with lots of roots and switchbacks – rating 3 (RATING: 1 being easy & 5 extreme & technical). As with most trails, it is best to run with a partner and without headphones – be aware of your surroundings. On occasion you will encounter mountain bikers and horses on the trails between the two lakes.
AMENITIES:
Restrooms (@ both Oak & Holly pavilions), playground, large car parking areas, large Ozora Meadows open area, two fishing lakes (Ozora Lake – 108 acres & Chandler Lake – 40 acres) & three picnic pavilions
DOGS: 
Dogs are permitted in the park but there is no dedicated dog area within the park as there is in other Gwinnett County parks.
COMMENTS:
Remember to run SAFE & SMART – take along a friend & get out & see some of the great trails Georgia has to offer.