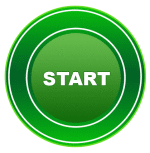 Well, here we are. Another Monday. Another week. Another polar vortex coming it seems (or at least something close to it). If you are like me lately, time has gotten tight and the shine of that new years resolution has been scuffed a bit. 
Recently I came across a quote in the Book Start: Punching Fear In The Face authored by Jon Acuff. If you haven't read his stuff, you should check it out. Anyway, the quote:
"You don't need to go back in time to be awesome; you just have to start right now. Regretting that you didn't start earlier is a great distraction from moving on your dream today, and the reality is that today is earlier than tomorrow."  

After reading this, my first instinct was to apply this to running and my goals. How about you? How do you apply that to not only you exercise goals, but to other areas of your life? 

In our society, its tough to take the tortoise approach of taking small steps and applying them consistently day after day. We want to do everything as soon as possible to get the advantage. To get ahead. Whatever the reason may be.
So here is to putting the last two months behind you. Starting fresh. Forget about it and just take the first steps today. Just start! It really will make the difference tomorrow!