Meet Heidi Dawson! Heidi is the manager of the Johns Creek Starbucks on Medlock Bridge Road. She also has a pretty awesome way to spend her weekends!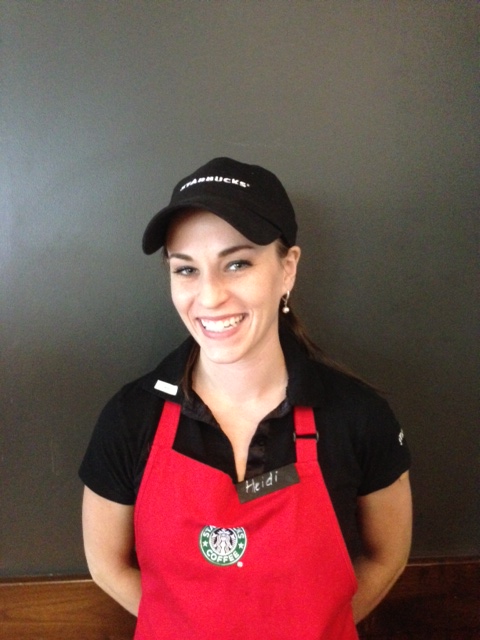 Have you ever been standing in line at your local Starbucks, patiently waiting your turn for your morning cup of coffee (or third) and wondered about the person making your coffee? Well, I certainly do! That's why we have decided to start a new segment called, Runners Undercover. It's our way of exposing the awesome people that you may not realize take on extraordinary challenges on the weekends! After years of getting coffee at the same place, I finally decided to start learning about the wonderful people that work at my Starbucks or The Mecca as it is affectionately known by the Fleet Feet staff. Upon all the same talk for months I learned a little known fact about the manager of the Johns Creek Starbucks. Her name is Heidi Dawson and she is an insane ultra-runner! That sparked my curiosity to start asking other people in the area about what adventures they do on the weekend. I was shocked to find out how many of these "everyday" people, do extraordinary adventures on their "off days".
With that being said, below are the ten questions I asked Heidi to find out what exactly got her into Ultra-running and her advice for other runners wanting to try it out. Sit back, relax with your triple shot latte and enjoy!  
Fleet Feet: When did you start running?
Heidi Dawson:  I started running in 2007 - I had run track in HS but didn't keep up with it.
FF: What got you into running?
HD:  I saw a sign for the Alpharetta Thanksgiving Day Half Marathon and told myself that I was going to run it one day.  I started running 5/10/15K's to train and ran my first Half Marathon on Thanksgiving of 2008.  I was hooked ever since!
FF: What are your prerace rituals?
HD: I always eat a bagel or piece of toast with peanut butter before a race.  I always put Vaseline on my feet pre-race.  I like to be at a race at least an hour before start just to make sure my pack is set and I don't feel rushed.
FF: What in your opinion is the most difficult thing about running?
HD: Pushing through when you feel like you have nothing left.  During longer races your emotions go from low to high multiple times - sometimes it is difficult to not give in to the negativity. 
FF: Do you have a favorite distance?
HD: I really like the Ultra Distance - the 50 mile distance is probably my favorite - although I have never "officially" ran a 50 mile race.
FF: So you run ultras, what got you hooked on the endurance events?
HD: The day that I finished my first marathon - I went home and signed up for the Sweetwater 50K - I figured that I was already trained, why not keep going?  Ever since then, I have been hooked - when you change to the Ultra distance, the feeling of the race changes.  Everybody is so encouraging and willing to help you out on the course.  It feels a bit more relaxed, and you get to walk the hills! 
FF: What is your favorite article of clothing for winter miles?
HD: I always have on a headband.  As long as my ears are warm - I am good to go. 
FF: Your favorite race moment to date?
HD: My favorite race moment was when I completed my first 100 mile race.  My husband was at the finish line and I just ran to him and hugged him.  He was at the aid stations throughout the night - I was struggling with stomach issues and knowing that he was there waiting for me kept me going! 
My second favorite race moment was when I got to pace Lara on her first 100 mile race and she ran through the finish. 
FF: When the alarm goes off at early o'clock, what would we find you eating or drinking?
HD: I don't usually eat or drink before a morning run but I always carry a Peanut Butter Cliff Bar with me, b/c I like to eat mid-run!
FF: And the big one! What is your next big event and what advice would you give to someone who wants to try their hand at the world of Ultra-running? 
HD: My next race is the Pistol 100 Mile in January. 
Go for it!  You will find a community of runners there to support you and get you through your race.