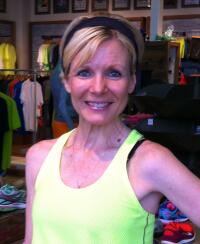 Rocket City Marathon 2014
Hello Fleet Feet Family!
The Rocket City Marathon is officially in the books! Huntsville promised a marathon to remember and did they ever deliver! This runner brought home a new PR, a shiny new medal, lots of fun memories, and a BOSTON QUALIFIER of 3:51:48!!! To say it was an amazing day is QUITE the understatement and I'm still trying to soak it all up.....
After working and dreaming for so long, crossing the finish line was almost surreal. A wonderful volunteer was waiting to drape my new medal around my neck and after confirming I was not in need of any type of medical assistance (I'm pretty sure I was looking a little dazed!) guided me to a fabulous spread of post race food, including the most delicious homemade vegetable soup! Perfect post race food for a near perfect day! Getting there was quite the ride but as always, worth EVERY step of the way! 
For those of you considering a marathon I can't recommend this race strongly enough. This is truly a marathon for marathoners. Being sponsored by the local track club and featured in a lovely town like Huntsville the whole event has the stamp of attention to detail. They make you feel like you are a part of something very special and are glad you are there, from the gentleman that sings a live version of the Star Spangled Banner (great job!) at the start to the announcer that calls out your name and hometown as you cross the finish line. They are there to give you the best, most personal event possible and they make it happen. The locals also turn out in enthusiastic numbers and while they can't replicate the head count of a city like New York they more than make up for it in fun and creative ideas, like the lady who was holding up the sign that said, " Your hair looks great!" 
The course itself was new this year and in short, was pretty awesome! Truthfully, coming from Atlanta means ANY course that doesn't promise hills, hills and more hills is going to be phenomenal in my book but this one was honestly close to perfect: a charming tour of the area, (including the Space Station....the Star Trek geek in me was doing a happy dance!) and flat enough to just about guarantee a great day with enough variance to keep it interesting and prevent any muscle soreness from too much repetitive stress. How great is that?? For full disclosure I'll mention there was a small stretch that involved some rough road....I think maybe some construction in that area is on the docket....but in no way did that put a damper on an otherwise well thought out tour of our neighbors to the west.
In the interest of brevity I'll save some of the details for another day as there were just too many cool things to review in one sitting, but I wanted to end by giving the folks in Huntsville a very well deserved and heart felt "Thank You!" for a magical weekend.....and to my amazing and ever patient husband David for being the best chauffeur and support system ever! I am blessed!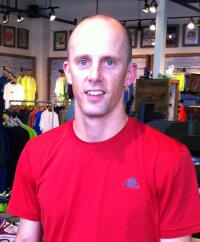 The Kiawah Island Marathon
I am happy to report that the Kiawah Island Marathon was a success!  I finished the race in 2:56:29, beating my PR by a full 3 minutes!  I was even able to finish 1st in my age group and 12th overall.  This is a huge relief considering the debacle of a race I ran 13 weeks ago in Tupelo.  All the hard work and effort finally paid off!
As you know I went into the race fighting off respiratory issues stemming from a 3 week old flu virus.  I honestly wasn't sure how I was going to do considering the impact this had on my training leading up to race day.  And the start of the race was not easy with me not really finding my stride until mile 10.
From a strategy perspective I started out 30 seconds per mile slower than my average race pace.  It was tough holding myself back and letting the group surge out in front, but this paid huge dividends during the back half.  Like I said it took about 10 miles for me to find my grove at which point I was able to gradually drop my pace down to 30 seconds per mile faster than my average race pace.  It was during this 12 mile stretch that I was able to chase down all but the 11 people that finished ahead of me.
So, that got me to mile marker 22.  As with just about everybody, the last 4.2 miles is the most difficult part of the race.  Everybody tells me my stride looks great and that I look so relaxed during this homestretch, but internally I am a mess struggling mentally with each step.  The good news is I was able to finish this part of the race at a pace 15 seconds per mile slower than my average race pace.  Which is a success compared to previous races.  While I wasn't able to pass anyone during this last stage of the race, I think its key to point out that I was not passed either.
All in all, it was a great race. Starting slow is definitely the right strategy in addition to making sure you get in those long +20 mile training runs that allow you to finish strong. Now it's time to set my sights on Boston!