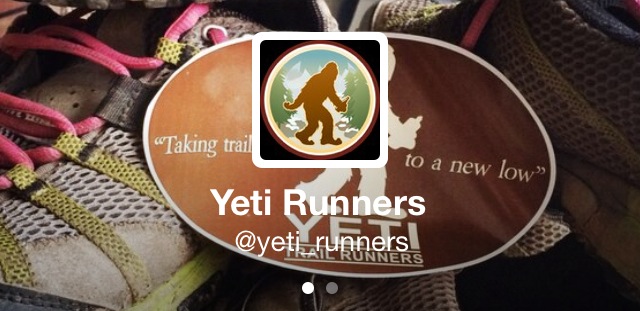 Fleet Feet:  So you started the Yeti trail runner club. Why the Yeti?
Jason Green: I named the club after my good friend David. He taught me how to run ultras. He is also the hairiest person on the planet. One day while out on a training run, I started to push the pace a bit hard with only about 3 miles left on our run. I got out ahead of him pretty good and came to climb that is about a mile long. I was forced to a slow run and then out of nowhere David comes walking by with his shirt off and says "if you're going to have any success in trail ultras, you need to learn how to walk." I was a little delirious from the June heat and thought - Did a Yeti just walk pass me mumbling something?
FF: What made you decide to start the club with so many other clubs out there?
JG: I had just finished building about 6 miles of trail that connects to a state park and wanted get people out using the trails. I started a Facebook page for a few friends and posted a map and distances of the trails. I was getting a bunch of folks at the time to come out and do their long runs with me and then we would all meet back at my garage for some craft beers and share a few stories. I wanted to host these craft beer inspired runs and little fun races around the park at night when they were closed but the local running clubs I belong to have to follow RRCA rules and have a bunch of liability issues and I wasn't able to put on these kind of events through them but they thought the ideas were wonderful and encouraged me and also helped me put on the first events. I remember our very first 15k, the Douglas County Rogue Runners drove their trailer out for us and set up tables and coolers and GUTS put out a volunteer request. We have evolved into much more than I ever expected, Last year we certified 25 trail runners in trail solutions and maintenance, raised several thousand dollars for Georgia State Parks and raised money for a charity that provides a measure of comfort for children in need and also added a club president and several other positions.
FF: When did you get into Ultra running?
JG: I got into ultra-running about 6 years ago. I was reading a magazine article about someone who had just completed a 50 mile race on the trails and it sparked something deep inside me. I remember calling the doctor and asking "how do i quit smoking?" (At the time, I had a 2 pack a day habit)  I went in for a physical a week later and told him of my plans to run 50 miles and I remember him rolling his eyes. On the way home I stopped at Target and bought some athletic shorts and the next day took off for a run into the woods. I didn't make it very far that day before I collapsed on the side of the trail but 14 months later I ran 50 miles in 10:45:15.
FF: Favorite moment to date on the trails?
JG: I have this photo of me and a few friends sitting on a side of a trail in June, in middle of running the GA Loop and we all had this look on our faces. I can't explain the look but people that come over to my house and see the picture always pick it up and smile.
FF: When you have to take a "conference call" on a trail run, leaves or…?
JG: I'm always prepared with a wet wipe folded up in a zip lock baggy, fits easily into my handheld.
FF: After your first 100 mile finish, what craft beer did you celebrate with?
JG: I put more thought into this then my fueling and clothing selection. I had a very special bottle ready to drink at the finish line but when I got there my friend Brad hugged me and my other friend Candy immediately made me drink her beer, I don't remember what brand of beer it was but it was perfect way to finish celebrating with friends.
FF: If someone wanted to join the Yeti Trail Runners, what would they need?
JG: They can go to the Yeti Trail Runners website or find us on Facebook and Twitter.