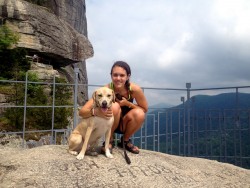 You'll have to leave the city of your comfort and go into the wilderness of your intuition. What you'll discover will be wonderful. What you'll discover is yourself.
~ Alan Alda
Last week, when it started snowing, I ran the trail along the Chattahoochee river at Columns Drive. Perhaps, if I was responsible, I would have rushed home, huddled under some blankets, and waited out the snow storm. But I was enticed by the snow that dusted the tops of the trees. The way the flakes landed delicately on the surface of the rushing river. I couldn't resist the faint light crept through the trees as fog and twilight settled over the woods. The only thing better than running trails, is running trails in inclement weather. But the point remains; trail running is fun.
1. A Break from the Obligations of Running
We each have different reasons for running. Many want to "get into shape." Some are training for their first race. Others are training for their third Boston. Some are burning stress. A few are cross-training for a different sport. In the midst of our "reasons" for running, it can begin to feel like a last-ditch obligation. We force ourselves to lace up, crank up our headphones, and hit our neighborhood street. Just push through this thirty minutes. It's finally over. Thank goodness. That was…miserable.
Trail running is a great way to change your routine, and even to unplug. Trail running is usually harder than road running, and your pace will be slower. This makes it harder to insist upon a certain time goal. The technicality of the trail requires careful attention, meaning that you'll be more aware of your surroundings. Trail running can be a much needed break from mileage, pace, and weight goals. It can insert fun into working out.
2. We Carry a Primal Need for Nature
We all need a bit of time in nature. It is good for the human soul. Nature reminds us that the world is bigger than us and our day to day problems and major life crises. Whether you're frustrated because your coworker's lunch exploded in the microwave, or you're grieving the loss of a loved one, nature can bring peace. In nature, problems grow smaller. On the trail, I'm just one more organism in a grand, beautiful ecosystem. It is an ecosystem that functions without me. I am not needed to be anything.
Since most of us do not work in the woods or along a river bank, we do not spend much time in nature. Thus…trail running. There are trails in the middle of the city, in the suburbs, and in the North Georgia Mountains. No matter where you are, you're likely not more than thirty minutes from a little oasis of nature. Since you're so efficient, you might as well multitask: run and relax in nature at the same time.
3. Solitude
I've always heard rumors that people who spend time in solitude are more creative. Entrepreneurs are usually loners. At the very least, solitude helps me stay centered. I love the solitude of a winter run through the woods. There's something energizing about running, panting, sweating. I don't have to be anyone to anything. It's just me and the trail. As I run, it's like I drop things. I feel lighter and lighter with every buzz of my GPS (not that I use a GPS watch…because I'm totally unplugged out there).
But really, it's no secret that running is meditative. Somehow, pounding our feet into the ground, running no where in particular, for no apparent reason, is incredibly beneficial to our mental health. Running like a wild animal through the woods only increases the rewards. I promise.
4. Injury prevention
Trail running requires more fitness than road running, but it is also less stressful to our bodies. The soft surface of the trail is easier on our joints than concrete. The undulations and varying terrain force our bodies to adapt. It strengthens our stabilizing muscles, which include the core. And who doesn't want a strong core? The hills build strength as well. Trail running is almost like cross-training in its benefits for fitness. Run trails once a week this summer, and you'll grow stronger.
But…where do I run trails?
There are tons of trails in the Atlanta area. Many, especially those in the perimeter, are less than two miles long. I'll begin posting features of trails to run. But in the meantime, these are a few of my favorites:
Murphy-Candler Park:
-length: 1.5 miles
-difficulty: easy
 Stone Mountain Park Trail:
-length: 5-8 miles, depending on connecting trails
-difficulty: moderate
Chattahoochee River:
-length: 0-infinity
-difficulty: easy to hard
-The Chattahoochee River provides many different trails to run. They are usually in what are called "Chattahoochee River National Recreation Areas". All of these trails are outside the perimeter. A brief Google search will help you find the trail closest to you. I will feature some of these in future posts.