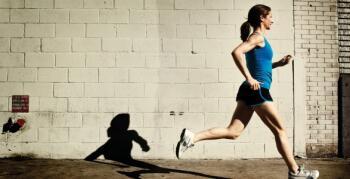 If you haven't seen it yet, a new study out of Denmark has surfaced, stating that strenuous running has just as high a mortality rate as sitting on the couch. You can read a summary at http://www.medicalnewstoday.com/articles/288871.php .
When it comes to these types of studies, there could be truth unveiled but many times, much more research is needed. In this study, the 'strenuous runners' group was not a very big sample size and there was no mention of the cause of death of those in this group. While most of us know its not feasible to run hard everyday, in general, lets take a look at five practical reasons why picking up the pace and improving as a runner is beneficial!
1. Who doesn't want to better themselves?
Have you been running a year or so? Maybe 5 years or even for the last 15 years? I'm guessing you aren't the same runner you were when you first started. You are probably a little leaner, faster and more confident. While some of us get into running to improve our heart's performance and live a healthy lifestyle, as we get more experienced as a runner we get better at and like it because of that feeling it gives us to go faster. Isn't that why we do it now?
2. You get more done in your day
Does this one even need an explination? 
3. Gives you a way to compete
As kids, many of us had dreams of playing professional sports. Well, that time has come and gone and we moved on to other things in our lives. But when it comes to running, we still have a chance to compete almost anywhere and anytime with races. We can line up on the same course as professionals and run our hearts out to compete against ourselves and friends. What other sport can you do that with? 
4. Your clothes fit better when you run faster and aren't sitting on the couch all day
This study argues that you are just as likely to die by running over 7mph than sitting on the couch all day. I've done the latter and had bring out the stretch pants. I'd rather run!
5. You can eat more
Maybe this is counter productive to the title of this entry but I'm a firm believer in this motto. Run hard...eat hard!