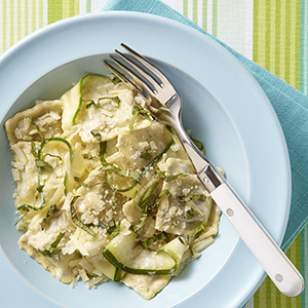 Makes: 4 servings, generous 1 cup each
Active Time: 
Total Time: 
INGREDIENTS
2 medium zucchini, very thinly sliced lengthwise (see Tip) 
1 pound fresh or frozen spinach-and-cheese ravioli
2 cloves garlic, crushed 
1/2 teaspoon salt
1/2 cup half-and-half
2 teaspoons all-purpose flour
1 tablespoon butter
1 large shallot, minced 
1/4 cup dry white wine
1/4 cup thinly sliced fresh basil
1/4 teaspoon freshly ground pepper
1/4 cup shredded Parmesan cheese
PREPARATION
Put a pot of water on to boil. Place sliced zucchini in a large colander and set it in the sink. Cook ravioli according to package directions. Pour the ravioli and cooking liquid over the zucchini in the colander.
Meanwhile, mash garlic and salt together in a small bowl with a fork to form a coarse paste. Combine half-and-half and flour in another small bowl and place near the stove.
Heat butter in a large skillet over medium-high heat. Add shallot and the garlic paste and cook, stirring, until fragrant, about 1 minute. Add wine and cook, stirring, until almost completely evaporated, 2 to 3 minutes more. Add the flour mixture and cook, stirring, until the sauce is thickened, about 30 seconds. Gently stir in the ravioli and zucchini, basil and pepper. Divide among 4 plates. Top each portion with 1 tablespoon Parmesan.
TIPS & NOTES
To make "ribbon-thin" zucchini, slice lengthwise with a vegetable peeler or a mandoline slicer. 
NUTRITION
Per serving: 351 calories; 11 g fat (6 g sat, 2 g mono); 53 mg cholesterol; 48 g carbohydrates; 0 g added sugars; 14 g protein; 2 g fiber; 541 mg sodium; 345 mg potassium.
Nutrition Bonus: Vitamin C (32% daily value), Calcium (28% dv).
Carbohydrate Servings: 3
Exchanges: 3 starch, 1 vegetable, 1 lean meat, 1 fat
This and other great recipes can be found at www.eatingwell.com