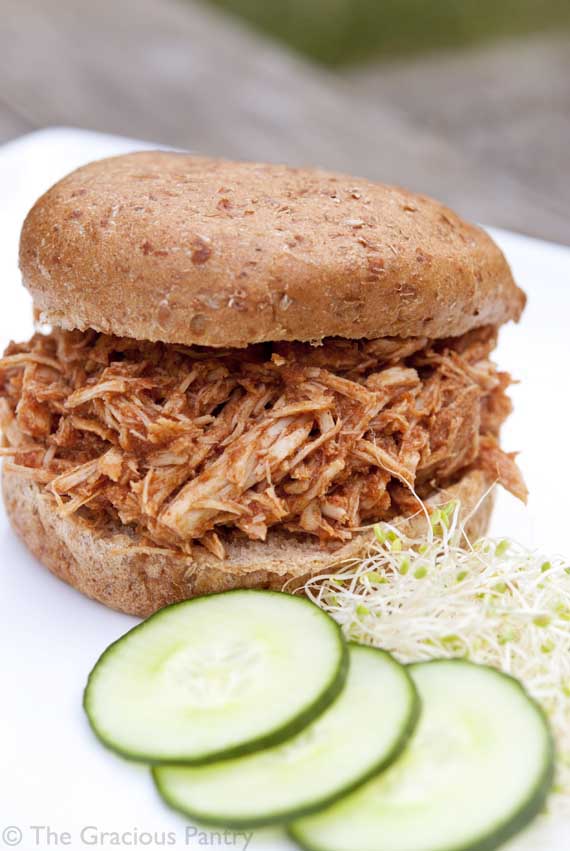 INGREDIENTS (makes 20 servings)
8 boneless, pork chops, fat trimmed (although most folks use a pork shoulder – about 4 pounds)

2 (15 ounce) cans tomato sauce, no sugar added, low or no sodium is best

3 tablespoons onion powder

2 tablespoons garlic powder

1 tablespoon cumin

2 teaspoons ground cinnamon

2 teaspoons chili powder

1/2 teaspoon cayenne

Salt to taste, after cooking
DIRECTIONS:
Place the chops in your slow cooker.
In a medium mixing bowl, blend the tomato sauce together with all the spices.
Pour the sauce over the chops.
Cook on low heat for 5-7 hours, or until the pork easily shreds with a fork when puled at. You should be able to shred it simply by stirring the pot.
 Nutritional Content:
(Data is for 1/2 cup)
Note: Data does not include a bun. This is for the pork only. Based on using NO sodium tomato sauce.
Calories: 94
Total Fat: 2 gm
Saturated Fats: 1 gm
Trans Fats: 0 gm
Cholesterol: 30 mg
Sodium: 161 mg
Carbohydrates: 6 gm
Dietary fiber: 1 gm
Sugars: 3 gm
Protein: 14 gm
Estimated Glycemic Load: 1

Recipe from Gracious Pantry