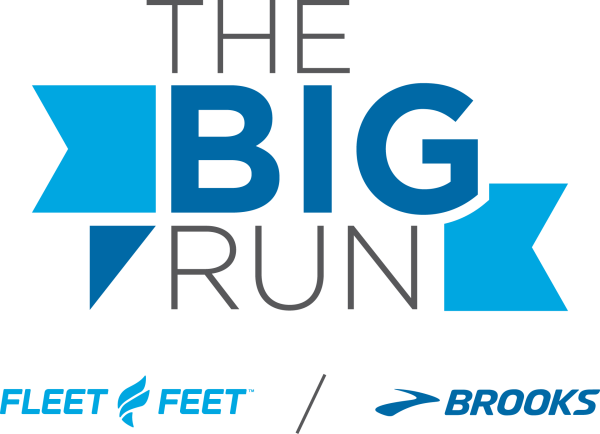 2019 RESULTS COMING SOON!!!
2018 NATIONAL RESULTS CAN BE FOUND HERE
Join us on Wednesday, June 3rd at 6:30 pm for The Big Run 5k on Global Running Day! Participation in the race is just $10 and participants must register. Finisher medals are available to the first 250 registered participants. Race shirts are available to purchase for $10 through May 17th. The Big Run 5k on Global Running Day is an official 5k with an emphasis on FUN & community! There will not be typical age group awards (Black Bag Series points will be awarded) but we'll have some fun prizes and giveaways as well as.
-----------------------------------------------------------------------------------------------------------------------------------------------
Last year, 12,000 runners across the country participated in the first-ever Fleet Feet nationwide 5K, The Big Run, on Global Running Day.
In 2020, The Big Run is back and bigger than ever.
On June 3, Fleet Feet locations nationwide, in partnership with Brooks and Nuun, will hold one of two 5K events: either a (super) fun run or a certified, timed 5K race.
All results from certified, timed 5K races will funnel up into a national leaderboard to determine and reward the overall fastest runners and age groupers in the country with some pretty cool cash prizes. And since this is Fleet Feet, and we celebrate and welcome runners of all abilities and levels, we will also recognize runners with some truly unique awards, including:
● Common Ground: Finish at the most common finish time for The Big Run, and we'll enter you into a drawing for something BIG!
● Middle of the Pack: We'll recognize the male and female who finish in the exact middle of all The Big Run results.
● Social Butterflies: We'll thank the two people with the most-engaged social media posts from The Big Run with some pretty sweet prizes.
Curious to check out last year's event? Search #thebigrun on Facebook, Instagram or Twitter to see how our epic coast-to-coast running community celebrated at The Big Run.
Can't wait for June 3? Join Fleet Feet Running Club and visit your local Fleet Feet to see when the next 5K training program begins!
See you on June 3!
About Fleet Feet: Committed to offering expert advice, intelligent products, personalized solutions, robust training programs, and 24 /7 brand access at fleetfeetathens.com, each Fleet Feet Sports location serves runners based on the belief that Running Changes Everything. Stay inspired, motivated, and connected @fleetfeet.

We want to see the whole community participate because, seriously, running together rocks. Let us recap the ways:
You get to join Fleet Feet Sports communities across the country participating in a nationally-coordinated event in different locations all on the same day.
It's on a Wednesday—who couldn't use a mid-week pump-up?
We know some people. And some pretty cool brands (cough, cough, Brooks). Let's just say, we're planning some fun raffle giveaways and category prizes.

The Big Run is open to runners of all levels and abilities.