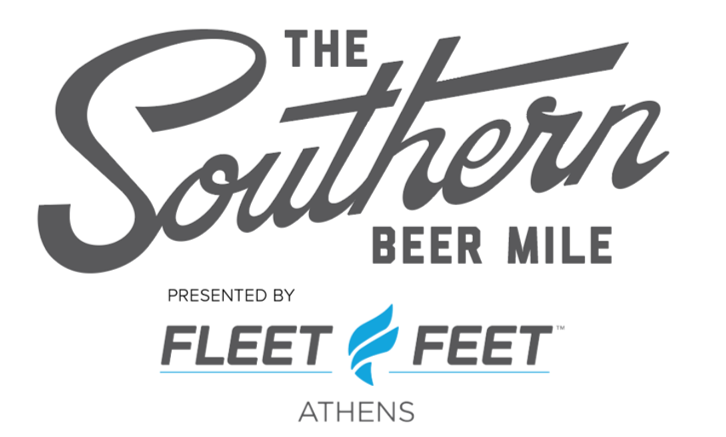 The Southern Beer Mile presented by Fleet Feet Sports Athens at Southern Brewing Company will be held on Friday, July 21, 2023 beginning at 6:30 pm. With heats for both competitive and recreational competitors, you can challenge yourself to see how much fun you can have or see if you can put your money where your mouth is and beat that friendly rival who's always talking too much trash! Bring your family & friends as this is most definitely a spectator friendly event. Great beer, food & music will make this a night to hang out for hours and enjoy each others company while reminiscing about the craziness that just ensued.
You will receive 4 specially crafted Southern Brewing Company beers to race with (5.0%+ ABV) in cups. There will be 2 categories to choose from for you race:
- Competitive: You want to WIN this thing! Your regular running partners are no match for your drinking and/or running skills. You might wear a costume but it will be designed for speed & efficiency. Awards will be presented to the fastest overall male & female.
- Recreational: I mean, this is supposed to be fun right? You've always said you'd do a beer mile and you can't pass this fun up. You're trying to wrangle as many of your friends up to do this with you (or just come watch) as possible. You're probably gonna create some costume that will likely slow you down but spectators will love it so who cares! You have the chance to win some prizes for the best outfit, most spirit, etc.
Each race will be held on a spectator friendly 4-loop course with officials monitoring empty drinks and assessing penalty laps as needed. Prizes will be given to top finishers and each participant will leave with a commemorative fancy drinking vessel.
Registration fees are $35 per person on or before July 18th and $40 after. Race day registration will be $40 as space is available.
Not sure what the beer mile is? Check out http://www.beermile.com/ or give us a call for more information