Superfeet's shape, design and manufacture have set the standard for support and earned over 40 U.S. and international patents along the way. Superfeet insoles help adapt the flat, 2-dimensional midsoles of your footwear to your 3 dimensional foot. The distinct Superfeet shape helps to stabilize the foot, while the deep, structured heel cup and full-length foam provide support and comfort.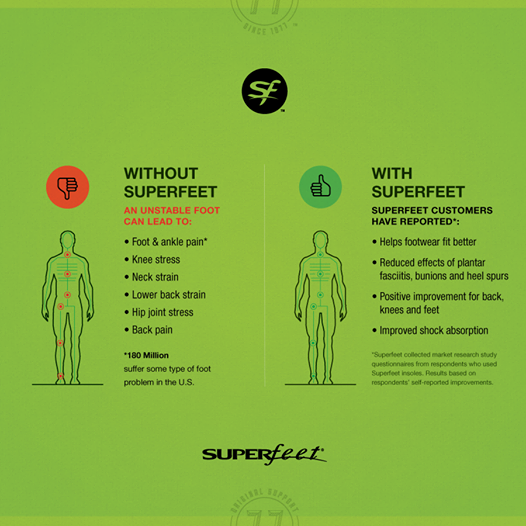 There are four signs to determine if it is time to be re-FIT for Superfeet.
1) If any of the Green plastic (or Blue, Berry, Orange, etc.) is slightly white or looks to like it is bending it is time to replace.
2) Does the medial arch support look worn? You can see this in the second photo with the right arrow.
3) Are you starting to wear through the top covering? I love that my footprint is embedded on the top of my Superfeet because I feel that have I have earned that indentation. But, it is time for me to invest in a new pair.
4) And last but not least - if you can't read "Superfeet" anymore on your insole - we look forward to seeing you soon!