Thank you to everyone who joined us Thanksgiving Morning! With your help, we were able to provide over
12,000 meals

to Second Harvest Food Bank! We hope you and your families had a great experience, created new memories and we hope to see each one of you next year. Below are the race results and a feedback form.
---
Details:
Date: Thursday, November 23rd | Location: Soquel High School
---
Early Bird Pricing:
September 8th - November 21st: $45
November 22nd - November 23rd: $50
---
Races:
5k Race | 1/2 mile race | Pie Mile Relay
Our 5k course is revamped from last years race. It will still be stroller and dog friendly.
Kids 1/2 mile race (12 and Under): We will send the runners out in waves according to the kids ages. There will be guidance race morning for a smooth and enjoyable run for all the participants.
Racing Times:
8:30 am - Kids 1/2 Mile race (Depending on participation we may break up this group into 2 sections. We will inform all participants 3 days before the event)
9:10 am - 5k Race begins
10:00 am - Pie Mile Relay
---
Details:
Come join us on Thanksgiving morning for our 11th annual Thanksgiving Day race! Run For Pie has become one of Santa Cruz County's favorite holiday traditions. Bring the whole family (or your pet turkey) out to run or walk a 5K in the park. Run for Pie also includes a 1/2 mile Turkey Chase Race for kids. All participants get a slice of pumpkin pie at the finish and all registered 5K racers get a shirt (if registered by Oct 30th). This event will benefit the Second Harvest Food Bank. Be sure to register today — this race sells out early every year!
Second Harvest Food Bank Santa Cruz County reaches 55,000 people EVERY MONTH. We are proud to partner with this community organization to help provide meals to those in need in Santa Cruz County. When you register, you have the option to donate to Second Harvest Food Bank Santa Cruz County. Please consider donating just $1 which provides 4 meals for someone in need. If you would like to donate, there will be a link at registration.
Kids 1/2 Mile and Pie Mile Relay: All proceeds from these races will go to Second Harvest Food Bank. We are hoping to donate over 10,000 meals this year!
How to register for the Pie Mile Relay: The relay will consist of 4 individuals and each individual will need to register. When you are registering for this specific race, place your first name and next to your last name place your team name. This way we can keep track of full teams.
---
Second Harvest Food Bank:
Every year we raise money for Second Harvest Food Bank. Last year we were able to donate 8,000 meals and we are shooting for 10,000 + meals! All proceeds from our kids 1/2 mile race will go directly to Second Harvest Food Bank. For every $1 that is donated, you are providing 4 meals! Click the link below to donate today!
---
Sponsors:
We are looking for sponsors for our upcoming Run For Pie Race, if you would like to become a sponsor, please reach out to our race director, Amber Melville, amber.melville@fleetfeet.com, for more details.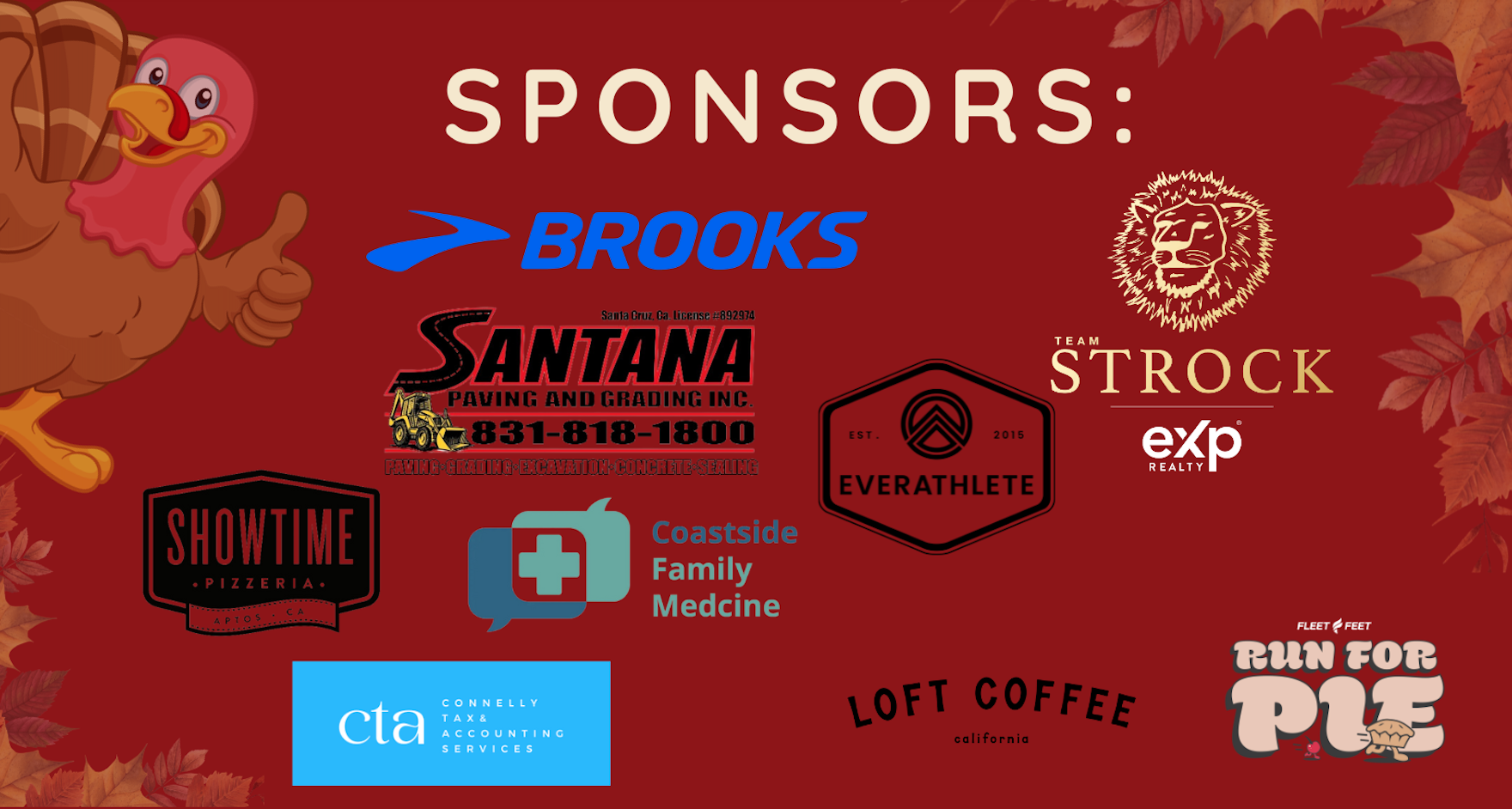 ---
Volunteers:
We couldn't do what we do without our volunteers. We are looking for volunteers to assist with the 11th Run For Pie! Click the link below to fill out our volunteer form and we will keep in contact with you through the next couple of months to make sure you are still available to assist.
---
5k Course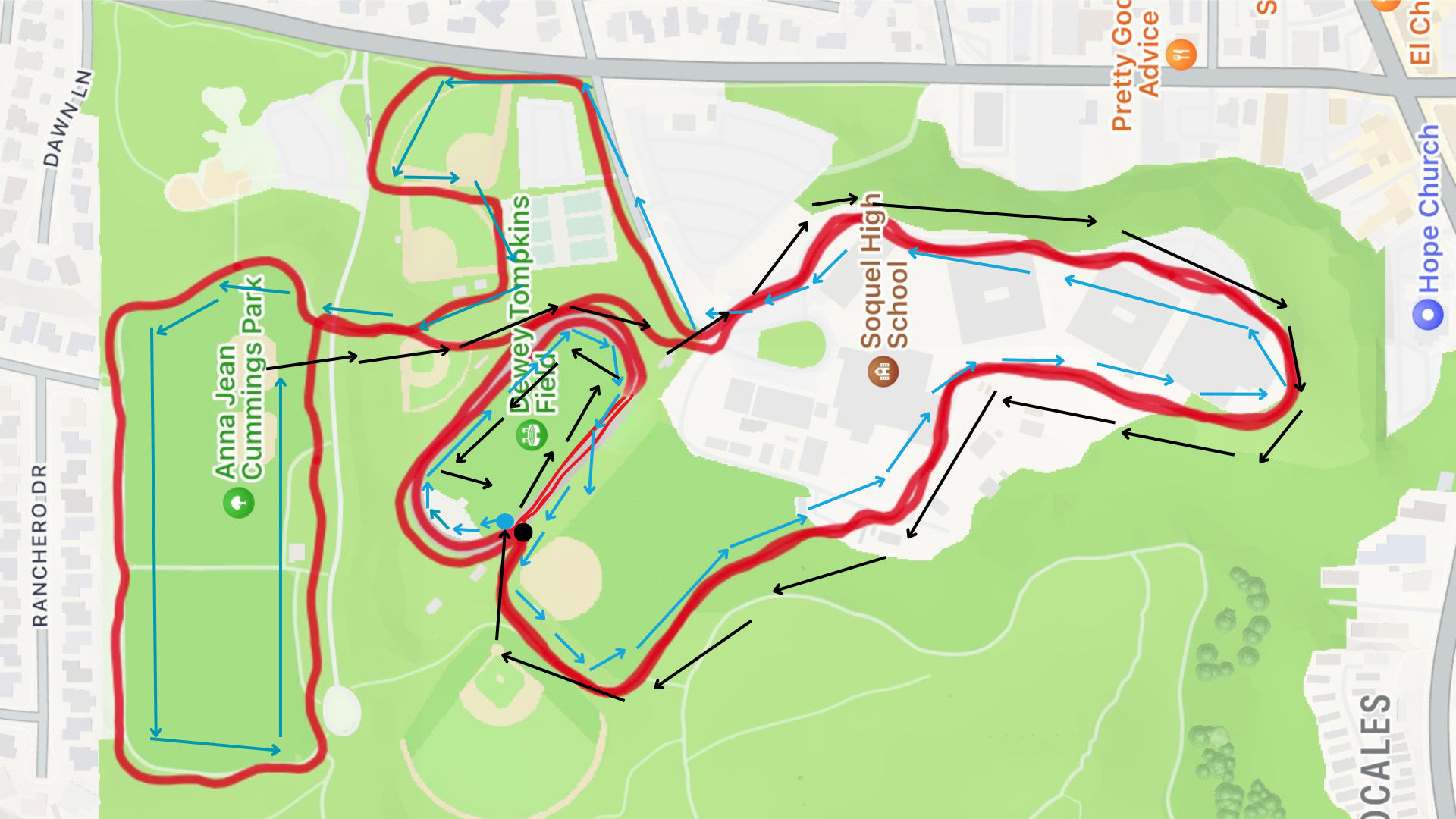 Blue Dot: Starting point - Blue arrows guide you through the out route
Black Dot: Ending Point - Black arrows guide you back to the finish line