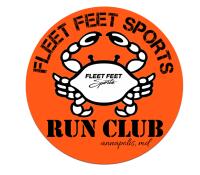 Been through one of our training programs - and want to still be a part of a dynamic group of people to motivate you? Looking for support and friendship with others in the running community? Want a really cool technical t-shirt? Then it's time you join the official Fleet Feet Sports Run Club!
Join the Fleet Feet Sports Run Club!
WHO?
If you've complete one of our training programs in the past, or would like to be a part of an awesome group of people that will help you stay motivated - then this is club is for YOU!
WHAT?
A chance to run with a structured group, be part of something special, and continue to grow as an athlete.
WHEN?
This is your lucky day - because you can join at any time! Our inaugural run club kicked off July 2014 and group runs are going on now!
WHERE?
While some group runs may happen throughout our city, most runs will take place out of our Fleet Feet Sports Annapolis location.
WHY?
Cause you're a cool kid....and we want you to stay moving, engaged, learning, injury free, progressing, reaching your goals, healthy, and happy.
COST?
$40 annual membership fee (with super-cool technical t-shirt included!) For 2014, you will pay a pro-rated fee based on when you join. To register, please call or visit the store.
We are extremely excited to offer this to our current and past participants, and our extended Fleet Feet family! Have questions? Call the store today!