FLEET FEET RUNNING CLUB 2018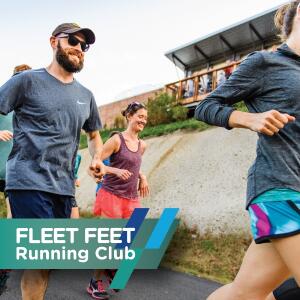 Join us as we kick off our new running program at Fleet Feet Annapolis! We'll start with free group runs every Thursday, and will look to add training programs, pub runs, track work outs, vendor events, and more! Stay tuned for more info! 
Join us every Thursday evening for a FREE group run!
Starting Thursday, June 21st, 2018!
Location: Annapolis High School (2700 Riva Rd). We will meet in the far corner of the large parking lot near the track.
Time: 6:15 PM  
Distance: approximately 3 miles
The run will be led by a coach/Fleet Feet staff. All levels of fitness are welcome to attend. Bathrooms are typically accessible but cannot be guaranteed. Bring your own hydration. The route will include the area around Annapolis High School and part of Riva Rd. For more information, contact the store at 410-268-6290. In case of inclement weather, please call the store to see if the run is still scheduled or check our Facebook page for updates. 
THE ROUTE:
We will run out and back from Annapolis High School onto Riva Rd, then to Riva Trace Pkwy, then turn onto Autumn Chase Dr and back. You can find this route on MapMyRun as "Group Run 3 Miler". It is also pictured below: