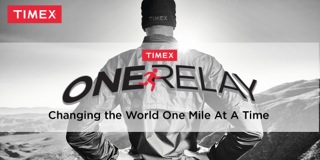 What: Timex ONE Relay, an 800-mile, 22-day journey featuring more than 100 runners. The initiative will be the most ambitious, interactive running event of the year, as the route spans two of the most iconic marathons in the world, Chicago and New York City and crosses Illinois, Indiana, Ohio, Pennsylvania, Connecticut and New York...and they are stopping in at FLEET FEET ANNAPOLIS! 

In addition to the marathon relay runners, we will also be having a DEMO FUN RUN around Eastport for our everyday customers to "try before you buy!!"

***Join us for pizza and refreshments afterwards, courtesy of Timex.*** 

When: Sunday, October 19th at 3:00pm-5:00pm.

Where: Fleet Feet Annapolis 
318 6th Street, Annapolis, MD 21403

Info about demo products:
The TIMEX® IRONMAN® ONE GPS+ is an all-in-one runner's GPS smartwatch, and includes live messaging and tracking capabilities. These features will enable consumers everywhere to follow the relay and the runners' progress in real-time and, more importantly, communicate directly with the runners by sending messages of encouragement, which will be received on the watch. The full runner experience is brought to life at onerelay.timex.com, a site dedicated to the Timex ONE Relay. It includes an interactive route map that tracks the Relay's progress, runner profiles, and a message center enabling followers to send personalized notes to runners, as well as photos and videos from the relay.