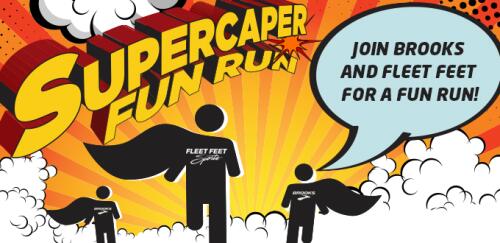 Super Hero Fun Run hosted by Brooks! 
Get in the Halloween spirit and dress up in your favorite super hero costume to demo our Brooks Super DNA footwear on a beautiful run through Severna Park! We will provide capes and masks to runners, and have lots of fun give-a-ways provided by Brooks and awesome goodies to raffle off! 

Join us for refreshments afterwards! 

DETAILS: Super Hero Themed Fun Run to demo the Brooks SUPER DNA shoes. Brooks DNA provides custom cushioning for runners of all types and sizes. Simply put, you can expect soft comfort when you want it, firm support when you need it. 
This event is FREE to the public and promises to be a really fun time! Families welcomed!

WHEN: October 21st, 2014 at 6:00pm - 7:00pm

WHERE: Fleet Feet Sports Severna Park 
500D Ritchie Hwy, Severna Park, MD 21146
RSVP: Join our event on Facebook! Click HERE to join!