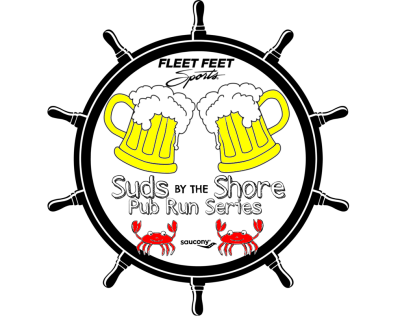 Suds by the Shore Summer Pub Run Series sponsored by Saucony IS BACK!! Last years program was so much fun and so successful that we're bringing it to Severna Park this year too!  
The series will include five group runs from Fleet Feet Sports Annapolis, and five group runs from Fleet Feet Sports Severna Park followed by a visit to a local pub in the area! 
The runs from Fleet Feet Annapolis will take place on the 2nd TUESDAY of every month starting in May through September, and the runs from Fleet Feet Severna Park will take place on the 2nd THURSDAY of every month. 
We're kicking the program off with an information night and demo run with the experts from Saucony! 
Date: April 28th
Time: 6:00pm
Location: Fleet Feet Sports ANNAPOLIS
What: We'll be revealing the destinations of the pub runs for each store, going over program guidelines, and test running the latest and greatest shoes from Saucony. Join us for a "reunion run" through the heart of Annapolis following the information session, and we'll conclude our night with happy hour at Blackwall Hitch!
BONUS: Send us a message on Facebook (Fleet Feet Sports Annapolis) for what pubs YOU want to see on the destinations list this year! 
BONUS #2: If you did not receive your 2014 Pub Run Series shirt, they will be available at the information session!