WHAT?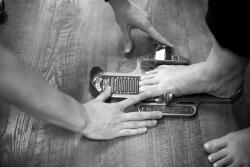 Fleet Feet Sports is excited to offer Workplace Fit services to companies looking to offer their employees, clients, and/or members an opportunity to find their perfect FIT onsite at their own place of business! 
Our Mobile Shoe Fitting brings our FITlosophy shoe fitting process directly to you. Your participants will go through our comprehensive shoe fitting process and receive a one-on-one consultation about the type, size, and style of shoe that will work best for their feet. We'll also offer further advice on items including arch supports, socks, compression gear, and myofasical-release products in the event running/walking issues are present. 
As part of our Mobile Shoe Fitting process, we will also bring a size run of running shoes for participants to try, and we'll be able to recommend other styles available at Fleet Feet Sports to be tried on in the future.
WHY?
A majority of runners and walkers are in the WRONG shoe because they choose it based on color or style. The wrong shoe (incorrect size, style, or type) will only increase the risk of injury, or worse – aggravate one that already exists. We believe that a properly fitted shoe can make all the difference in helping people achieve their goals and continue on the path towards health and fitness.
HOW?
By partnering with Fleet Feet Sports, you can offer Mobile Shoe Fitting services at your place of business during a time that works best for you. We are available to attend gyms, health clubs, corporations, and facilities that promote health and weight loss to add value and bring benefit to the health of your employees, clients and/or members.
We encourage you to market your Mobile Shoe Fitting session prior to our arrival, and schedule appointments in 15-minute increments so that participants can avoid waiting a long period of time for their personal fitting.
Interested in scheduling a Mobile Shoe Fitting with Fleet Feet Sports? Email Ann Brennan to schedule your Mobile Shoe Fitting today.