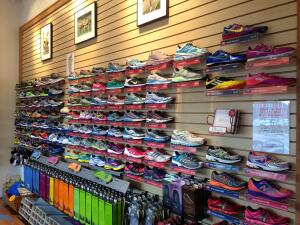 At Fleet Feet Sports, we believe that fit and function for your foot type and fitness regimen are the most important ingredients for finding the right shoe. We offer a wide selection of shoes from a number of vendors to meet your needs!
Our product mix is extensive, but we stick to brands that hare high quality, durable, resilient, and supportive of local retail. We stock shoes from companies that have a solid reputation, and are always improving.
Tips for buying running or walking shoes:
Bring your old shoes with you when you visit the store! We can talk to you personally about what you liked and disliked about them. Also, we can look at your past wear patterns, and look at the style and type of shoe you were previously in as we look for "clues" to current issues you may be having! If you have custom shoe inserts from a doctor, please bring those with you!
Always let your fit-specialist know current and past issues your are struggling with - from blisters, to callouses, to specific aches and pains.
Don't worry about bringing socks with you to try with the shoes! We will provide you with a new "try-on" dri-tech sock that fits well. 
Be prepared to have your feet measured - and yes, both of them. If you haven't had your feet measured in awhile, you might be surprised by what you find out. And we aren't just measuring for size, but to determine each foot's biomechanics. Arch height, length and foot shape help us to determine which recommendation we make to ensure your comfort and reduce your risk for injury.
Don't purchase your shoes for the COLOR! Focus on how they fit and what works for you! 
There really isn't a "best shoe" or "best brand" for everyone. We believe it is more important to select the right type of shoe and try on several brands to determine which model fits your foot the best. For runners and walkers to avoid injury and perform at their best, the most important piece of equipment is their shoes.
For those customers that need extra support, we carry Superfeet and Sole 
inserts
 and our staff is trained and knowledgeable about each product. Completing the footwear picture is our selection of top quality running and walking socks from Balega, Brooks, Feetures, & Injinji. Let us complete your entire FIT at the highest-quality shoe store in Annapolis and Severna Park!
---
Current Shoe Brands:
---
Socks and Insole Brands: