CEP Compression Sleeves
WHY COMPRESSION?
Every muscle cell needs energy in the form of oxygen. This is transported to the muscles via the blood. The better the blood flow in the arteries, the better the muscles are supplied - and precisely this supply can be positively influenced by compression.

But, not all types of compression are the same. CEP is the only medical-grade compression product, which has graduated medi compression - proven to improve blood flow, allowing athletes to reach higher speeds using less energy.

COMPRESSION 101
Medical professionals have long recommended compression for patients looking to improve blood circulation and overall leg health. Backed by medi's 60+ years of experience, CEP uses the science behind medical compression to help athletes maximize performance and recovery.
 
ARTERIES
For the athlete, improving arterial blood flow is the key to peaking performance. CEP compression socks apply consistent compression to the calf, allowing the arterial walls to relax and the flow of oxygen-rich blood to increase by up to 40%. More oxygen means more power during performance and a faster recovery.

VEINS
Graduated medical grade compression that is tighter at the ankle improves vein health by reducing the veins' diameter and pushing de-oxygenated blood back to the heart.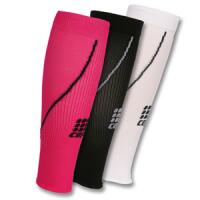 PROVEN TO REDUCE INJURY
Shin Splints: Reduces vibration, increases oxygen and promotes healing.
Calf Cramps: Increase oxygen to optimize muscles, removes lactic acid.
Achilles Issues: Increases oxygen to the Achilles; padding prevents damage.
Pulled Muscles: Increases blood flow to increase warmth in the muscles.