---
STAND OUT FEATURES
Versatility: For daily use, we love the lo-pro design with interchangeable straps and classic watch face. It makes a seamless transition from workouts to pretty much any other occasion we can think of. 
The Vivoactive 3 also comes preloaded with 15 different indoor workout apps (more can be added) and has thousands of potential downloadable watch faces, widgets, and apps from the GARMIN IQ store. If that's not enough, it's comfortable on the wrist whether worn on the left side or the right, and it utilizes the new universal GARMIN charger (good for items released this year and later). 
Ease of Use: We love the easy-to-use touch screen, swipe function, and bright backlight for nighttime running. In fact, the display is easy to see no matter the time of day or weather. We wore it on nighttime runs, pre-dawn runs, blisteringly sunny runs, and even one run in a torrential downpour.   
Functionality: In addition to accurate GPS tracking, there are several key functions we found extra useful when it comes to training. Among them are the ability to monitor daily stress and how we handle it; heart rate (measured down to the second!) to better understand training and recovery; sleep patterns to monitor restful sleep, restless sleep, and awake hours each night; and activity analytics like steps taken and floors climbed.
Outside of training, GARMIN Pay makes pre- or post-run shopping easy while smartphone pairing keeps us connected and, on more than one occasion, helped us find our phone. 
FĒNIX® 5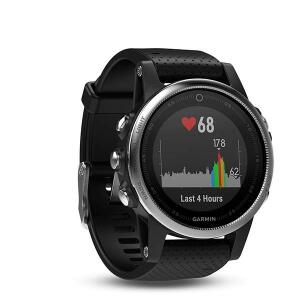 For the multisport athlete and ultrarunner who needs a watch with a long battery life and advanced adventure features like a compass and barometric altimeter.
STAND OUT FEATURES
Um, everything
The Fenix 5 has all the things. First, there's the three-axis compass with a gyroscope and barometric altimeter, not to mention near perfect location tracking thanks to a tie-in with the Global Navigation Satellite System. … And we haven't even mentioned the endless customization, fitness tracking, and analytics like heart rate, or the interchangeable bands, smartphone connection, or custom apps and watch faces. You get the picture. This is the kitchen sink of all watches. 
Durability
It's a watch for adventure. The industrial design withstands the kind of beating that comes with long days in the wilderness whether we're running, trekking, skiing, paddle boarding, or even playing golf (yes, golf).  
Battery Life
While we didn't go on any extended treks, we love that with this watch we can. The extended battery life should last 24 hours in GPS mode, 60 hours in "UltraTrac battery saver mode," and two weeks in smartwatch mode. Two weeks!
VÍVOFIT® JR. 2
For kids to learn the value of physical activity and have fun doing it. For parents to track kids' steps, sleep, and daily exercise, and offer incentives and rewards.
---
STAND OUT FEATURES
Rewards System and Motivational Apps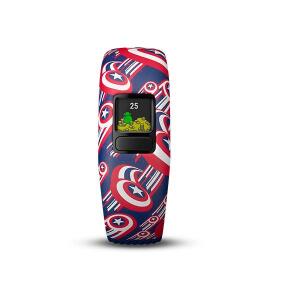 Yep, it's pretty impressive. When parents synch the device to the app on their smartphone, the VivoFir Jr. 2 can alert kids about upcoming chores and obligations. They then earn "coins" for completing the tasks to be redeemed for rewards that parent's choose (a big win among our parent testers). Plus, apps like the "Adventure Trail" or "A Star Wars Story" offer incentives for new distances covered and even foster friendly competition. 
We asked several families about their experience using the VivoFit Jr. 2. Almost everyone said that, after wearing the tracker, their kids wanted to spend more time outside. We call that a major win.
Durability: The tracker itself is band interchangeable, and GARMIN offers several different kid-friendly band designs from Marvel, Star Wars, and Disney. However, the bands are whoa durable, so we don't think you'll ever have to change them—they may last a year or more! 
Parenting help: Using the compatible smartphone app, parents can easily see kids' steps, sleep, daily tasks and rewards, and even invite more people to join.