The

Under Armour SpeedForm

is an entirely new way of making footwear. 
You get the chance to test run this shoe - interact with the exclusive SpeedForm "Bobcat" Truck from Under Armour, AND win awesome raffles and prizes from Under Armour exclusively at Fleet Feet Sports Annapolis!
Under Armour "Bobcat" SpeedForm Interactive Truck Visit
Date: Wednesday, August 7th @ 5:30pm - 7:30pm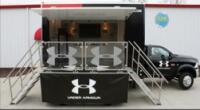 The UA "Bobcat" SpeedForm Interactive Truck will be making a special appearance at Fleet Feet Sports Annapolis on Wednesday, August 7th! You'll be able to take a "tour" on the truck and learn some awesome fun facts and engage in triva about Under Armour, the SpeedForm - and how it's made!
Under Armour Prediction Fun Run and SpeedForm Demo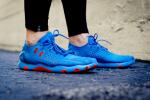 Date: Wednesday, August 7th at 6:30pm 
Never done a "Prediction Run" before? You'll be given a 2-mile out and back course to run. We'll have everyone submit their "predicted" 2-mile time prior to the run. The person who completes the 2-mile course closest to their predicted 2-mile time will win a FREE pair of the brand new Limited Edition SpeedForm shoes from Under Armour! We will provide a clock at the finish so it is easy to see your finishing time.
SpeedForm Demo
Under Armour is providing a full size run of the SpeedForms to demo on your prediction run! If you plan to wear the new SpeedForm - please show up 15-20 minutes ahead of time to secure your size!
We'll have plenty of post-run food, raffles, prizes at the event!
To participate in the run - please sign up here.