Join the Fleet Feet Sports crew as we host the 7th Annual Thanksgiving Turkey Trot 5K Fun Run! This is a beautiful tour "by run" of the downtown Annapolis area that is open to public! This event is not officially timed, but we will have a finisher's clock at the end of the run.
It's time to get creative! We'll be awarding a BIG PRIZE to the participant with the BEST TURKEY COSTUME!
Strollers, Kids, and Dogs are welcome to join in on the fun! 
---
The Course:
Our Thanksgiving Day Turkey Trot will take place throughout downtown Annapolis. The run will take place entirely on the sidewalks, but traffic will be at a minimum. The run with both start and finish at Fleet Feet Sports Annapolis. FREE Parking is available along the streets in Eastport and Downtown. We have also arranged with local businesses for you to park in these parking lots. PLEASE plan to carpool as best you can!
Please check out the course and make yourself familiar with it here: http://www.mappedometer.com/?maproute=139585
There will be port-o-potties available in our parking lot. Also - refreshments and breakfast goodies will be provided post-run.
Like last year, for crowd control on the route, we will be separating the run into three groups:
9:00am - Group 1: 8:30/min mile or faster
9:03am - Group 2: 8:30/min mile - 10:00/min mile
9:06am - Group 3: 10:00/min mile or slower. (Best for strollers/dogs.)
Please be aware of these groups and we will take care of letting you know when each group is going off!
---
T-shirts: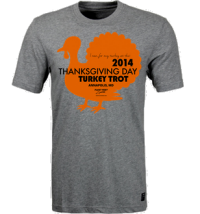 We will be giving away t-shirts again this year. To receive one, you must designate on our registration form that you would like one, as well as give us your size. Any extras will be given out on a first come, first serve basis after the run. T-shirts sizes can only be guaranteed to those who register before November 7th.
We are requesting that anyone who wants a shirt to please give a $20 donation to our charity partner. 
---
Sign up!
As always, this is a fun run and FREE to the public. We are asking that all participants make a $5 - $10 donation per participant to go towards the Bowen Foundation for Autism.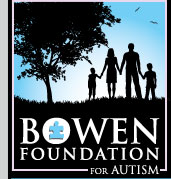 To register for the event: Click here!