Join Fleet Feet Sports Annapolis for a special group "fun run" on Saturday, July 21st at 8:30am from the SCPA of Anne Arundel County!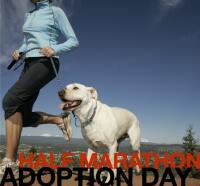 To kick-off the SPCA's Half Marathon Adoption Day (Yes, 13 hours, and 10 minutes of adoptions!), Fleet Feet Sports Annapolis is hosting a group "fun run" from the SPCA located on Bay Ridge Avenue to help bring awareness to the SPCA's special event - and to help some loving dogs find a good home!
The Fun:
At 8:30am – We will leave from the SPCA and run to Quite Waters Park and through the surrounding area for a 3-5 mile loop.  All paces are welcome!  For those interested in doing a longer run, runners are welcome to run to the Bay Drive area for some scenic views!
Afterwards, runners can enjoy some food and refreshments provided by Fleet Feet Sports on-site at the SPCA Half Marathon Adoption Expo.  Runners can also "test run" dogs at the Half Marathon Adoption Day, and join in on other expo activities at the event!
Please RSVP your attendance here.
*The SPCA group "fun run" will occur in place of our normal Saturday group run from Fleet Feet Sports Annapolis.  All No Boundaries: 5K, 8K, and Annapolis Ten-Miler training group runs will meet and run from the SPCA Saturday, July 21st at 8:30am.