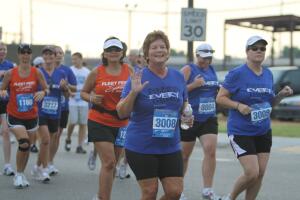 We are currently signing up participants for our next No Boundaries: Couch to 5K  Training Program! Our next training group will kick-off Monday, June 11th, 2012 at 6:30pm. Our target race will be the 9-11 Heroes Run on September 9th, 2012.

THROUGH THE PROGRAM, PARTICIPANTS WILL RECEIVE:
THREE weekly organized & coached training runs/walks
Educational clinics and handouts every week on key health & fitness topics
Motivational and educational emails (from your coach!)
A personal training schedule with daily activity to help you stay on track!
No Boundaries "super cool" technical T-shirt
Goal 5K event with coach support, graduation party, and more!
CLASS TIMES: Monday and Wednesday: 6:30pm; Saturday: 8:30am
COST: $100.
REGISTRATION: COMING SOON!
QUESTIONS? Call Fleet Feet Sports Annapolis at 410-268-6290!
About No Boundaries:
No Boundaries is a beginner 5K (3.1 miles) training program designed for people who are currently inactive or new to running and walking. While No Boundaries focuses on beginners, all levels of walkers and runners are welcome. The program is structured to help you cross the finish line in just 10-12 weeks!  Along the way, we'll provide you with motivation to keep you moving, weekly group training runs or walks, and educational clinics.  We will cover topics such as proper nutrition, choosing the right gear, and avoiding injury. You can do this!

At Fleet Feet Sports Annapolis, we encourage participants to exercise at their own comfortable pace. It's not scary, it's not intimidating, and in the end - participants will achieve a more than they never expected.