Want to take your training to the next level this fall? Join us as we push towards NEW goals, and prepare to complete the Annapolis Half Marathon on Saturday, December 1st! Our Annapolis Half Marathon Training Program is designed to encourage runners and walkers to meet their fitness and running goals beyond the 10K distance. This program will target runners, and run/walkers.
Our exceptional coaching staff will lead you in your training, and teach you about a variety of topics including injury prevention, nutrition, endurance training, stretching, and more. Pace groups, speedwork, and specific training plans will enable anyone who can currently run 3 miles to finish their first 10 miler or improve over previous performances.
---
Annapolis Half Marathon Training Program

Kick-Off Date: Monday, September 10th at 6:30pm
Want to know more? Join us for an Informational Meeting on Monday, September 10 at 6:30pm. You can meet the coach, ask questions, and sign up afterwards if you feel comfortable!
Program Participants Receive:
12-Week Training Program with calendar and detailed workouts
2 weekly coached training sessions in a fun, group atmosphere 
FREE access to workoutlog.com to log your training!
Series of seminars on topics such as Injury Prevention, Nutrition, and Stretching
Email support from your coach to answer questions regarding training and running issues
Weekly Group Runs at Fleet Feet Sports Annapolis
Coach support and party at the goal event!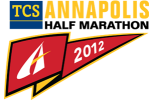 Program Fee: $125
Workouts: Wednesdays 6:30pm; Saturdays 8:30am 
Target Race: Annapolis Half Marathon on Saturday, December 1, 2012
Registration: Coming soon!