Date: Wednesday, December 5th at 6:00pm
Fleet Feet Sports Annapolis is hosting a Mizuno "Breath Thermo" Winter Apparel Clinic & Dusk Run for all interested in trying out the new radical line of Breath Thermo Winter 2012 products! 
Before the run, our Mizuno expert and rep - Dave Patterson, will be discussing how you can be a "Winter Warrior" and stay motivated throughout the winter season. Dave will also be giving some instruction and "tips" on how you can stay warm and comfortable during winter training with the right apparel and shoes.

Never tried "Breath Thermo" before? Breath Thermo is a type of fabric that pulls moisture away from your body, and literally generates heat as it does it so that you can wear less and stay warm in more extreme temperatures. Mizuno makes tops, pants, gloves, and hats all out of "Breath Thermo" materials.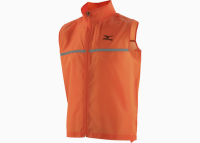 Dave will have a full line of Mizuno Breath Thermo apparel to TEST RUN, as well as a full size run of the Mizuno Elixir shoes for participants to try out! We will run a 2-3 mile "Dusk Run" after the clinic to put what we learned to the test! All who try out Breath Thermo apparel, or the Elixir shoe will receive a FREE Mizuno Reflective Vest [$30 Value!]
FREE Refreshments & Raffles for sweet Mizuno gear will be available to all attendees!
Please RSVP to noelle.tarr@fleetfeetannapolis.com if you'd like to attend!