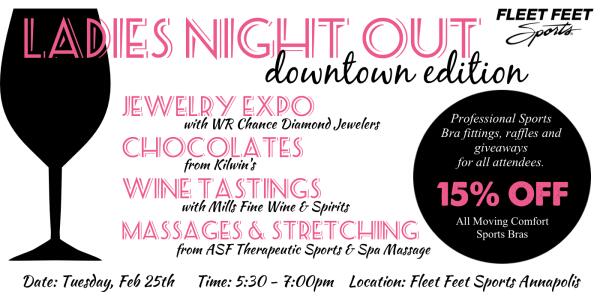 Ladies -- we feel you. It's about time for a Ladies' Night Out on the town!
DATE: Tuesday, February 25th 5:30pm - 7:00pm
Join us in a combined effort with some of the best businesses in downtown Annapolis for a Ladies Night Out downtown edition! As always, the sports bra fitting professionals at Fleet Feet Sports Annapolis will be on-hand to do personal sports bra fittings to make sure you're in the right size and style sports bra to help you achieve you're goals.
Jewelry Expo
WR Chance Diamond Jewelers will be showing off some of the beautiful options for 2014! Try out some of the dazzling pieces new this year - and get the inside scoop on the latest trends!
Chocolate and Wine Tastings
Mills Fine Wine and Spirits will be doing wine tastings from a variety of wines from their shop, and Kilwin's will be providing specialty chocolates in their best flavors!
Therapeutic Massage and Stretching 
Monica Weedon, owner of Annapolis Sailing Fitness Therapeutic Sports & Spa Massage will be providing short massage and stretching sessions for all attendees!
Other Specials:
15% OFF all Moving Comfort Sports Bras
Product tasting and demos from Rachel Frentsos at Arbonne
FREE giveaways and raffles for all attendees
FREE gift with all sports bra purchases
LOCATION: Fleet Feet Sports Annapolis
RSVP: To attend, please email noelle.tarr@fleetfeetannapolis.com