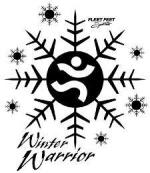 Winter Warriors Program 

Starting Tuesday, December 13th at 6:30pm
Sponsored by New Balance!
We all know we're in for it. The chill of the weather, the warmth of the holidays, and the food of the upcoming festivities and traditions can take its toll on our running abilities, and our waistlines! Sometimes, we just need that little extra boost of encouragement to get us out the door and active!
To help YOU stay motivated, healthy and happy - even during some of the most "trying" times of the year, Fleet Feet Sports Annapolis is launching our first "Winter Warriors" Program!
This program is completely FREE and open to anyone!
Here's how it works! There are two ways to earn points:  
1) Attend a weekly "FUN" run at the store or an educational in-store clinic, and earn 5 points per event!
Tuesday night "Happy Hour" Runs: 6:30pm
Thursday night Good Form Running Clinics: 6:00pm
Saturday morning "Longer" Runs: 8:30am
Any educational in-store clinics! [Will be marked as a "WWP" event]

 
2) Do a Race:
Rules:  
You must sign in when you attend a "fun" run or in-store clinic! Please write LEGIBLY. If we can't read it, we can't give you the points

.

In order to get points for a workout, you must run with the group! No signing in and then going off to do your own thing!
You must be at an in-store clinic for at least 30 minutes
For any and all races you participate in, send Noelle [Noelle.tarr@fleetfeetannapolis.com] an email that you completed the race, and a link to the race results so we can give you the points for completing the race. You will only receive points for races listed on our website! 
No trading, selling, exchanging or bartering of points in any way shape or form. NO EXCEPTIONS!
You must have fun!

 
The Fine Print:
All participants who reach 100 points will receive a PRIZE!
Each month, our top point earner "of the month" will receive an AWESOME Combo PRIZE Pack from New Balance!
Our program winner will receive a GRAND prize FROM NEW BALANCE, and will be crowned the official "Winter Warrior" of Fleet Feet Sports Annapolis at the store after our last Tuesday fun run March 6th.
Limited Space is Available! In order to maintain the quality that our programs are known for, we have to limit this program to 150 people. Sign up early to make sure you get in to the program!
Weekly Free Fun Run Parking Options: We are well aware that we have very limited parking available at our store. With that in mind, we have teamed up with Rockfish to offer 7 parking spaces on our Tuesday night happy hour runs, and Long and Foster for Thursday and Saturday runs. Additionally, you are more than welcome to park on the street and side streets around the store at anytime.
To sign up - simply submit your information HERE!