Interactive Group Ride at Fleet Feet Sports Annapolis!
Date: Saturday, November 3rd at 9:00am
Join Fleet Feet Sports Annapolis and Todd Lawless, local Triathlon Coach from Team in Training, as go on an Instructional Group Bike Ride and learn the basics of riding the bike! 
This is the third clinic in our "Introduction to the Sport of Triathlon" Clinic Series – and this time, we'll be focusing on getting out – and riding our bike safely!
We will meet at Fleet Feet Sports Annapolis and ride to Quite Waters Park where we will practice the basics of cycling on the 1-mile paved loop inside the park. All participants MUST wear a helmet to participate. Please also bring any reflective gear, including blinking lights on your bike if possible.
ALL riders (including Mountain Bikers!) are encouraged to participate in this ride! 
Before/during our ride, we'll be going over:
Shifting gears
Cadence
Braking
Safety (including signaling)
Answering questions!
To participate: Please RSVP here!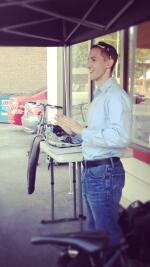 Our Triathlon Coach, Todd Lawless, has been participating in triathlons for the past 10 years – and began his triathlon journey with Team in Training after being diagnosed with Hodgkin's Lymphoma at age 17. He is now a Triathlon Coach for Team in Training, and helps beginners and advanced triathletes alike accomplish both running and triathlon events in order to raise money for the Leukemia and Lymphoma Society.