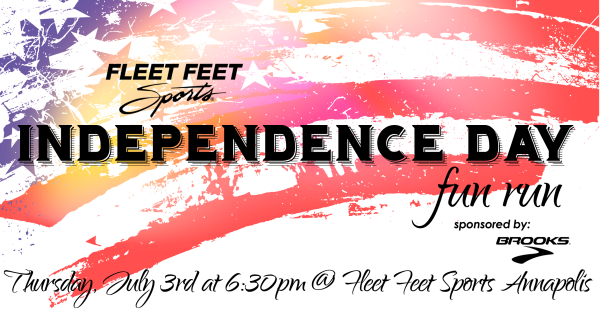 Date: Thursday, July 3rd at 6:30pm
Join us as we celebrate Independence Day with a 3-mile fun run in one of the most beautiful cities in the United States! At 6:30pm, we'll take a tour "by run" of the downtown Annapolis area from our Fleet Feet Sports Annapolis location. When we come back, we'll share some cold drinks + popsicles to kick-off the July 4th festivities.
Prizes + Fun!
Brooks fans - we'll also be celebrating the launch of the NEW Glycerin 12! Show up at 6:15pm to swap out your shoes and give the new Super DNA cushioning a test-run! If you test run the shoe, you'll get some sweet giveaways from Brooks!
And of course - you didn't think this run would be without required theme attire, did you? Break out your red, white, and blue to sport your pride for 'Merica. The most festive runner will receive a FREE gift from Brooks!
Join us!
As always, this fun run is FREE and open to the public! To come, simply sign up here!