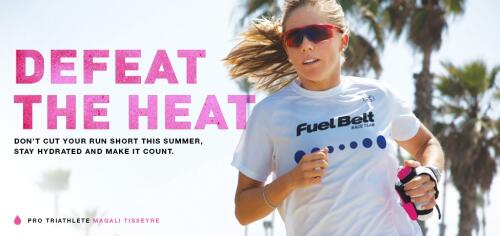 Hydration in the Heat" Clinic + FuelBelt Tester Run



Date: Wednesday, August 15th at 6:15pm
Details:
Join us Wednesday, August 15th at 6:15pm for a "Hydration in the Heat" Clinic led by our FuelBelt expert, Mark Johnson!
As runners and walkers, it is crucial to replace the hydration and electrolytes we loose during activity. A planned out hydration strategy can mean the difference between dangerous dehydration issues, or finishing the your workout or race fueled and strong.
Our FuelBelt expert will discuss:
Finding a baseline for your sweat rate
Pre, During and Post workout hydration
Race day hydration success
How much you should drink
Electrolyte hydration options
Hydration tools and products
After the clinic, you'll have the opportunity to go on a "FuelBelt Tester Run" to try out different FuelBelt hydration products and find what's best for you!
All attendees will receive a FREE 7oz FuelBelt bottle, and "Top Ten" Hydration Tips Card to take home!
Plan to come? Please RSVP to Noelle.tarr@fleetfeetannapolis.com