Hoka One One Demo Tour - Try, and Fly.
Join us Wednesday, May 8th at 6:30pm for a Hoka One One "Demo Tour" Group Run!
You'll be able to test run the latest shoes from Hoka One One - and feel firsthand what it feels like to FLY. Please show up at 6:15pm to secure your size to test-run!
Pizza and Beer will be provided at the finish! Also, all who test run a shoe will be entered into a raffle to receive a 50% discount on a Hoka shoe in our store!
What makes Hoka so different?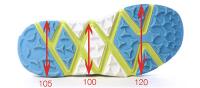 By merging aspects of minimalism and maximalism, Hoka One One has pioneered a patented innovative design, engineering lightweight, nimble shoes utilizing an oversized outsole footprint, maximally cushioned midsoles and active meta-rocker technology. Hoka One One's loyal customers use words like "weightlessness" and "effortless" to describe running in the shoes, which, counterintuitive as it may seem, are 15% lighter than the average running shoe.
Hoka One One shoes are designed to minimize impact, fatigue and injuries while maximizing comfort, traction and stability and ensuring a natural, relaxed stride and uninhibited foot movement. We invite you to come run with us and see the difference for yourself!
Please RSVP here to join us on the run!
Time to Fly!