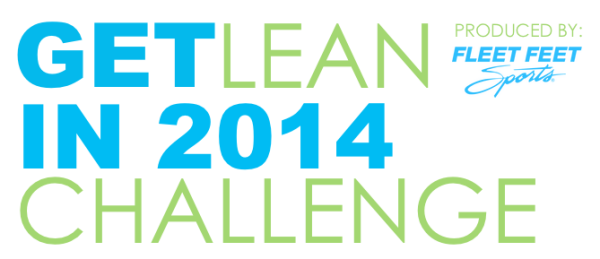 Kick-off: Thursday, January 30th at 6:00pm
As much as we love the holiday season, there's one thing that doesn't love it – our waistlines. Studies show that people gain an average of 1-5lbs during the holiday festivities – and they aren't ones we lose later on.
Join a movement that's going to NOT be another statistic. Our Get Lean in 2014 Clinic Series is all about helping you reach your fitness goals, and lose those 1-5 pounds through a series of seminars and clinics from professionals in the Greater Annapolis and Severna Park area. We want to challenge YOU to get a jump-start on meeting your new years resolutions and goals – and gain health in 2014. 
There will be a total of 5 clinics in our series, each happening on Thursday evenings at 6:00pm. The location of each clinic will rotate between Fleet Feet Sports Severna Park and Fleet Feet Sports Annapolis.
You can attend ONE or all of the clinics - your choice!
Get Lean in 2014 Clinic Series:
1. The 7 (Not So Obvious) Reasons We Struggle To Lose Weight - Dr. Nancy Miller-Ihli, Owner of Savvy Selections and Fleet Feet Sports Mentor. Location: Fleet Feet Annapolis on Thursday, January 30th at 6:00pm
2. Sleep and Stress: The Two Most Important Factors to Weight Loss and Wellness – Mitch Stanley, DPT, FMS and Clinic Director of Professional SportsCare & Rehab. Location: Fleet Feet Annapolis on Thursday, February 6th at 6:00pm
3. Setting Goals, Time Management, and Creating the Life You Want - Dr. Tania Howard of Broadneck Family Chiropractic. Location: Fleet Feet Severna Park on Thursday, Febuary 13th at 6:00pm
4. Inflammation: How it Affects Your Health – Dr. Stephany Porter of The Bodhi Clinic. Location: Fleet Feet Severna Park on Thursday, February 20th at 6:00pm
5. How to Manage Emotions for a Healthier You – Louise Orders, Health & Fitness Coach at Dauntless Fitness. Location: Fleet Feet Annapolis on Thursday, February 27th at 6:00pm
Exercise Opportunities:
As a part of the challenge - we encourage you to join a training program, or participant in at least one group run per week of the challenge!
Want to be a part of a training program? During the challenge, we'll have our "Couch to 5K" Training Program and our Marathon Training Program happening in both locations! We'll also have our Stay Strong Functional Fitness Classes going on in Annapolis!
Want to join in on FREE Group Runs throughout the week? We'll have our Winter Warriors Program Group Runs going on throughout the challenge at each store location! To see our group run schedule at each store, click here.
COST: $25 – but, you'll receive a $50 Fleet Feet Sports Gift Certificate if you attend all 5 clinics and join in on at least 3 Winter Warriors or Training Program runs/walks in Annapolis or Severna Park! Want to "drop in" - you can attend any clinic or $5!
SIGN UP: You can sign up here, or attend our first meeting (for FREE) and register after the clinic!
QUESTIONS? Email Noelle Tarr at staff@fleetfeetannapolis.com or call 410-268-6290