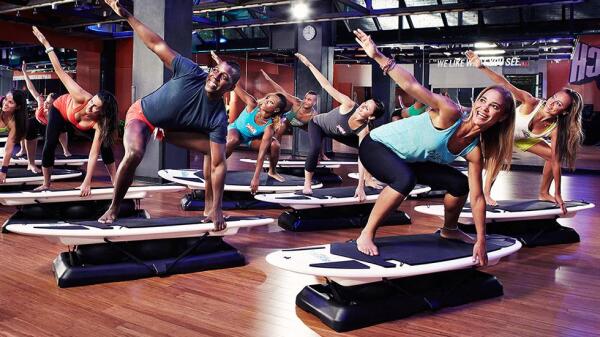 Date: Sunday, May 4th at 10:00am and 10:45am at Fleet Feet Sports Severna Park
Fleet Feet Sports is excited to host TWO Surfset Fitness Classes in-store with Carleen of MantraFit in order to give you the opportunity to try one of the hottest new workouts to hit the Greater Annapolis community! Given the limitability of the number of boards available, we'll be hosting TWO classes, one at 10:00am and one at 10:45am. Please RSVP (information below) to secure a spot in one of these classes!
What is Surfset?

Surfset boards mimic the instability of being on a surf board or stand up paddle board. In the class, core strength, balance and even cardio are challenged in new ways to build a healthy body! It's fresh, challenging and best of all, it's SUPER FUN!
Surfset is all about getting away from the traditional static workout and challenging your body in new ways. The unstable surface of the six-foot-long surfset board encourages multi-planar movements that engage the body and mind.
The class will be open to all levels and abilities - including beginners and those who've never been on a "board" before. We ask that all participants please show up 10 minutes before the class time to get acquainted with Carleen and let her know your ability level.
Who is Carleen?
Carleen is the personably and passionate owner and coach of MantraFit. She hosts cross training, paddle boarding and surfset classes for Greater Annapolis community members, and is famous for making exercise fun, enjoyable - and NOT a burden. Learn more about her and the awesome things she has going on here!
Location: Fleet Feet Sports Severna Park. 500D Ritchie Hwy, Severna Park, MD 21146. 410-544-1005. 
Cost: FREE! 
RSVP: In order to attend and secure a board for a class, please RSVP here and let us know which class you'd like to attend.