Date: Sunday, June 10th at 11:00am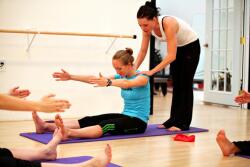 That's right! We're pushing aside our fitting benches and turning the store into a makeshift Pilates studio for our customers! Join us Sunday, June 10th at 11:00am for a Pilates class specifically tailored to runners and walkers alike!

Although running and walking are great cardiovascular work, both can lead to imbalances in the body because they are linear movements. Pilates has many benefits for runners, including:
Increased core strength
Posture imbalance correction
Increased balance in the muscles of the back and hips
Reduced risk of injury
Assists in proper breath control
Our instructor, Amanda Smith Breon is a certified instructor of The Pilates Method of Body Conditioning. Amanda has been teaching Pilates for eight years and is currently an instructor at Excel Pilates Annapolis. She is a graduate of the teacher training program at Excel Movement Studios in Washington, DC the sister studio of Excel Pilates Annapolis. Amanda has worked with people of all fitness levels and enjoys helping people meet their goals and balance their bodies so that they can continue to do the things that they love to do. 
In this class, Amanda will teach a Pilates mat workout that will introduce you to the traditional Pilates mat work while addressing the specific needs of runners. With equal aspects of stretch and strength, we will focus on finding balance in the body by strenthing the core while lengthening and stretching.
Please bring your own mat and show up 10 minutes early so that you will be prepared to start at 11:00am sharp. We will have a few extra mats available for those who do not have access to one.
Please RSVP to noelle.tarr@fleetfeetannapolis.com