Doctors "On Call" at Fleet Feet Sports Annapolis!
Date: Tuesday, October 2nd at 6:00pm
Recently dealing with some new nagging pain or injuries from fall training and sports?

Fleet Feet Sports Annapolis is hosting a FREE "Doctors on Call" night with Doyle & Taylor Physical Therapy, LLC which has been providing specialized and individualized patient care in Annapolis, MD since 2007. Doyle & Taylor Physical Therapy focuses on high-quality, one-on-one physical and occupational therapy, and has been voted The Capital's "Readers Choice Award for Best Physical Therapy" in 2008, 2009, 2010 and 2011.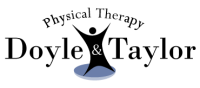 A Physical Therapists from Doyle & Taylor will be available in-store to provide a quick assessment of your injury and needs, and will provide you with answers and solutions to your injury-related questions. Also, they'll make recommendations on what your next course of action should be. 
If you would like to make a reservation with one of the physical therapists available, please email marty@fleetfeetannapolis.com. 
Walk-ins are welcome, but a reservation guarantees you a spot. 
Location:
Fleet Feet Sports Annapolis, 318 6th Street, Annapolis, MD 21403. F: 410-268-6290