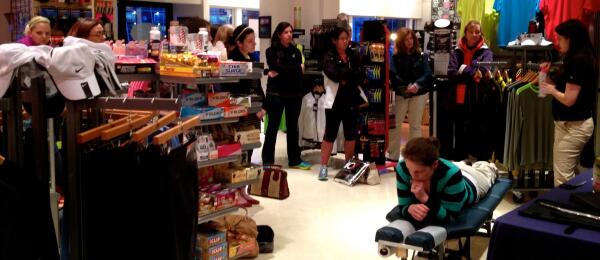 Date: Thursday, November 13th at 5:30 at Fleet Feet Sports Annapolis
With fall race season in full swing, and the Annapolis Half Marathon just around the corner, we know you might be experiencing some frustrating aches, pain, or injury. Fleet Feet Sports is hosting a FREE injury screening with Dr. Patricia DeNardo, Kinesio Tape and Graston specialist from Chiro 1st. Dr. DeNardo will be available in-store to provide a quick assessment of your injury and needs, and will be showing you how to use Kinesio Tape to improve specific running injuries you may be experiencing. Also, she'll recommend what your next course of action should be. 

Chiro 1st is certified in ART (Active Release Technique) and frequently incorporates this technique as well as Graston and Myofascial Release in order to resolve typical running related injuries. 
If you would like to make a reservation with Dr. DeNardo, please email smhunter@fleetfeetannapolis.com
Walk-ins are welcome, but a reservation guarantees you a spot.