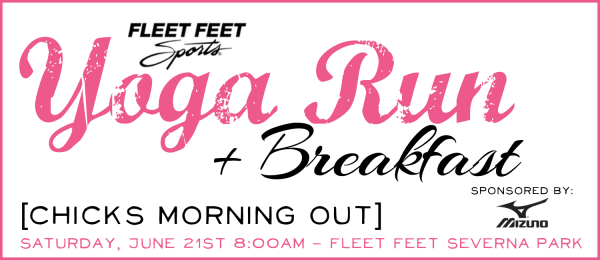 Ladies, we get it. If it weren't for you, the world would simply stop moving. And while there's no one better for the job, some days - you just need a day to get away, and spend time with the girls. 
On Saturday, June 21st at 8:00am, the first day of summer, join us for our first ever Chick's Morning Out: Yoga Run + Breakfast sponsored by Mizuno! This event is exclusive for all of the fabulous women in the greater Annapolis community.
What's a Yoga Run?
A Yoga Run is simple! First, we'll get your heart pumping with a 2-3 mile run/walk on the beautiful B&A Trail. Mizuno will be providing a special selections of shoes for you to test run on the trail while you get your exercise in. You can choose to set a time goal and run hard - or power walk with your favorite friend. Afterwards, we'll have a group yoga and stretching session to cool down, and relieve some stress.
This event is beginner-friendly and is for all levels and abilities. Invite your girlfriends, and enjoy the morning together! If you have your own yoga mat - please bring it with you for our post-run yoga session.
What's for Breakfast?
After our yoga session, we'll have a full breakfast spread from Panera. Enjoy coffee, treats, and yes - a mimosa or two while you hang out with some other cool chicks in the area.
During breakfast, we'll be giving away some sweet raffle prizes from Mizuno for all who participate in the Fleet Feet Sports Yoga Run.
Wanna join? This event is FREE and open to the public! To attend, sign up here!